Our Commitment to Diversity and Inclusion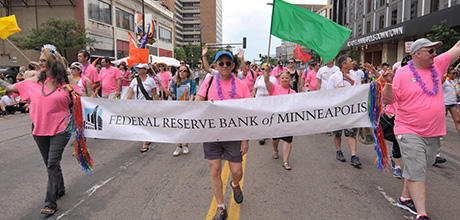 As an organization, we are committed to providing a work environment where inclusion is fostered and all employees are respected and valued. We believe that by recognizing, respecting, and valuing the uniqueness of our workforce and providing development opportunities for all, we can effectively apply all of our talents, skills, and experiences to contribute to achieving the goals of the organization.
Our Commitment in Action
We promote open lines of communication among all levels of management and employees. To put our commitment to inclusion in action, we utilize a number of initiatives to cultivate an organization where employees have the opportunity to thrive, including:
Employee Diversity Action Council
The Employee Diversity Action Council represents a wide range of employee diversity and "real world" insights. The council, comprised of a diverse group of employees from all levels and areas of the Bank, was created to promote inclusiveness as a powerful force for acceptance, innovation, and opportunity.
Employee Resource Networks (ERNs)
ERNs are voluntary, employee-led groups, sanctioned by the Bank and formed around common interests, backgrounds, life experiences or cultural norms. They are open to all employees and show the power of both diversity and inclusion.
Inclusion Task Force

The Bank's Inclusion Task Force (ITF) was created in 2013 as a way for leaders to share and discuss effective approaches to inclusion, partner with other business areas on cross functional inclusion initiatives, learn about the tools that HR makes available to support inclusion, and brainstorm solutions to inclusion challenges.