Locations
The Minneapolis Fed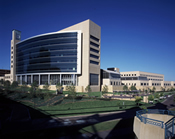 90 Hennepin Avenue
Minneapolis, MN 55401
Directions
612-204-5000
The Federal Reserve Bank of Minneapolis, located at the north end of downtown Minneapolis along the Mississippi River from Hennepin Avenue to Second Avenue North, was completed in 1997 to house approximately 1,500 employees between the tower offices and low-rise operations center, connected by skyway and tunnel to each other. The address, 90 Hennepin Ave., was selected to signify that the Bank represents the Ninth Federal Reserve District.
The building, designed by the architectural firm of Hellmuth, Obata & Kassabaum of St. Louis, Mo., attempts to convey the stability, security and strength of the Federal Reserve, while preserving the physical and historical significance of the site itself. The design respects the historical Warehouse District to the south and west and the Mississippi River to the north while meeting the functional needs of the Bank.
The four-story operations center was built to accommodate many of the Fed's services to banks in the Ninth District, for example, check and currency processing. While physical handling of checks is an obsolete operation due to technological advances and fewer checks written, the Minneapolis Fed has become a locus of activity for several Federal Reserve System electronic functions, and 1100 people are currently employed in the two buildings.
The eight-story office tower houses the bank's officers, research department and administrative functions.
Read more about the current and previous Ninth District Fed locations in Minneapolis.
Tours
The Federal Reserve Bank of Minneapolis offers free guided group tours. For more information and to schedule a tour, please visit our tour page.
Doing business with the Minneapolis Fed
For information on doing business with the Federal Reserve Bank of Minneapolis, please visit our procurement services page.