This River, This Place
This River, This Place is an epic stoneware wall sculpture of the Ninth Federal Reserve District which can be viewed at two levels—as a topographical map of the six district states and as cultural and historical microcosms. Major geographical features such as Lake Superior, Isle Royale, the Rocky Mountains, Lake Oahe, the national forests of northwestern Wisconsin and Upper Peninsula, the Mississippi and Missouri rivers can be easily identified by the naked eye from any vantage point in the Federal Reserve Bank's lobby.
But beyond casual observation is a universe of human detail incorporating various cultural icons and historical images of the Great Plains states. Paul Bunyon's statue in Bemidji, Minn., a herd of buffalo (including a sacred white buffalo) in North Dakota, motorcyclists gathered in Sturgis, S.D., the State Capitol at Bismarck (tallest building in North Dakota), the Wounded Knee Monument in South Dakota, an overflowing Red River in Grand Forks—and much, much more await the observer's keen eye. See examples below.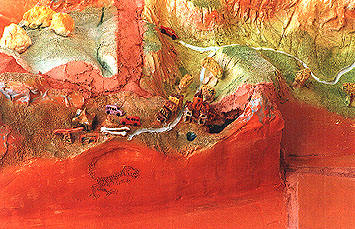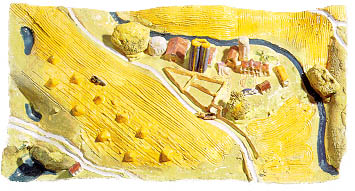 To appreciate the beauty of the detail on each of the tiles, viewers will want to use binoculars, telescopes and other visual aids. It is at this level of observation that viewers' approach to This River, This Place is analogous to the work of the Minneapolis Reserve Bank where efforts are daily brought to bear to understand the character and activities of its district in human, as well as statistical, terms.
"This map serves as a pictograph of our world. It tells us who we are and what we do. I want people when entering the lobby to point at their home town. I want them to visually meander our corner of the world. I want them to gain a sense of the land they are in and the people they are. I want them to see the big picture through countless small pictures, all tied together," says sculptor Aldo Moroni.
This River, This Place (33.5 ft. x 12.5 ft.) is composed of 270 brick-shaped tiles plus 68 framing tiles, covering 396 square feet of reinforced wall space on the second level in the lobby. The tiles are made of Minnesota white stoneware, fired and glazed, weighing over 6,000 pounds. The project took Moroni four months to research and six months to execute working with a team of seven artists. During the last four months, the team worked back-to-back 18-hour days seven days a week, having to "babysit" two kilns during the firing process.
The commission process began during 1996, when a Federal Reserve Bank of Minneapolis employee committee began to consider an artwork for a prominent space in the lobby of its new building at 90 Hennepin Avenue. To assist them in this effort, a Community Advisory Group was formed of individuals from Minneapolis city government and arts leaders. The Bank and community committee sponsored a competition, open to all artists in the Ninth Federal Reserve District (Minnesota, the Dakotas, Montana, northwestern Wisconsin and the Upper Peninsula of Michigan).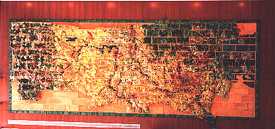 The committee asked for proposals that would not only have artistic integrity, but would be responsive to the new building's historic site and to the character of the Ninth Federal Reserve District. The committee was especially interested in a work that would project a strong visual image to the public when viewed from the Hennepin Avenue Bridge and the Bank's plaza. After reviewing submissions, Aldo Moroni's proposal for an epic stoneware wall sculpture of the district was selected. This River, This Place met all the committee's selection criteria and represents a truly unique work of art from an artist with a well-established reputation within and beyond the Ninth District arts community.
The Artist
Aldo Moroni
Minneapolis, Minnesota
| | |
| --- | --- |
| | Moroni, has a bachelor of fine arts degree from the Minneapolis College of Art and Design. His work is included in the Walker Art Center and Weisman collections as well as in over 35 corporate collections. He has received a Jerome Foundation grant and fellowships from the McKnight and Bush foundations. "This is the most intensely personal piece I've ever done—because the location of the Bank is near my original studio—the former "Skunk House" and now the Foster House. My current studio, where the piece was created, is just across the river, so the Bank's site is not only a historical part of the city of Minneapolis but a very personal part of my life." |

Moroni at work on "This River, This Place"