History of the Fed

Federal Reserve History
www.federalreservehistory.org provides historical materials that illustrate how the Fed has changed over its first 100 years.
The Fed At 100: A Commemorative Video
Minneapolis Fed Historical Overview
A brief history of the Federal Reserve Bank of Minneapolis, which was incorporated on May 18, 1914.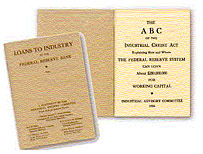 Here you'll find a narrative timeline of the history of central banking in the United States, created to complement the PBS American Experience about Alexander Hamilton. You'll also find links to history resources at other Fed banks, and more technical research on particular topics covered here.
Featured
The Region, (December 2002)
Lender of More Than Last Resort
Recalling Section 13(b) and the years when the Federal Reserve banks opened their discount windows to district businesses in times of economic stress.
The Region, (June 2008)
The History of a Powerful Paragraph
Section 13(3) enacted Fed business loans 76 years ago
The Region
75th Anniversary
A special anniversary issue of The Region was part of a year-long celebration at the Minneapolis Fed marking the Federal Reserve System's 75th anniversary.
Included in the special issue are:
See the complete 75th Anniversary issue, The Region, August 1988
The Region, September 2008
The "Monster" of Chestnut Street
The life and death of the Second Bank of the United States is a cautionary tale about the exercise of monetary power
The Region, December 2005
Mr. Peyton's Bank
John N. Peyton headed the Minneapolis Federal Reserve during a turbulent period in history—through the Great Depression, a dramatic restructuring of the Federal Reserve System, the financial stresses of World War II and the postwar economic boom.
The Region, December 1997
Which of the Twin Cities?
Competition was intense between Minneapolis and St. Paul
for the Ninth District Federal Reserve Bank.
Reflections from History
Excerpts from Reflections from History: The Minneapolis Federal Reserve Bank, by Clarence W. Nelson, 1973
Oral Histories
In 1992, five past Minneapolis Fed presidents were asked to discuss the Minneapolis Fed past, present and future.