Office of Minority and Women Inclusion
The Office of Women and Minority Inclusion (OMWI) is charged with developing standards and procedures to ensure inclusion of minorities, women, and minority-owned and women-owned businesses in all activities of the Bank, including workforce diversity, employment compliance, procurement, and assessment of diversity policies and practices of regulated entities. OMWI was established in January 2011, in line with Section 342 of the Dodd-Frank Wall Street Reform and Consumer Protection Act of 2010.
Michael Garrett
Senior Vice President
and Director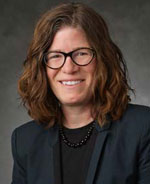 Elizabeth W. Kittelson
Assistant Vice President
and Deputy Director
---
Congressional Reports
2016 Congressional Annual Report [pdf], Office of Women and Minority Inclusion
2015 Congressional Annual Report [pdf], Office of Women and Minority Inclusion
View all previous Annual Reports
---
Workforce Diversity
We have long valued diversity and inclusion at the Federal Reserve Bank of Minneapolis and we are proud of our efforts in this critical area. One of the OMWI's mandates is to take steps to seek diversity in the workforce of the Bank in a manner consistent with applicable law.
Consistent with our commitment to transparency and openness, Federal Reserve Bank of Minneapolis workforce representation data is now available.
The information summarizes the Ninth District's workforce, in aggregate, by gender and race/ethnicity. This data is from the Bank's EEO-1 report, which lists the number of women and minorities employed at the Bank across a set of defined job categories. Employers are required to annually report this data to the U.S. Equal Employment Opportunity Commission (EEOC). The data is collected in a uniform format and used for a variety of purposes including the enforcement of EEO laws, self-assessment by employers, and research.
A short summary of the data is below; the full data set is available
here [pdf].
| Job Categories | % Women | % Minority |
| --- | --- | --- |
| Executive/Senior Mgrs | 22% | 33% |
| First/Mid-level Mgrs | 48% | 13% |
| Professionals | 55% | 21% |
| Technicians | 25% | 20% |
| Sales Workers | 25% | 0% |
| Administrative Support | 72% | 28% |
| Craft Workers | 0% | 6% |
| Operatives | 45% | 27% |
| Service Workers | 10% | 18% |
| Total | 51% | 21% |
Total population (8/31/2016): 986