President
Narayana Kocherlakota
Speeches, Articles and Research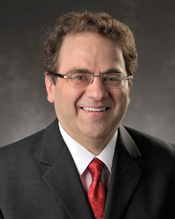 How to pronounce his name:
Pronunciation [.wav]
Nahr-ay-yah-nah Koach-er-lah-ko-tah
Download CV [PDF]
Narayana Kocherlakota took office as president and chief executive officer of the Federal Reserve Bank of Minneapolis on Oct. 8, 2009. In that capacity, Kocherlakota serves on the Federal Open Market Committee, the policymaking arm of the Federal Reserve System. In addition to his responsibilities as a monetary policymaker, Kocherlakota oversees all operations of the bank, including supervision and regulation, and payments services.
Before his appointment as president, Kocherlakota served as a member of the Minneapolis Fed's Research staff, as well as a Research consultant for the Bank. His prior experience also includes professorships at the University of Minnesota, where he was chair of the Economics Department, and at Stanford University. Kocherlakota has published more than 30 articles in academic journals on a variety of topics, including monetary and financial economics. His work includes theoretical and empirical contributions to monetary economics and financial economics. Kocherlakota was named one of the top 100 Global Thinkers by Foreign Policy magazine in 2012. He is on the Board of Directors of the Economic Club of Minnesota.
Kocherlakota earned a Ph.D. in economics from the University of Chicago in 1987 and an A.B. in mathematics from Princeton in 1983.
View Narayana Kocherlakota's schedule
As Minneapolis Fed President
Speeches
View all speeches by Kocherlakota as Minneapolis Fed President
Articles, Papers and Messages
View all messages by Kocherlakota as Minneapolis Fed President
Research Papers
Research as a Minneapolis Fed Economist
View all research by Kocherlakota at the Minneapolis Fed
Prior Economic Research
This list includes only a selection of papers; view all prior research for more, sorted by topic and date. See CV [PDF] for full citations.
Asset Pricing and Portfolio Choice
Cycles and Growth
"Creating Business Cycles Through Credit Constraints," Federal Reserve Bank of Minneapolis Quarterly Review, 2000.
"Using Theory for Measurement: Measuring the Cyclical Behavior of Home Production," Journal of Monetary Economics, joint with B. F. Ingram and N. E. Savin, 1997.
"Is there Endogenous Long Run Growth? Evidence from the United States and the United Kingdom," Journal of Money, Credit, and Banking, joint with K. Yi, 1997.
Dynamic Contracting and Dynamic Games
Money and Banking
"Internal Debt Crises and Sovereign Defaults," working paper, joint with C. Arellano, 2008.
"Forbearance and Prompt Corrective Action," Journal of Money, Credit, and Banking, joint with I. Shim, 2007.
"Model Fit and Model Selection," Federal Reserve Bank of St. Louis Review, 2007.
Optimal Taxation
View all prior research by Kocherlakota sorted by topic and date