James Lyon
Former First Vice President and Chief Operating Officer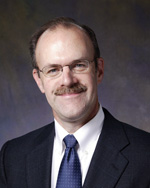 Jim Lyon is the former first vice president and chief operating officer of the Federal Reserve Bank of Minneapolis, a position he held from 2000-2017. In this role, he was responsible for all operational facets of the Bank's activities and for backup to the president in the execution of his monetary policy responsibilities.
He was a member and former chairman of the Conference of First Vice Presidents. In this capacity he was involved, along with the chief operating officers of the other eleven Reserve Banks, in various projects and initiatives to enhance the efficiency and effectiveness of the Federal Reserve's System-wide operations.
During a Fed career spanning almost 40 years, Jim had extensive management and leadership responsibilities in a number areas including supervision and regulation, information technology, and credit and risk management.
From 2010 to 2012, Jim served as the Special Advisor to the Board of Governors for Regulatory Reform Implementation. In this role he was responsible for the overall coordination of the Federal Reserve System's efforts to implement the Dodd-Frank Act Wall Street Reform and Consumer Protection Act. This effort involved coordinating the efforts of over 300 Federal Reserve employees responsible for 250 projects and 60 rulemakings.
Jim joined the Federal Reserve Bank of Minneapolis in 1977 as a staff attorney. He is a graduate of Lawrence University in Appleton, Wisconsin, and the University of Minnesota Law School in Minneapolis, Minnesota.
April 2015