RSS
$name
Keynote Address for Emerging Market Housing Initiative Summit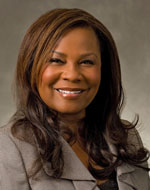 I am really pleased to be back in Minnesota and to be here with you this morning. For those of you whom I have yet to meet, I joined the senior leadership team at the Minneapolis Fed in July of this year as Senior Vice President of the Bank's Community Development and Outreach departments.  I have spent most of my professional career as a banker, specifically working in community development financing.
As participants in today's sessions you will have the opportunity to learn about the current issues and trends facing the industry from leaders and colleagues in the profession. Hopefully you will gain some valuable insights into best practices on issues such as Financial Literacy, Housing & Transportation Corridor Development, various state and federal housing bond programs AND key demographics and homeownership rates. All of these subjects are very integral to the success of EMHI's work.
As you may know, the mission of the Fed's Community Development unit is to support the economic growth of low- to moderate-income communities. My role as I view it is to serve as a liaison between the Fed and the low- to moderate -income communities we serve.  I hope to be able to increase both the visibility and transparency of the Bank's work in this area, and to help strengthen our relationship with leaders in these communities.
I am delighted to be a part of today's agenda and to continue to play an integral role in the important work of the EMHI organization. When EMHI first published its business plan in 2005, it set a goal to increase the number of emerging market homeowners in Minnesota by 40,000. This goal was set with a clear vision in mind: to eliminate the disparity in homeownership between whites and people of color in our state. We understood that creating equity is not only the right thing to do, but that it is the smart thing to do. It was a very smart business decision that helped to grow the economy.
Collectively and under EMHI's leadership, a great deal has been accomplished over the past six years:
We developed new pilot programs to meet the needs of emerging market homeowners.
We developed and conducted industry education programs to help industry professionals enhance their relationships with Minnesota's diverse populations.
We delivered homebuyer education and financial literacy training to hundreds of potential homebuyers. In doing so, we helped increase access to credit, and provided people with knowledge that allowed them to make an informed decision about purchasing a home.   
And, prior to the bursting of the housing bubble, we were seeing some narrowing of the homeownership rate gap for families of color.
However, it is difficult to ignore current market conditions, such as;
Since 2007, there have been more than 100,000 foreclosures in Minnesota. And according to the most recent data from Lender Processing Services, 3.76% percent of mortgages were seriously delinquent (90 days past due or in foreclosure) last month in Minnesota.
The credit market has tightened in recent years, which could make it difficult for some buyers to qualify for a mortgage loan.
Home prices have continued to decline. Last month, the Minnesota Association of Realtors reported that the median home price in the Twin Cities had fallen to $155,000. It is estimated that nearly 1 in 5 mortgage-holders in Minnesota is currently underwater, meaning they owe more than the home is worth.
Although the current homeownership rate for people of color in Minnesota is 41 percent; 5 percentage points lower than in 2005, we should not consider this an indication that the EMHI efforts failed. In fact, it is reasonable to assume that the homeownership gap in Minnesota would be even larger in the absence of the dedication and efforts made by many of the organizations and individuals who are in this room today.
In spite of the housing crisis and current market conditions, the Emerging Market Homeownership Initiative has helped change the way we think about housing in Minnesota. It has opened the door for the development of new products and new programs that meet a double bottom-line (increased access to homeownership for many families and new customers for lenders and realtors).
I want encourage you not to lose sight of the principles behind the numbers. Homeownership is more than just a financial investment.
Homeownership is an investment in stability. And for families with children, homeownership is an investment in their academic achievement. People who own their own homes tend to move less frequently, and children who move less frequently also tend to do better in school.
Last year, 79 percent of Minnesota 3rd graders who remained in the same school throughout the year met statewide reading standards. Among those who moved, only 60 percent did.
The achievement gap is even wider when you look at 11th grade math scores. Last year, fifty-one percent of 11th graders who stayed in the same school met statewide standards. Among those who moved during the school year, only 12 percent did.    
Homeownership is also an investment in the physical health of children and families.
Research shows that individuals who move less frequently are more likely to be in better health. This is true for both children and adults.
In some communities, homeownership is also the key to a better neighborhood. And there is a growing body of evidence that shows that neighborhoods have a huge impact on individuals' health-- ranging from access to parks and sidewalks to better air quality with fewer pollutants.  
Homeownership is an investment in individuals' emotional well-being. Despite current market conditions, homeownership is still our cultural norm. It provides a sense of achievement, and a number of benefits that many of us take for granted.
The ability to make alterations; to paint rooms in colors of your choice.
The ability to allow family and friends stay with you for an extended period of time-- people who are not "on the lease."   
The ability to have a garden, to have a dog, or put up a yard sign in support of a cause that matters to you.
The ability to say, "This is mine, and I own it."
In summary, homeownership is a vehicle for eliminating disparities in opportunity.
This does not mean that homeownership is the best choice for everyone, but those who can afford or desire it should have the opportunity to make that choice. We can continue to create opportunities by giving people the knowledge and tools that they need. For many housing stakeholders, the decline in home prices has been a huge negative factor. But for first-time, low- to moderate-income homebuyers with good credit, it presents a window of opportunity.  
And so, you must remember the importance of your continued work to help ensure families of color are able to access affordable credit, to obtain sustainable homeownership opportunities, and to have an exciting story with a happy ending to share with others desiring to be homeowners. Your efforts are creating a revolving door that will help many families of color make the best long term housing decisions ensuring their financial growth and stability now and in the future and creating many happy moments and reflections for each of us. Congratulations for your accomplishments to date and I applaud and encourage your sustained commitment to the goals of the Emerging Markets Homeownership Initiative and I look forward to working with many of you in the near future.
Thank you.