CICD Leadership Council
The CICD's Leadership Council is comprised of national experts on Indian Country development who offer diverse perspectives on the economic and financial circumstances in American Indian communities and advise and assist with the CICD's strategy and priorities.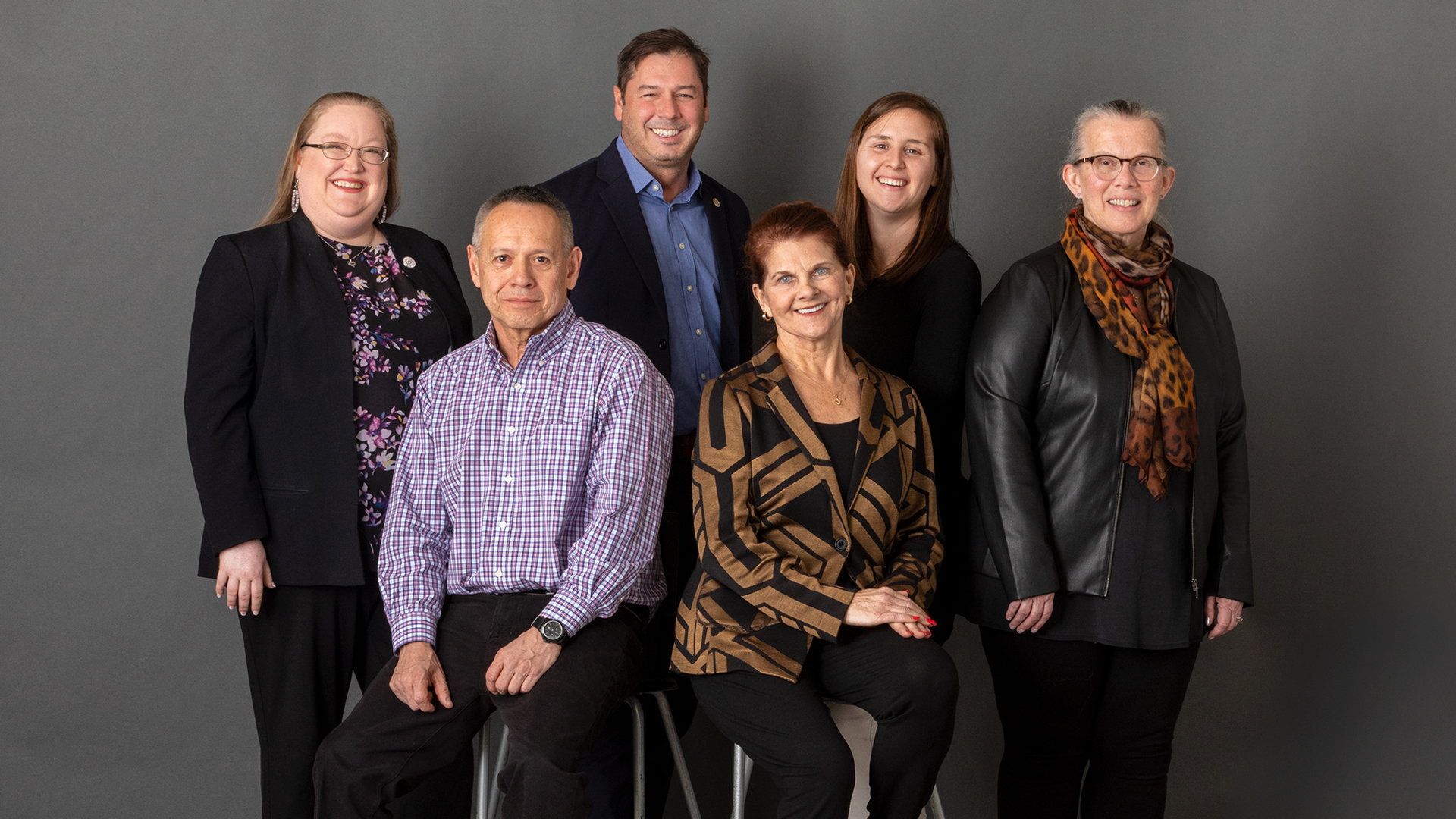 2019 Leadership Council pictured left to right: Rebecca Naragon, Dale White, Chris James, Nancy Appleby, Krystal Langholtz, Janie Simms Hipp
Not pictured: Karen J. Atkinson, Jeff Bowman, Christine Meyer
Leadership Council members
---
Previous Council members
Dante Desiderio
Executive Director, Native American Finance Officers Association
Term: 2015-2017
Sarah DeWees
Senior Director of Research, Policy & Asset Building Programs, First Nations Development Institute
Term: 2015-2017
Jacqueline Johnson Pata
Executive Director, National Congress of American Indians
Term: 2015-2017
Miriam Jorgensen
Research Professor, University of Arizona
Term: 2015-2018
Elsie Meeks
Board of Directors, Federal Home Loan Bank of Des Moines; and Board Chair, Lakota Funds
Term: 2015-2018
Mary J. Pavel, Esq.
Sonosky, Chambers, Sachse, Endreson & Perry
Term: 2015-2018
John Phillips
Executive Director, First Americans Land-Grant Consortium; and Land Grant Program Director, American Indian Higher Education Consortium
Term: 2014-2016
Jaime Pinkham
Senior Advisor, Native Governance Center
Term: 2014-2016
Gerald Sherman
Vice President, Bar K Management
Term: 2014-2016
Cris Stainbrook
President, Indian Land Tenure Foundation
Term: 2015-2017
Brandon Stephens
Development Director, United South and Eastern Tribes, Inc.
Term: 2017
Sarah Vogel
Attorney, Sarah Vogel Law
Term: 2014-2016
---
Biographies of Current Leadership Council Members
Nancy J. Appleby, Owner, Appleby Law PLLC
Nancy Appleby is a recognized expert and consultant in real estate and project development on tribal land. Her strength and reputation are the result of nearly 40 years of experience and expertise in commercial real estate, lending, and federal Indian law. She represents creditors, real estate developers, energy development companies, title insurance companies (underwriting and claims), large and small corporations, business owners and contractors, including those partnering with Native American-owned businesses. Nancy also is a Fellow of the American College of Mortgage Attorneys, the American Bar Association's representative on the Uniform Law Committee's Drafting Committee on a Model Tribal Probate Code, an American Bar Association Fellow and the Chair of the American Land Titles Association Native American Lands Committee.
---
Karen J. Atkinson, Principal, Tribal Strategies Consulting
Karen Atkinson recently formed a private consulting business after spending several productive years at the U.S. Department of Energy. At DOE, Karen developed an Energy Sector Business Opportunity Program to educate businesses on supply chain opportunities and make industry connections. She also has developed public private partnerships to increase job creation in the energy industry. Throughout her career, Karen has been a strong advocate for tribal economic development and small business issues. Karen is graduate of Stanford University and the University of New Mexico Law School.
---
Jeff Bowman, President/CEO, Bay Bank
As President and CEO of Bay Bank, a community bank located in Green Bay, Wisconsin, Mr. Bowman has over 30 years of banking experience and is a strong advocate of economic development activity in Wisconsin's Indian Country. Bay Bank, owned by the Oneida Tribe of Wisconsin, is one of Northeastern Wisconsin's major forces for mortgage lending, consumer and commercial loans services. Jeff is the Board President and a co-founder of Wisconsin's first Native revolving loan fund certified by the CDFI Fund. Jeff is an enrolled member of the Stockbridge-Munsee Band of Mohican Indians. He graduated from the University of Wisconsin-Milwaukee with a business degree in Finance.
---
Chris James, President & CEO, The National Center for American Indian Enterprise Development
As the President and CEO of the National Center for American Indian Enterprise Development, Chris is responsible for guiding the organization in its day-to-day operations and implementing its long-term strategic initiatives and vision. Prior to joining the National Center, Chris was an Associate Administrator at the U.S Small Business Administration (SBA), worked in Native American Affairs at the U.S. Department of the Treasury, and managed the Sequoyah Fund - an enterprise of the Eastern Band of Cherokee Indians. Chris has a B.A. in Communication Studies from the University of North Carolina at Wilmington, and a Master of Entrepreneurship from Western North Carolina University.
---
Janie Simms Hipp, Executive Director, Native American Agriculture Fund
Janie Simms Hipp, Chickasaw, recently was appointed to serve as the Executive Director of the newly established Native American Agriculture Fund, the largest philanthropic organization solely devoted to serving the Native American community. The NAAF is culmination of litigation and settlement of the Keepseagle litigation (discrimination against Native American farmers and ranchers in the US Department of Agriculture (USDA) farm and ranch loan program). Previously, Janie served as the Director of the Indigenous Food and Agriculture Initiative at the University of Arkansas School of Law. She also served as Senior Advisor for Tribal Relations to Secretary of Agriculture Tom Vilsack at USDA. She is co-founder of the Intertribal Native Women and Youth in Agriculture organization.
---
Krystal Langholz, Chief Operating Officer, First Nations Oweesta Corporation
Krystal Langholz is the Chief Operating Officer for First Nation Oweesta Corporation, overseeing all programming including the Financial Education and Asset Building and Capacity Building programs. Before joining the First Nations Oweesta Corporation, Krystal was the founding Executive Director of Hunkpati Investments, a certified Community Development Financial Institution on the Crow Creek Indian Reservation. During her tenure, Hunkpati Investments grew its small business and consumer portfolio; led an innovative foods program; and developed several innovative asset building programs. While earning her MA in Anthropology and International Community Development from Colorado State University, Krystal specialized in Lakota community development and micro-lending.
---
Christine Meyer, Director of Education, Coeur d'Alene Tribe of Idaho
Christine Meyer, a member of the Coeur D'Alene Tribe of Idaho, is the Director of Education for the Coeur d'Alene Tribe, a position she's held for the past 10 years. She has worked in the field of education for 41 years, starting as a classroom teacher and a reading specialist, then as a college professor, a principal, and a program administrator. She also has extensive grant writing experience and expertise in managing federal, state, and private grants for prenatal through professional degrees. Chris received a Master degree in Special Education and a Doctorate in Education Administration from the University of Idaho.
---
Rebecca Naragon, Economic Development Director, United South and Eastern Tribes, Inc. (USET)
A citizen of the Poarch Band of Creek Indians, Rebecca currently oversees the economic development programs within USET, in addition to developing the USET Community Development Financial Institution (USET CDFI). Prior to joining USET, Rebecca served in the Office of Indian Energy and Economic Development at the U.S. Department of the Interior, working on international trade, Tribal governance, and entrepreneurship technical assistance. Rebecca received a Master degree in Public Administration from the University of Central Florida and a B.A. in Political Science from American University.
---
Dale White, General Counsel, Saint Regis Mohawk Tribe
Dale T. White, a member of the Saint Regis Mohawk Tribe, currently serves as General Counsel for his Tribe. Previously, Dale served as General Counsel for Tarbell Management Group (2010-2016), General Counsel for the Saint Regis Mohawk Tribe (2006—2010), and General Counsel for the Mohegan Tribe of Indians in Connecticut (1999-2006). For much of his career, Dale practiced federal Indian law in the State of Colorado as an associate and partner in the Fredericks, Pelcyger, Hester and White firm, and in his own firm, Whiteing, Thompson & White. In private practice, he litigated a number of cases in federal court, including arguing eight cases in the U.S. Courts of Appeal; and in 1988 he had the distinction of successfully arguing an Indian law case in the U.S. Supreme Court, becoming the first member of an Iroquois tribe to appear in the Supreme Court.
Dale received a Juris Doctor from Cornell Law School.