RSS
CICD Events
A Convening of Native American Financial Institutions
Join us this summer at the KwaTaqNuk Flathead Lake Resort in Montana for a first-of-its kind gathering between Native banks, credit unions, and community development financial institutions!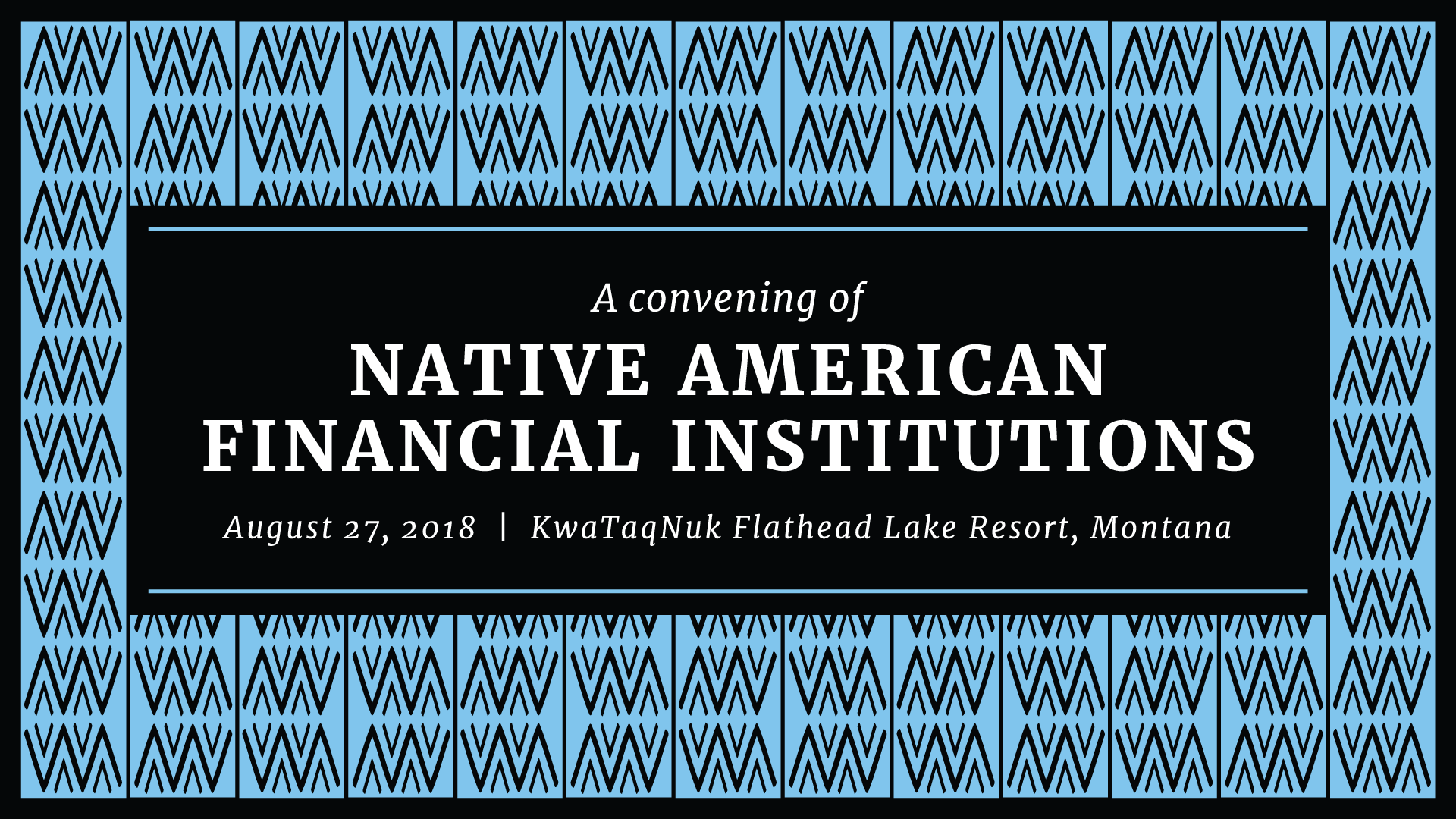 Event Details
August 27, 2018 – KwaTaqNuk Flathead Lake Resort. Polson, Montana
The goals of this convening are:
Foster networking, learning, and collaboration among Native community-serving financial institutions
Create development opportunities to leverage capital
Elevate best practices that create growth and sustainability
Stay for a tour on August 28 of the Confederated Salish & Kootenai Tribal enterprises, housing development, and tribally-owned Eagle Bank.
Register: A Convening of Native American Financial Institutions
Event Agenda
Conference-related Events
Networking Reception
August 27th from 6–8pm. Conference participants are invited to continue the day's conversation on a boat tour of beautiful Flathead Lake on the KwaTaqNuk Lodge's Shadow Cruiser (including a dinner buffet and non-alcoholic beverages). Reception sponsors: Confederated Salish and Kootenai Tribes, Bay Bank, Casey Family Programs, Citizen Pottawatomi Nation, and Pinnacle Bank.
Native American Financial Institutions Convening — Reception Payment Option:
If you have an agency policy or other restrictions that require you to pay for the reception (i.e., ethics rules), we have calculated the cost of the reception to be approximately $15 per person. You may make this payment directly to KwaTaqNuk Lodge. Fred Fisher of the Center for Indian Country Development will be the point of contact for anyone needing assistance in processing this payment. He will be on-site at KwaTaqNuk Lodge on Sunday, August 26th – 28th. Fred can be reached at ffisher@casey.org or by phone at 720-810-2660.
CSKT Tour
August 28th, from 8 am – 12 noon. Please let us know if you plan to join the CSKT tour to ensure sufficient transportation by sending an email to cicd@mpls.frb.org.
Travel
Lodging
The KwaTaqNuk Lodge is now at capacity. New bookings can be made at other local hotels, such as the Red Lion Inn & Suites at (406) 872-2200.
Airport
Missoula International Airport
Travel to Polson, Montana and KwaTaqNuk Lodge
Polson is about one hour from Missoula (map) and we encourage sharing rides to and from the airport.
Rental Cars
All major car rental agencies can be found at the Rental Car Center at the Missoula International Airport.
Dress
Business casual.
Vacation Travel
If you are thinking about a side trip to nearby beautiful Glacier National Park, here are a few links to guide your planning:
Contact Information
For inquiries, please send an email to cicd@mpls.frb.org