February 2018 NNHC Newsletter
Heidi Frechette, HUD Deputy Assistant Secretary, Office of Native American Programs
On Plans to Increase HUD 184 Loan Program on Trust Land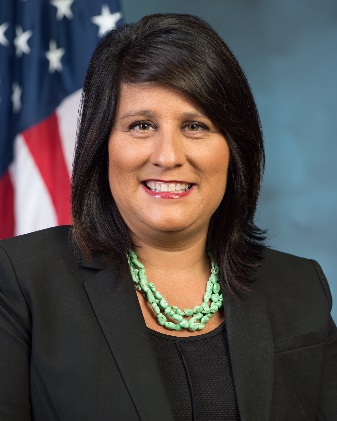 At a plenary session at the National American Indian Housing Council 's Legal Symposium, HUD's Office of Native American Programs Deputy Assistant Secretary, Heidi Frechette (Menominee and Brothertown), emphasized the importance of homeownership in Native communities. She also stated HUD's renewed commitment to making the HUD 184 Loan Guarantee Program work on trust lands.
Since 1996, the 184 loan program has helped more than 38,000 Native families attain homeownership. However, only 10% of these loans have occurred on trust land. CICD's Nikki Pieratos interviewed Heidi to learn more about ONAP's plan for its loan guarantee program, the strategies she will use to make it work better for reservation homeownership, and important partners in this effort.
Q: Please tell us about your background in Indian housing policy and your role as Deputy Assistant Secretary for the Office of Native American Programs?
A: Before coming to HUD six years ago, I already had experience with Indian housing legislation and policy from a state and tribal level. It was valuable having this experience before coming to HUD because I have a good picture of what works on the ground and what it takes to implement federal policy from a tribal perspective. This was evident when I was the lead on the last authorization of the NAHASDA bill in 2008. I worked closely with HUD, Senate committees, House representatives, NAIHC, and others to make sure that we had a bipartisan bill with large buy-in that also had realistic levers for implementation. It was important to me, then and now, to avoid passing a bill that HUD couldn't implement or one with unintended consequences.
I became Deputy Assistant Secretary for ONAP two years ago and this is my dream job. I am focused on producing outcomes, but also administrating our programs efficiently. I am also super- committed to working across agencies to encourage tribal consultation and government-to-government relationships to uphold tribal sovereignty.
Q: Can you share more about the efforts that HUD will take in 2018 to make the 184 program more effective on trust lands?
A: At HUD, we performed an assessment of the barriers and many of them are at other agencies. The biggest issue is the Title Status Report, and we have been reaching out to Interior to share how their process impacts HUD's abilities to do loans on trust lands efficiently. (Note: BIA LTRO and Realty are active members in the NNHC and have incorporated feedback on these pain points into their strategic planning and process development).
The secondary issue is that many tribes are still not aware of the 184 program and that tribes themselves can apply as borrowers. With a provision focusing on housing for professionals in Indian Country, there are even more possibilities and partnerships with funding from other programs, like Title VI and ICDBG. For example, the San Felipe Pueblo in New Mexico have used all of these three funds to create an amazing subdivision. HUD will share more case studies like San Felipe, best practices for tribes, and roadmaps for how to do it. Ultimately, we are focused on delivering more education and outreach with tribes in the upcoming year.
In working with tribes, HUD is also working to involve tribes much earlier in the consultation process regarding new HUD 184 regulations that would provide a much clearer process and address what isn't working with the program. We want tribes in on the ground floor to let us know what the regulations need to address to make this program even more successful, especially on tribal trust lands.
We just sent a letter to tribal leaders to request their participation in listening sessions that will be happening, with the next one at the NAIHC 2018 Legislative Conference on March 5-7, 2018 in Washington, D.C. We are committed to making stronger tribal and TDHE partnerships, because we've noticed that in order to make homeownership happen you need the support of the tribal leaders themselves.
HUD's Office of Loan Guarantee is also planning to bring hands-on training and technical assistance to lenders on tribal trust transactions. Lenders who are a part of the HUD 184 program will have advance notice of these opportunities. Furthermore, regulations will give transparency to the lending process, but lenders can start now. Current and future HUD 184 lenders are encourage to contact Krisa Johnson, Loan Guarantee Specialist and Acting Deputy Director with any questions.
ONAP will also do more internal outreach with our area offices—to increase their knowledge and use of the HUD 184 Loan Program.
Overall, our success will happen through cross-collaborations with other federal agencies, tribes, TDHEs, lenders, and supportive organizations like the NNHC to leverage all of our expertise and resources.
Q: A lingering issue in the spectrum of the homeownership process for tribes is jurisdiction—recognizing that tribal courts are an important expression of tribal sovereignty and are closest to the community and the people. How do you see a resolution of this issue?
A: If it were up to HUD, we'd be doing foreclosures in tribal court—but, the ultimate decision rests with DOJ (Department of Justice) and there is no current resolution. We work with them to educate them so they have a good working knowledge of the HUD 184 program, the foreclosure process, and concerns that tribes have. Senior officials at HUD have flagged the importance of this issue and it is on our radar as we move forward. We expect that the nominee for Assistant Secretary for HUD, Hunter Kurtz, will bring further definition to this issue.
It is most important for the DOJ to hear directly from tribes. While I am interested in learning more about the NNHC's current project identifying the foreclosure process from each of the agencies' perspectives, I am especially interested in the experience of tribes or TDHEs. ONAP would like to share the pain points in this process with DOJ and to develop relationships so that we can all address them together.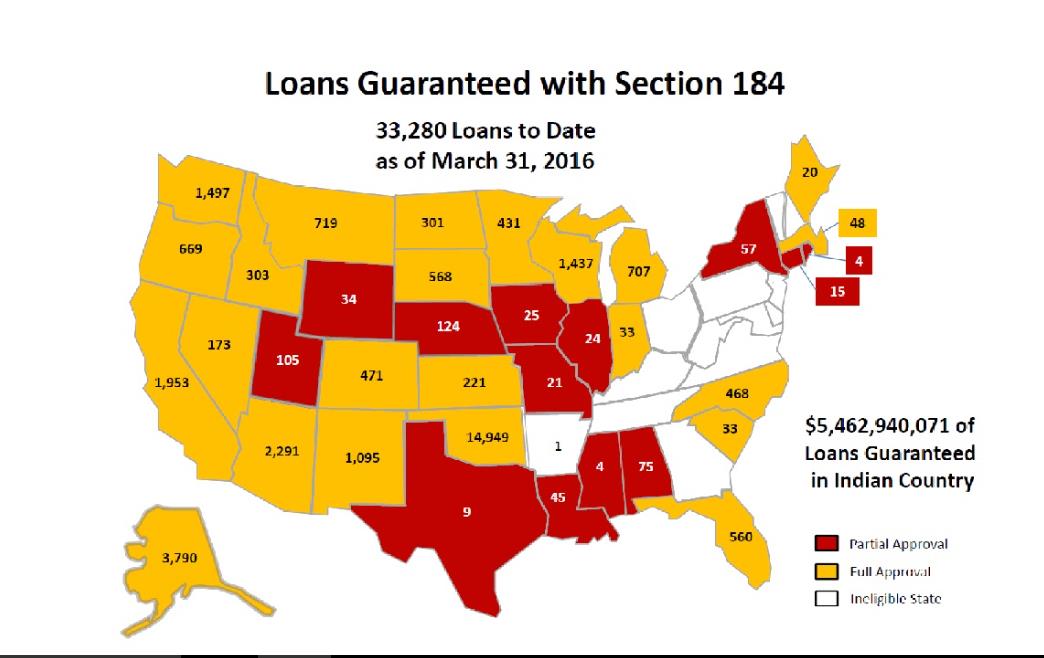 Coming soon - Online Home Mortgage Disclosure Act (HMDA) Data by Tribal Area!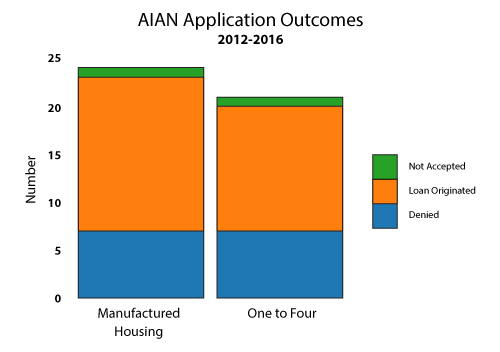 Data derived from the Home Mortgage Disclosure Act (HMDA) cover roughly 90% of home loans made in the U.S. and are the primary source of information on home-loan applications and their outcomes. This data also include loan denials. The NNHC Data & Research Working Group has developed statistical summaries of the HMDA data by tribal area, including breakouts for data on American Indian and Alaskan Native borrowers. The summaries also provide information on home-loan application denial rates, the usage of manufactured-home loans, and the most active home-loan lenders in each area. A recent CICD blog discussed how the market for manufactured-home loans on and near federally recognized American Indian reservations is highly concentrated among a few lenders, according to new CICD research using data from the Home Mortgage Disclosure Act.
The HMDA reservation data will be added to the CICD's Reservation Profiles this spring. It will augment the Profile's existing information on homeownership rates and housing cost burden for reservations. This information on reservation housing markets, the first of its kind to be coherently collected, should be a valuable tool and resource for tribes and tribal housing programs in their community planning and providing of services. Specifically, tribes can use this resource to answer the following questions:
How much lending is going on in our community? Where is it occurring?
What is the level of conventional vs. manufactured home-loans?
Who are the active lenders on our reservation?
Would our community benefit from financial and credit education?
Update: Tribal Leaders Handbook on Homeownership
NNHC's Tribal Leadership Support Working Group created the vision for a national handbook for tribal leaders and their partners that lays out a comprehensive overview of mortgage lending in Indian Country. They also asked for a basic guide to mortgage programs and examples of best practices working to build homeownership in Native communities.
Knowing that lending on trust lands has been a systemic problem, they further requested a discussion about the challenges and opportunities to address these impediments, along with a development framework for tribal policymakers to support homeownership in their communities.
A tall order to fill, to be sure. Nevertheless, the CICD decided to tackle this project in partnership with Enterprise Community Partners. The Tribal Leaders Handbook on Homeownership will address the fundamentals of lending on trust lands, data on lending trends, case studies of tribal programs that are succeeding in providing housing choice and navigating the lending process, homebuyer readiness resources, models of risk mitigation, and best practices from tribes that are succeeding despite the complexities and challenges of providing homeownership opportunities on trust lands.
The CICD plans to introduce the Handbook during a two-day conference in July 2018 (see announcement below). Following the launch, the CICD and Enterprise plan on developing online training videos and support for tribes looking to implement their own homeownership programs or strengthen existing programming.
Homeownership in Indian Country: Creating the Opportunity for Choice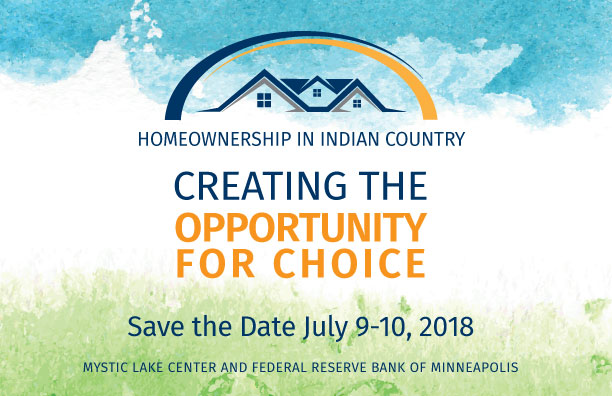 SAVE-THE-DATE July 9-10, 2018 | Mystic Lake Center and FRB Minneapolis
Please plan to join us this summer in Minneapolis as we highlight the work of the National Native Homeownership Coalition, launch the Tribal Leaders Handbook on Homeownership, our new resource guide, and create opportunities for housing choice in Native communities.
JULY 9, 2018 ∙ MYSTIC LAKE CENTER of the Shakopee Mdewakanton Sioux Community – On Day 1, the CICD and Department of the Interior (DOI) will co-host a forum on Land Data for Promoting Indian Business and Homeownership on Reservations. This will be a pre-session to the DOI's national Tribal-Interior Budget Council Meeting (TIBC).
JULY 10, 2018 ∙ Federal Reserve Bank of Minneapolis – On Day 2, the CICD hosts NNHC members and the broader lending community for a discussion of how we create opportunities for housing choice in Indian Country.
Subscribe