RSS
Agricultural Credit Conditions Survey
Ag lenders downbeat, concerned about trade and weather
Second-Quarter 2018 Agricultural Credit Conditions Survey
Published August 16, 2018 | August 2018 issue
"We are already seeing families leave the industry and expect more consolidation over the next few years," wrote a Wisconsin banker about the current state of agriculture. "A trade war might not help either." His comment reflected numerous others expressing concerns about the impact of potential tariffs in a recent Minneapolis Fed survey.
Farm incomes fell from April through June, according to results of the second-quarter (July) agricultural credit conditions survey. Spending on capital equipment and farm household purchases also decreased. Falling incomes pushed the rate of loan repayment down slightly, while renewals and extensions increased, though most lenders reported that both were flat. Somewhat surprisingly, respondents noted that cropland values generally increased slightly. The third-quarter outlook is for continued contraction, with survey respondents predicting further decreases in income, capital expenditure and household spending.
Farm income, household spending and capital investment
Almost half of district lenders responding to the survey (49 percent) reported that farm incomes decreased in the second quarter of 2018 from a year earlier, while only 8 percent said that incomes increased (Chart 1). Capital spending was also down, with 53 percent of lenders saying it decreased compared with 3 percent claiming it increased. Household spending within the district was more flat, with nearly two-thirds of lenders reporting no change, while more noted decreases than increases.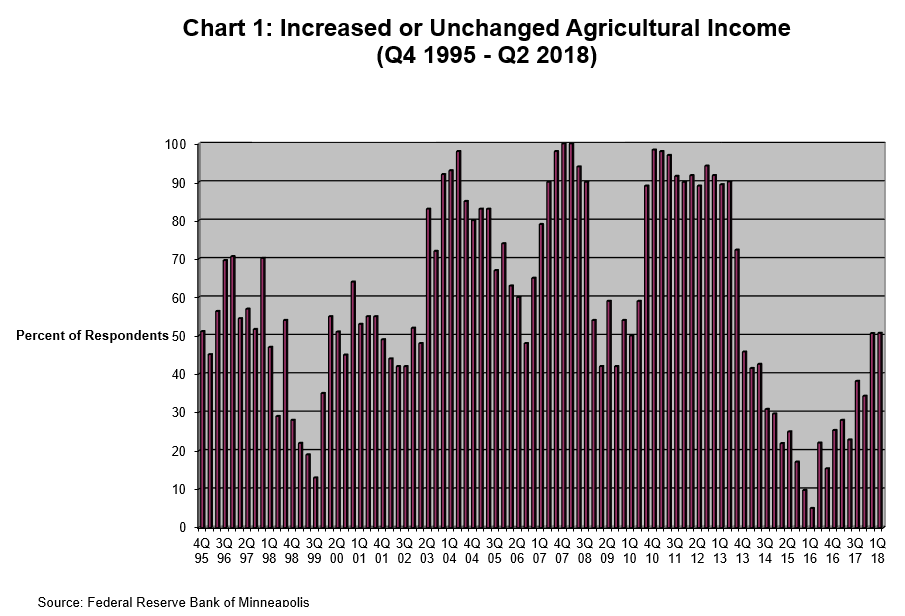 Conditions were more stable in Montana than in other district states. A strong majority of Montana lenders reported unchanged income, while Wisconsin had the highest share reporting falling incomes at 71 percent. Equipment purchases were also the most depressed in Wisconsin, where one lender pithily noted "lower milk prices, less capital spending." Reports of flat household spending were largely consistent across district states, though higher proportions of lenders in South Dakota reported increases, while more lenders in Wisconsin noted decreases.
Loan repayments and renewals
The rate of repayment on agricultural loans fell, as expected during leaner times for farm households, while renewals increased slightly. Compared with a year earlier, loan repayment rates decreased for 27 percent of respondents, while two-thirds reported that rates were unchanged. A solid majority of lenders, 68 percent, stated that the number of renewals or extensions had held steady, but 29 percent saw increased renewal activity.
Demand for loans, required collateral and interest rates
Falling incomes also drove increases in demand for loans by farm households in the second quarter. While 55 percent of respondents indicated that loan demand was unchanged from a year ago, a third noted increased loan demand. Collateral requirements were unchanged, according to the vast majority of lenders responding to the survey—90 percent. Fixed and variable interest rates for operating, machinery and real estate loans all increased modestly from the previous quarter.
Cash rents and land values
Though quarterly surveys in recent years typically indicated steadily but moderately declining land prices in the wake of a long period of soaring growth, the second-quarter results generally pointed to a moderate increase in land values. The picture for cash rents was more mixed. The average value for nonirrigated cropland in the district increased by more than 3 percent from a year earlier, according to survey respondents. Irrigated land increased by 2 percent, while ranchland values rose by a little more (between 2 percent and 3 percent). The district average cash rent for nonirrigated land decreased by 3.5 percent from a year ago, while rents for irrigated land rose more than 2 percent.
The increase in land values was mostly consistent across the district. Cropland prices increased the most in North Dakota, where lenders reported that nonirrigated land values rose nearly 6 percent compared with a year earlier, but all district states saw growth in that category. Rents for the same class of land fell 7 percent in Minnesota and 3 percent in South Dakota, but increased by about 3 percent in North Dakota and Wisconsin.
Outlook
Expectations for the coming months were slightly pessimistic, on balance. Across the district, about half of lenders responding predicted that farm income will decrease in the third quarter of 2018, compared with 8 percent forecasting increases. Slightly more than half expected capital spending to fall, and about a third predicted decreases in farm household spending. Loan demand was generally forecast to rise in the upcoming quarter (a third expect increases), while the outlook for repayments, renewals and collateral requirements was mostly flat.
Some of this pessimism may be weather-related. Prompted by late-season snow and heavy rains across the district, the second-quarter survey contained a special question about the impact of delayed planting on income expectations for this year. While a slight majority said there was no impact on income expectations, 46 percent said the weather events lowered their expectations for 2018 incomes moderately or significantly (Chart 2).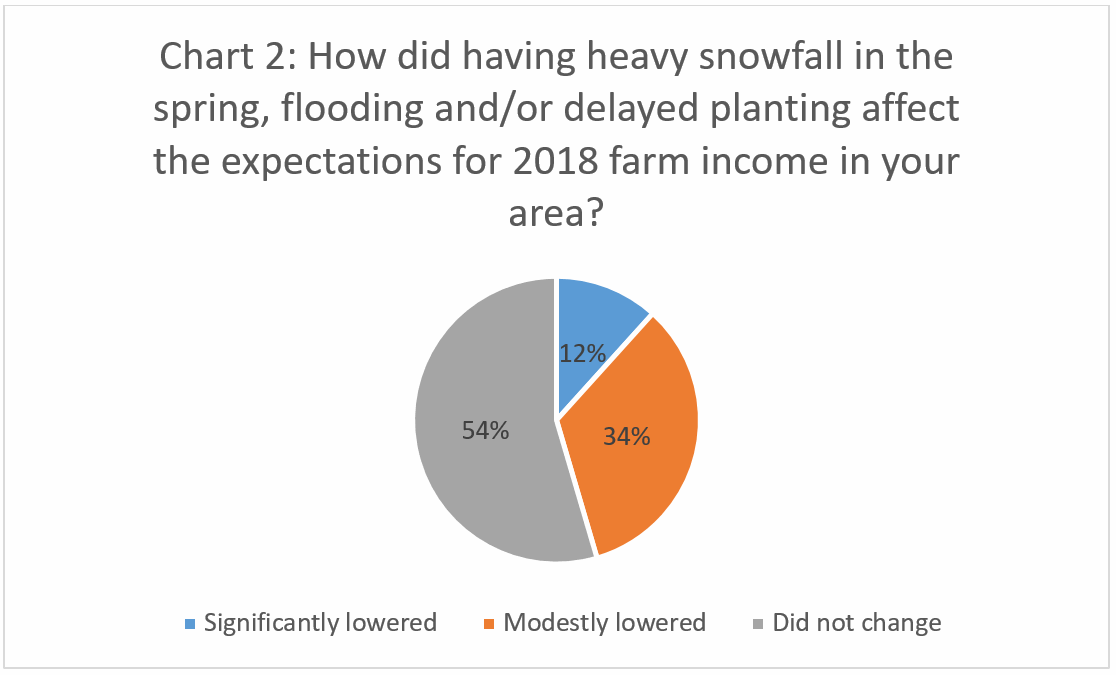 Appendices: