RSS
Agricultural Credit Conditions Survey
"Current agricultural conditions are positive"
Agricultural Credit Conditions Survey
Published October 1, 2008 | October 2008 issue
This comment by a Wisconsin lender reflects the attitudes of many respondents to the Minneapolis Fed's third-quarter 2008 (October) agricultural credit conditions survey. The results indicate that income and capital spending increased at a robust pace. Loan demand and loan repayments increased. Agricultural bankers were not fazed by the overall credit crunch; loans were not refused due to a shortage of funds and interest rates were little changed. Cash rents were also little changed, but land values continued to increase. The outlook for the fourth quarter is positive. However, the Wisconsin lender warned that "weakness may be on the horizon with increased input costs."
Farm income, household spending and capital investment
The positive profit picture continues with a vast majority, 60 percent of respondents, reporting higher-than-normal income for the third quarter, down from 77 percent for the second-quarter survey and 90 percent for the first-quarter survey. Harvest expectations are solid, but the "current drop in commodity prices is very troubling," a North Dakota respondent said. In Minnesota, 70 percent reported increased earnings, while in Montana only 11 percent expected growing profits.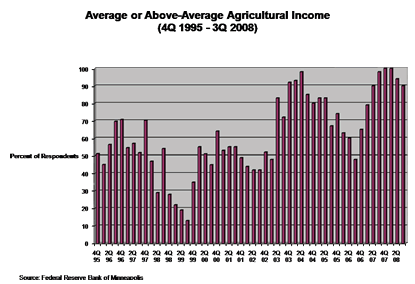 Household consumption and capital equipment spending also increased in the third quarter. Over half of the respondents reported higher capital spending in the third quarter, and 56 percent reported increased household spending. Minnesota and South Dakota showed the strongest growth, while Montana respondents reported that spending was flat.
Loan repayments and renewals
Growth in profits aided loan repayments and reduced the need to extend loans. "There have been some substantial pay-downs in some ag loans due to record high grain prices this year," noted a South Dakota lender. Thirty percent of all survey respondents reported increased loan repayments, and only 5 percent reported decreased loan repayments. Only 6 percent of the lenders surveyed noted increases in loan renewals/extensions.
Demand for loans, required collateral and interest rates
Demand for loans increased in the third quarter. Due to concerns about supplier inventories, "farmers have to purchase inputs for 2009 [early]," a Minnesota lender said. This may be driving up demand for loans, as 39 percent of lenders indicated growing loan demand while only 17 percent reported decreased loan demand. Sixteen percent of lenders reported increased collateral requirements during the third quarter, up from 9 percent in the second-quarter survey. Only 4 percent of respondents said they had refused a loan due to a shortage of funds. Both fixed and variable interest rates were little changed from the second-quarter survey.
Cash Rents and Land values
Cash rents were little changed, but land values continued to increase. Cash rents decreased slightly from the second-quarter survey. However, ranchland prices increased 12 percent, irrigated farmland increased 15 percent and nonirrigated farmland increased 25 percent from a year ago. The fastest growth rates in land prices occurred in the Dakotas. (Not only can prices vary from state to state, they can also vary from parcel to parcel. For more detailed information on agricultural prices, see the Minnesota Land Economics Web site.)
Outlook
Lenders expect this year's harvest to about equal last year's bountiful yields. Farm income, capital expenditures, household spending and loan repayments are expected to increase in the fourth quarter. About half of the respondents expect stronger capital expenditures and household spending in the fourth quarter, and 58 percent anticipate higher profits. Thirty-four percent expect loan demand to increase in the fourth quarter. However, several respondents commented that higher fertilizer and feed costs could hamper 2009 farm profitability.

Appendices: State Fact Sheet | State Fact Sheet-Outlook