RSS
Agricultural Credit Conditions Survey
Drought, prices tough on district farmers
Third-Quarter 2017 Agricultural Credit Conditions Survey
Published November 10, 2017 | November 2017 issue
The biggest story of the year for Ninth District agriculture was undoubtedly drought, which caused major crop damage in grain-producing regions of the Dakotas and Montana and forced ranchers to sell off cattle due to lack of feed. But in many areas, harvests have been excellent or at least better than expected.
And for yet another year, farmers around the Ninth District were hoping that crop yields would be sufficiently strong to offset low crop prices. Farm incomes continued to fall, according to the Minneapolis Fed's third-quarter (October) agricultural credit conditions survey. Land values retreated further across district states, and interest rates on loans were little changed from the previous quarter. The outlook for the fourth quarter is similar, with lenders in the district expecting farm incomes to decrease further.
Farm income, household spending and capital investment
"Tremendous grain yields have blunted the effect of low commodity prices to a degree," a South Dakota banker commented. The majority of district lenders surveyed (62 percent) reported that farm incomes decreased in the third quarter of 2017 from a year earlier, while just over a third said that incomes were unchanged (see chart). While 11 percent of North Dakota lenders reported increased income, the highest proportion in any district state, half said incomes decreased. Spending on buildings and equipment fell more sharply, as 74 percent of lenders reported decreased capital expenditure, and only 3 percent said it increased. Household spending was down as well, with half of lenders reporting that it fell, and 5 percent saying it increased.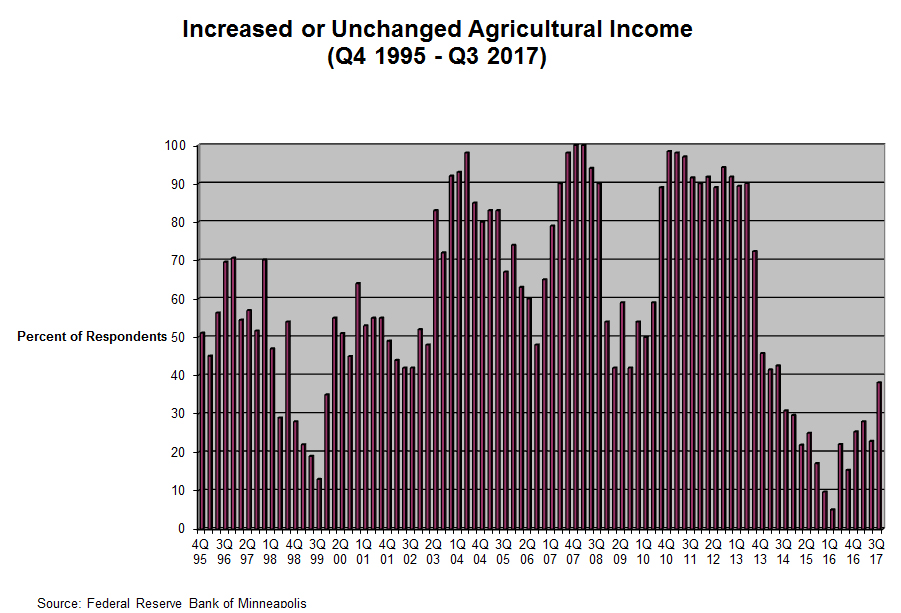 Loan repayments and renewals
The rate of repayment on agricultural loans fell, as expected during leaner times for farm households, while renewals increased slightly. Compared with a year earlier, loan repayment rates decreased for 40 percent of respondents, while 59 percent reported that rates were unchanged. A solid majority of lenders, 63 percent, stated that the number of renewals or extensions has held steady, but 37 percent saw increased renewal activity.
Demand for loans, required collateral and interest rates
Falling incomes also drove increases in demand for loans by farm households in the third quarter. While 50 percent of respondents indicated that loan demand was unchanged from a year ago, a third noted increased loan demand. Collateral requirements were unchanged, according to almost all lenders surveyed—93 percent. Fixed and variable interest rates barely changed for machinery and real estate loans, and increased slightly for operating loans. Variable rates increased slightly for all three categories.
Cash rents and land values
Land values and cash rents continued to decline from historic highs of recent years, with exceptions in some areas. The average value for nonirrigated cropland in the district fell by a little more than 1 percent from a year earlier, according to survey respondents. Irrigated land values fell by about the same percentage, while ranchland and pastureland values fell just over 3 percent, perhaps reflecting the impact of drought in the western portions of the district. The district average cash rent for nonirrigated land actually increased slightly from a year ago, about 1.5 percent. Rents for irrigated land decreased half a percent, while ranchland rents were flat.
Though land prices generally fell across the region, nonirrigated cropland prices increased in Minnesota by less than a percent from a year ago and were flat in Wisconsin. A bigger exception to the trend was Montana, where irrigated cropland prices jumped 11 percent from a year earlier, even as nonirrigated land fell 19 percent, a stark divergence likely due to drought. Cash rents were more mixed across the region, posting increases for nonirrigated land in Minneasota in Wisconsin.
Outlook
"This could be the worst year for the farmer in the last 20 years," wrote a Minnesota banker. If true, the fourth quarter won't be much better than the third, which was supported by survey results on the outlook.
Across the district, 65 percent of lenders expected farm income to decrease in the final three months of 2017, while 7 percent expected increases. The forecast for capital spending was also down, with 72 percent of respondents expecting decreases, while half thought farm household spending would fall. A slightly higher portion of respondents projected loan demand to increase in the next quarter than expected it to stay flat—48 percent and 25 percent, respectively. Meanwhile, 38 percent of lenders expected loan repayment rates to decline and 44 percent predicted increased renewals and extensions, though the majority expected no change in either category. About one in six respondents thought that the amount of required collateral on loans would increase, with a strong majority expecting no change.
Appendices: