RSS
Agricultural Credit Conditions Survey
Good harvests, low prices for district farmers yet again
Fourth-Quarter 2017 Agricultural Credit Conditions Survey
Published February 21, 2018 | February 2018 issue
"Record yields over the past three years have helped to make up for the lower commodity prices in grains." This comment from a South Dakota lender neatly summed up not only the year in agriculture for much of the Ninth District, but also what has become a familiar story over the past few years. Farmers in most areas of the Ninth District saw good yields in 2017, and for another year those strong harvests partly offset the effect of low crop prices. Farm incomes and capital spending continued to decrease, according to lenders responding to the Minneapolis Fed's fourth-quarter (January) agricultural credit conditions survey. Falling incomes also led to decreased loan repayment rates, while loan demand, renewals and extensions increased. Farmland values continued to decline, albeit at a slower pace, while cash rents were more stable. The outlook for the first quarter of 2018 is meager, with survey respondents predicting a further decline in incomes and capital spending.
Farm income, household spending and capital investment
Despite good harvests, farm incomes continued to fall. Two-thirds of lenders said that farm income decreased in the fourth quarter compared with a year earlier, while only 7 percent reported increases. While 15 percent of North Dakota lenders reported increased income, the highest proportion in any district state, more than half said incomes decreased. A greater share of lenders, 79 percent, said capital spending by agricultural producers fell in the fourth quarter, and another 20 percent reported that it was flat. Farm household spending was also down, with 46 percent of respondents reporting decreases and half indicating it was unchanged.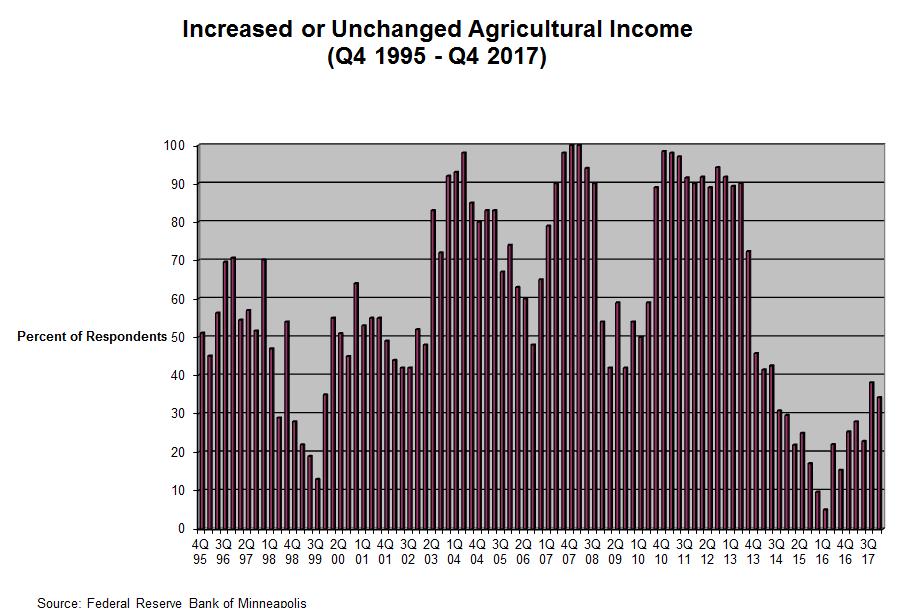 Loan repayments and renewals
In line with other recent survey periods, loan repayment rates decreased, while renewals ticked up. About 37 percent of the lenders responding to the survey reported a lower rate of loan repayment from a year earlier, while 55 percent reported that repayment rates held steady. Half of lenders reported no change in the number of loan renewals or extensions, while 39 percent noted that renewal activity increased.
Demand for loans, required collateral and interest rates
Consistent with weak incomes, loan demand was up, as 35 percent of respondents said demand increased from the last quarter of 2016, while 54 percent noted no change. This was generally consistent across district states. Nearly one lender in five surveyed reported increased collateral requirements on loans, though the remainder said they remained unchanged. Fixed interest rates on loans for operating, machinery and real-estate each increased by more than 10 basis points on average from their third-quarter levels, according to respondents; variable rates also increased slightly.
Cash rents and land values
Cropland values continued to decrease somewhat in the final three months of 2017, though the pace of decline slowed compared with recent surveys. Meanwhile, cash rents increased slightly. Nonirrigated farmland values fell by an average of 1 percent across the district compared with a year earlier, while cash rents for that land increased 0.8 over 2017. Irrigated farmland values were roughly unchanged on average, and rents increased slightly. Lenders in North Dakota reported the biggest drop in land values, with nonirrigated land down 3.6 percent and irrigated land down 6 percent. The picture for ranchland was the reverse of that for cropland—values increased 3.5 percent, but rents fell 2.4 percent.
Outlook
While good crop yields again buffered the effect of low commodity prices, "declining working capital and high breakeven are a concern," reported one Minnesota banker. Lenders were generally expecting continued financial pressure for the first quarter of 2018. Half of respondents to the survey predicted that farm income will continue to decrease in the first quarter of 2018, and two-thirds expected capital spending to fall. Just over half, however, expected farm household spending to remain unchanged. Lenders also expected loan demand to increase and repayment rates to decline on balance, while they expected renewals and collateral requirements to increase.
Appendices: