RSS
Agricultural Credit Conditions Survey
Mother Nature hits farmers and ranchers in second quarter
Agricultural Credit Conditions Survey
Published September 1, 2002 | September 2002 issue
Editor's note: To be more consistent with other Federal Reserve districts, the Federal Reserve Bank of Minneapolis changed the timing of this and future surveys from midquarter to end of quarter. Most questions were reworded; several were removed, including questions on detailed loan demand; and additional questions on future land prices were added.
Facing either unrelenting summer drought or excessive rain, farmers in the second quarter confronted increasingly tough financial conditions, according to the Minneapolis Fed's agricultural credit conditions survey. A majority of surveyed lenders reported that the overall income of their farm customers continued to fall and, like the first quarter, although household spending remained level, capital purchases decreased. Worse times may still lie ahead; although 9 percent of surveyed bankers predict increases in farm income next quarter, 53 percent expect their customers' income to fall further.
Farm income
The survey suggests that second quarter overall farm income decreased from a year ago. Of all survey respondents, 58 percent reported a decrease in farm income, while only 2 percent noted an increase. In Minnesota, 49 percent saw lower incomes; in North Dakota, it was 54 percent; in Montana, 56 percent; and in South Dakota, 68 percent. (Although 75 percent of northwestern Wisconsin bankers also reported lower incomes, that survey sample is small.)
Many respondents attribute troubles to the severe drought present in many states this summer. "We are in a severe drought area. Cattle are being liquidated. Pasture and hay land has burnt up," said one South Dakotan. Another banker stated: "Most [farmers] have good crop insurance, but due to lack of feed, they may have to cut back on feeder livestock, which would affect income. Hay prices will also likely increase, causing more expense. The lack of emergency money from the federal government will also have a negative effect on the bottom line." Meanwhile, excessive precipitation is hurting other areas of the district. "Extremely wet conditions in our entire area will have a significant impact on farm production and income," commented a Minnesota banker.
Decreased Farm Income From A Year Ago
Percent of Respondents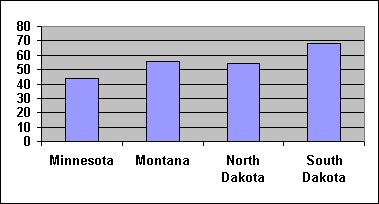 Farm household and capital spending
Nineteen percent of respondents districtwide reported a decrease in agricultural household spending, with 68 percent reporting no change. The survey results of agricultural capital spending are much more compelling, however. Nearly half of all respondents saw a lower level of capital spending—only about 5 percent saw an increase.
Land values
Despite the decrease in farm income, land values continued to increase in the district. Average irrigated and nonirrigated farmland values increased 5 percent and 8 percent, respectively, from a year ago. Meanwhile, district ranchland prices increased an average of 12 percent from the second quarter of 2001. Bankers in North Dakota, South Dakota and Wisconsin stated that many of the land purchases were from nonfarm buyers purchasing property for housing or hunting. However, a lender in South Dakota also expressed strong concern at the continued rise of land prices due to farm subsidies: "[The] farm program is dangerously inflating farm land values. We may be in a land price bubble."
Demand for loans and required collateral
Demand for bank loans rose during the second quarter: Nearly a third of the surveyed banks reported an increase in loan demand; 15 percent registered a decrease. At the same time, however, loans became slightly more difficult to obtain, as 22 percent of surveyed banks reported higher levels of collateral required for new loans. For all others, collateral levels remained constant.
Loan repayments and renewals
Banks also experienced a second quarter decrease in loan repayments and an increase of renewals/extensions. One-third of those surveyed reported a decrease in the rate of loan repayments (with only 4 percent reporting an increase) and 38 percent detailed an increase in renewals or extensions. A mere 2 percent experienced a decrease in loan renewals.
Outlook and government payments
Many lenders are concerned about the current financial situation of their farming clients. As one South Dakota banker said, "If current drought conditions stay, the number of problem loans could climb." Another seconded this opinion: "Major cash flow problems could arise because of drought and cattle and hog prices." Bankers from across the district commented on the central role government payments will play this year. "[Farming] net income [will be] very dependent upon government payments," said one respondent. "The passage of federal disaster aid," added a Minnesota lender, "will be critical to many of our borrowers."
The extent of government payments remains to be seen; overall, lenders seem pessimistic about the next three months for their farming clients. Though 10 percent expect farm income to rise next quarter, over half of the respondents expect it to fall. Most (71 percent) foresee unchanged levels of household spending, but 52 percent predict a decrease in capital equipment purchases.
Fixed Interest Rates*
Operating
Machinery
Real Estate

1st Q '01

9.8

9.7

9.1

2nd Q '01

9.3

9.2

8.6

3rd Q '01

8.9

9.0

8.5

4th Q '01

8.2

8.0

7.6

1st Q '02

7.5

7.7

7.3

2nd Q '02

7.6

7.7

7.4

* Average of reported rates in mid-May 2002.