RSS
Agricultural Credit Conditions Survey
Weak commodity prices remain bad news for district agricultural producers
Third-Quarter 2016 Agricultural Credit Conditions Survey
Published December 14, 2016 | December 2016 issue
Even though heavy rains stalled harvests in some areas, crop production this fall was strong, hitting records in some Ninth District states. But continued low crop prices dealt a financial blow to farmers from July through September 2016, according to the Minneapolis Fed's third-quarter (October) agricultural credit conditions survey. Land values retreated further across district states, and interest rates on loans barely changed from the previous quarter. The outlook for the fourth quarter is similar, with lenders in the district overwhelmingly expecting farm incomes to decrease further.
Farm income, household spending and capital investment
"Things do not look good right now," a Wisconsin ag banker commented, grimly summarizing the state of the sector. A strong majority of district lenders surveyed (85 percent) reported that farm incomes decreased in the third quarter of 2016 from a year earlier, while none said that incomes increased (see chart). Household spending was down sharply as well, with 88 percent of lenders reporting that it fell, while a mere 1 percent said it increased. Farms also spent less on buildings and equipment—57 percent of lenders reported decreased capital spending, and 42 percent said it increased.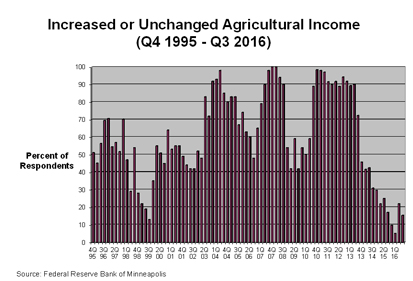 Unlike other recent periods where low output prices primarily took their toll on crop producers, the pain is now being shared more broadly, with livestock prices falling recently as well. This trend was reflected in Montana, where 100 percent of respondents indicated that incomes fell. Even in North Dakota, which had the lowest share of lenders reporting falling incomes, three-quarters of respondents said incomes decreased, with the remainder reporting unchanged incomes.
Loan repayments and renewals
The rate of repayment on agricultural loans fell, reflecting tighter budgets for farm households, while renewals slightly increased. Compared with a year earlier, loan repayment rates decreased for 45 percent of respondents, while 52 percent reported that rates were unchanged. A slight majority of lenders, 56 percent, stated that the number of renewals or extensions has held steady, but 43 percent saw increased renewal activity.
Demand for loans, required collateral and interest rates
Falling incomes also drove increases in demand for loans by farm households in the third quarter. While about half of respondents indicated that loan demand was unchanged from a year ago, 38 percent noted increased loan demand. Collateral requirements have increased, according to 26 percent of lenders surveyed, with the balance reporting no change. Fixed and variable interest rates barely changed for operating loans, but both fell slightly for machinery loans. Fixed real estate loan interest rates were nearly flat, while variable rates fell slightly.
Cash rents and land values
Following a trend from recent quarterly surveys, land prices and cash rents retreated from historic highs. The average value for nonirrigated cropland in the district fell by more than 3 percent from a year earlier, according to survey respondents. Irrigated land values fell 1 percent, while ranch- and pastureland values fell 5 percent, perhaps reflecting the more recent downturn in livestock prices. The district average cash rent for nonirrigated land dropped by more than the decrease in value, down almost 5 percent from a year ago. Rents for irrigated land decreased about 6 percent, while ranchland rents fell by 10 percent.
Declining land prices were widespread across the region, with the exception of Montana where nonirrigated cropland prices increased 2 percent from a year earlier. Values fell most in North Dakota, where lenders reported that nonirrigated cropland prices dropped 7 percent on average compared with a year earlier; rents for the same land in North Dakota fell 5 percent. Cash rents also decreased across the region, but fell the most in Wisconsin, where rental rates for nonirrigated land were down 12 percent from a year ago.
Outlook
"Commodity prices across the board put stress on all borrowers," wrote a South Dakota banker, adding that the "outlook for 2017 appears to be more of the same."
The outlook for the fourth quarter of 2016 was similarly downbeat. Across the district, 82 percent of lenders expected that farm income will decrease, while only 1 percent expected increases. The forecast for capital spending was similar, with 87 percent of respondents expecting decreases, while 64 percent thought farm household spending would fall. Half of respondents projected loan demand to increase in the final three months of 2016, while 55 percent expected loan repayment rates to decline and 53 percent forecast increased renewals and extensions. A third of respondents thought that the amount of required collateral on loans would increase.
Appendices: