Agricultural finances weaken
First-quarter 2002 agricultural credit conditions survey
Published July 1, 2002 | July 2002 issue
Editor's note: To be more consistent with other Federal Reserve districts, the Federal Reserve Bank of Minneapolis changed the timing of this and future surveys from midquarter to end of quarter. Most questions were reworded; several were removed, including questions on detailed loan demand; and additional questions on future land prices were added. This survey occurred before passage of the farm bill.
First-quarter agricultural financial conditions deteriorated from the same quarter the previous year, according to the results of the Minneapolis Fed's (March 2002) agricultural credit survey. Farm income fell, and producers reduced loan repayments and increased loan extensions. Overall household spending was mixed, but capital spending decreased. On the positive side, loan interest rates were down, while land prices continued to increase. Due to the continued drought, Montana lenders were the most pessimistic about the financial conditions of their agricultural producers.
Farm income and spending
Farm income decreased across the district. "Our customers lost many dollars last year," reported a Minnesota lender. Montana producers were hurt the worst, as 78 percent of respondents reported decreases in farm income. "Severe drought for the last three to four years has depleted inventory and cash reserves," said one Montana lender. Meanwhile, 60 percent of South Dakota respondents and about half of the Minnesota and North Dakota respondents reported decreases in farm income from a year earlier.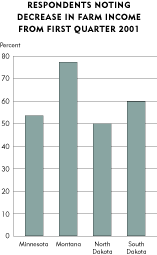 Overall farm household spending was mixed. The overwhelming majority of lenders in the Dakotas and Minnesota saw no change in household spending, but 56 percent of Montana lenders reported decreases from a year ago.