Bank Web sites address privacy concerns—customers and their own
Published September 1, 2002 | September 2002 issue
The findings from the fourth annual review of Ninth District bank Web sites reveal that the number of Web sites continued to increase, and more banks are offering online services to their customers. An increasing number of banks made their privacy policies available to Web visitors. In addition to customers' privacy, bank Web sites are becoming more concerned with their own privacy and efficiency as fewer banks provide e-mail addresses.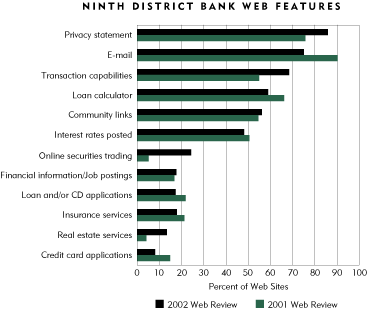 As of the first quarter 2002, 42 percent of Ninth District banks had a public Web site, 16 percent more than in 2001. Of the 314 Web sites reviewed in 2002, 68 percent had sophisticated online transaction capability, compared with only 54 percent of the Web sites reviewed last year. In addition, customer privacy is a big concern: 90 percent of bank sites reviewed this year had a link to the privacy statement on the home page, compared with 75 percent last year.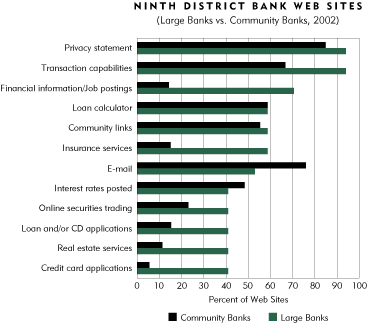 A trend that started last year and continued this year is a reduction in the percentage of banks revealing e-mail addresses. Instead, many banks used an online request form, where customers type in their questions and comments online and usually request customers' e-mail address and other personal information.
Differences were also noted between large banks and community banks. Large banks provided more robust services on their sites, while community banks provided more personal service. On average, large banks were more likely than community banks to present transaction capabilities, post interest rates, offer online loan and/or certificate of deposit applications, insurance services and job postings.
Community banks more often offer their customers the ability to directly e-mail bank staff. About the same percentage of community and large banks offered links to outside Web sites. However, community banks were more likely to steer their visitors to the nearby chamber of commerce and other local Web sites, while large banks were more likely to direct their customers to national sites.
Most banks used in-house resources to design and develop their Web sites. Those without in-house capability used a wide number of outside Web designers. Fifty-six Web design firms provided development services for 34 percent of the reviewed sites, and the most often-used Web design firm designed only 4 percent of the reviewed bank sites.
See the prior years' surveys [2001, 2000, 1999] and a directory of Ninth District banks.
Minneapolis Fed research assistants Nik Grezda and Nisha Lima and interns Laurent Frecon and Linda Yang contributed research to this article.