Bank Web sites double in four years
Published September 1, 2004 | September 2004 issue
The sixth annual review of Ninth District bank Web sites indicated that the number of district banks with a public Web site has more than doubled since 2000. As of the first quarter 2004, 61 percent of district banks had a public Web site. Since last year, the number of district bank Web sites grew 8 percent.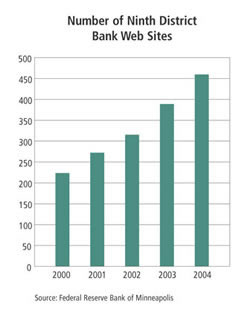 In addition, both large and small banks are increasingly offering their customers more capabilities and interactive online services. Of the 459 Web sites reviewed in 2004, 80 percent had interactive online transaction capability, up from 74 percent of the Web sites reviewed last year. In comparison, only 28 percent of Web sites had these online transaction services in 2000. Another feature that has seen rapid growth is online securities trading. As of first quarter 2004, nearly 20 percent of district Web sites made online securities trading available to customers, compared with a mere 4 percent in 2003. As recently as 2000, only 1 percent of all district Web sites featured this service.
Fewer banks publish staff e-mail addresses. In the last four years alone, the proportion of banks providing e-mail addresses dropped from 96 percent in 2000 to only 64 percent in 2004. Instead of offering an e-mail address, many banks use an online request form, where customers type in their questions and comments, which usually ask for the customer's e-mail address and other personal information.
Minneapolis Fed intern Mai Kue contributed research to this article.