Business leaders are slightly optimistic for 2003
Business Outlook Poll
Published January 1, 2003 | January 2003 issue
Even with the threat of war and a breakdown in investor confidence, most Ninth District business leaders expect the national and district economy to strengthen in 2003. Respondents to the November business outlook poll expect modest growth in national economic activity and inflation in 2003. Most are optimistic about their community's economy but still expect decreases in local employment, investment, consumer spending and housing starts. Leaders expect increasing sales and prices for their companies in 2003 but level employment and capital spending, although they expect a war would hurt their company's financials. Meanwhile, wages are expected to increase modestly.
The poll was conducted between Nov. 1 and Nov. 15. About half the 343 responses were postmarked before Nov. 6, when election results were reported and when the Federal Reserve lowered the discount and targeted fed funds rate by 50 basis points (one-half percentage point). On average the responses postmarked after Nov. 6 were slightly more optimistic about the economy's performance in 2003.
National economy looking up
Fifty-nine percent of respondents expect U.S. Gross Domestic Product to grow by 1 percent to 2 percent in 2003. Nearly 30 percent expect 3 percent or greater growth in GDP, compared with 12 percent who expect zero or negative growth in GDP. These responses are counter to last year's poll, when 59 percent expected zero or negative growth in 2002.
Montana respondents expect the largest growth, while North Dakota respondents expect the least amount of growth in GDP in 2003. Meanwhile, agricultural and retail sector respondents are the most optimistic, as only 7 percent expect zero or negative changes in GDP.
Respondents not only expect modest growth in output but also in inflation. Nearly two-thirds of respondents expect the Consumer Price Index to change by around 2 percent or less in 2003. No respondents indicated CPI increases of 5 percent or more. Seventeen percent of the respondents expect a CPI increase of 1 percent or less. Minneapolis/St. Paul had the highest percentage of respondents who expect extremely low inflation.
Optimism prevails on outlook for community's economy
Business leaders do not expect much increase in U.S. output or inflation in 2003 but are optimistic about the economic prospects for their community: 57 percent are optimistic about the their community's economy compared with 44 percent a year ago. Montanans were the most optimistic, while North Dakota respondents were the most pessimistic.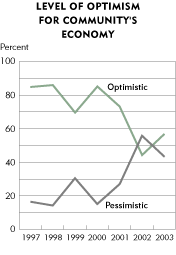 Source: Federal Reserve Bank of Minneapolis
However, this optimism does not flow through to specific areas of the community's economy. Respondents expect business investment, employment, consumer spending and housing starts to be lower than 2002 levels.
With this sluggishness in employment, wages in their community are expected to grow slowly. Seventy-two percent of the leaders expect that wage hikes will stay in the 2 percent to 3 percent range, while 22 percent expect wage increases of around 1 percent. "My sense is that the economy locally will remain unchanged for next year. Manufacturing continues to be weak, but I don't see anymore 'bad news.' We've taken our hits. A big issue is the state and local budget deficits. How will they raise revenue?" asked a southwestern Wisconsin respondent.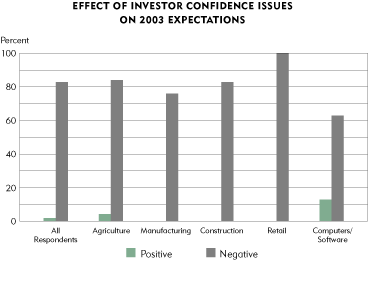 Source: Federal Reserve Bank of Minneapolis
One reason for the expectation of lower business investment may be lack of trust. Investor and public confidence issues, such as WorldCom and Enron, dimmed expectations for 2003. Eighty-two percent of respondents reported that investor confidence issues have negatively affected their economic outlook. "The general public confidence in the financial markets will be one of the important telltale signs in 2003. Public companies (senior or top management) are basically overpaid for performance. Until the ethics and integrity of the public company group becomes evident and much more reliable, our markets will be stymied as well as our confidence in business," wrote a Montana leader.
Respondents upbeat about their own business
While poll respondents have mixed feelings about their communities, they expect their own company sales revenue and prices to increase in 2003. Fifty-six percent of manufacturers anticipate increased sales, while only 13 percent expect decreases. However, employment and investment will range from level to slight growth in 2003.
This increase in sales expectations without related increases in employment is probably due to productivity gains. In 2002, over 30 percent of leaders reported productivity growth of 1 percent to 2 percent, 24 percent saw productivity grow from 3 percent to 5 percent, and 11 percent enjoyed productivity gains of over 5 percent. However, 12 percent saw productivity declines in 2002.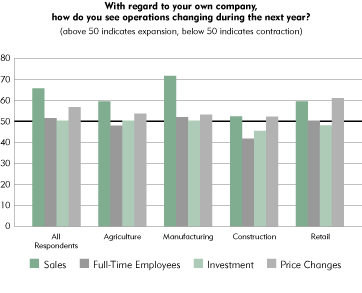 Source: Federal Reserve Bank of Minneapolis
In this year's survey, 30 percent of respondents reported some sales over the Internet compared with 35 percent in 2001 and 29 percent and 24 percent, respectively, in previous years' surveys.
Meanwhile, respondents are concerned about the threat of war. "Iraqi war is a wild card," wrote a Minnesota leader. Ninth District business leaders expect that a major U.S. military conflict would hurt their businesses in 2003. Most (57 percent) of the respondents expect their companies to be negatively affected by a major war, while only 10 percent expect to benefit. Another Minnesota respondent said, "War in the Middle East is a problem due to unstable oil prices. It may cause long-range problems if more terrorism is a result."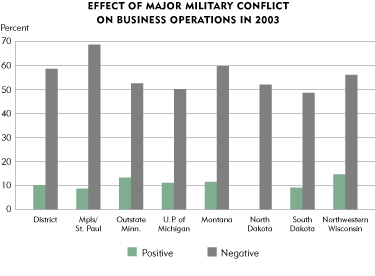 Source: Federal Reserve Bank of Minneapolis
business-leaders-are-slightly-optimistic-for-2003 (xls)