Business leaders expect increased economic growth in 2014
Business Outlook Poll
Published January 6, 2014 | January 2014 issue
"I am generally optimistic about economic prospects," commented a Minnesota utility respondent to the fedgazette's annual business conditions poll of 321 business leaders conducted in November. Optimism is at a seven-year high as the Ninth District economy picks up steam.
Business leaders across the Ninth District are optimistic for their local economies. This optimism stems from expectations of increased sales and investment for their own companies in 2014. Firms also expect to raise prices and increase wages. More broadly, business leaders believe that housing starts, business investment and employment will rise in their local communities. They also see slightly higher inflation and moderate growth at the national level. Tempering this optimism are concerns about regulation, hiring, obtaining workers and health care.
Companies expect continued growth in 2014
Respondents were upbeat regarding future sales and employment (see Chart 1). More retailers and manufacturers expect gains in sales than other industry sectors. In addition, 48 percent of all respondents anticipate raising prices in 2014, compared with 17 percent who see their prices dropping. Almost half of retailers expect to increase prices, but 41 percent of agricultural producers envision declines in commodities prices.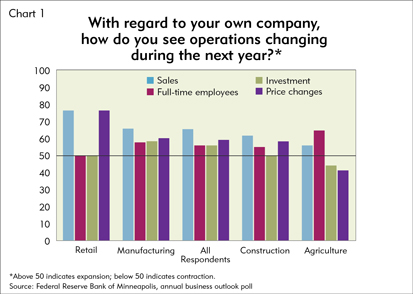 Almost 70 percent of business leaders also saw higher productivity last year, a trend that should continue, as overall capital investment is expected to increase. However, capital spending plans are mixed across sectors as manufacturers and services and financial firms plan to increase capital investment, while agricultural producers plan decreased investment. The boom in the oil areas may also be a factor in capital investment. "Oil and gas investments are red hot," commented a North Dakota respondent.
Meanwhile, more respondents expect their firms to increase hiring full-time employees than decrease. This is evident among all industry sectors, but varies across geographic areas. Firms from Montana and the Dakotas have the highest indication of positive hiring, while respondents from the Upper Peninsula of Michigan and greater Minnesota expect decreases in hiring.
Respondents indicated that they may have an easier time financing capital expenditures because more are reporting improved access to credit over the past three months. Seventeen percent of respondents indicated that access to bank credit has improved some or improved a lot versus 7 percent who noted deteriorating conditions. This improvement occurred across almost all industry sectors and throughout the district.
District businesses face some challenges. More than three-quarters of the respondents said that complying with government regulation was a challenge or serious challenge. In addition, 57 percent said that securing workers was a challenge. This labor concern varies across the district, with a high of 83 percent of the respondents from North Dakota and a low of 48 percent from the Minneapolis-St. Paul area reporting difficulty.
The Affordable Care Act is also a concern for businesses. A majority of respondents are considering sharing more of the insurance costs with employees. In addition, 11 percent said they already have shifted to more part-time workers and 10 percent plan to shift to more part-time workers within the next two years.
Moderate state, modest U.S. growth expected
Respondents' optimism about their state economies shot up compared with last year. Optimism is prevalent across the district and is strongest in Montana, the Dakotas and greater Minnesota (see Charts 2 and 3). "Due to the Bakken oilfield, our state and region are experiencing unprecedented prosperity," commented a North Dakota transportation respondent.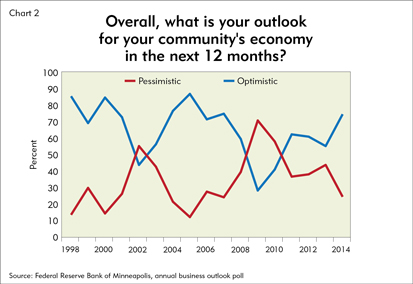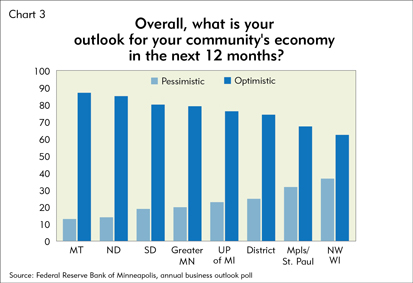 Respondents generally expect increased employment, business investment and consumer spending. Respondents from Montana and North Dakota had the highest share of positive responses, while respondents from the U.P. expect a drop in consumer spending. All industry sectors were positive about their state economies; the strongest results come from the agriculture and retail sectors.
Statewide housing starts are expected to increase in 2014 compared with 2012 across the district. The only exception is the U.P., which expects flat activity. Respondents from most industry sectors were very optimistic about housing starts.
Wages are also expected to rise moderately, with 68 percent seeing 2 percent to 3 percent increases. Respondents from North Dakota anticipate much more robust wage increases; 31 percent see increases of 4 percent or more. Among industry sectors, construction expects the largest wage increases, and the finance and insurance sector the lowest.
Respondents imagine more modest economic growth at the national level. About a quarter expect 3 percent growth in GDP in 2014, and nearly two-thirds predict growth of around 2 percent. Inflation is somewhat of a concern, as 22 percent expect the consumer price index to increase by 4 percent or more, and 36 percent forecast inflation of around 3 percent.
Business Poll Results [xlsx]