Business leaders optimistic, but less so than a year ago
Ninth District Business Leader Poll
Published January 1, 1999 | January 1999 issue
District business leaders are more subdued about the business outlook than they were a year ago, but the issues confronting them appear to be unchanged.
Going into 1999, district business leaders remain quite optimistic about the regional economy, but they are less optimistic than they were a year ago. This is a key finding from a poll of 209 Ninth District business leaders that was conducted in mid-November. Thirty percent are pessimistic about prospects for their communities in contrast to 14 percent a year ago, and fewer are looking for gains in investment spending, employment, consumer spending and housing. They remain, however, quite upbeat about prospects for their own organizations. Moreover, wage increases are expected to remain modest, even though securing workers remains the biggest challenge confronting district employers. They look for modest increases in consumer prices, but are less sanguine about the prospects for national economic growth than they were in late 1997.
In 1999 . . .
While the optimists outnumber the pessimists, respondents are less optimistic about their communities than a year ago. Seventy percent of all respondents are somewhat or very optimistic about their communities' prospects for the coming year, compared to 86 percent a year ago.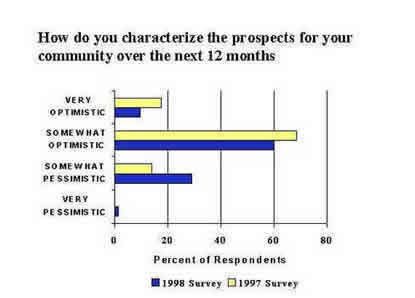 Their reduced optimism extends to investment spending, employment, consumer spending and housing starts.
With regard to their own organizations, respondents' outlook for 1999 differs very little from their outlook a year ago.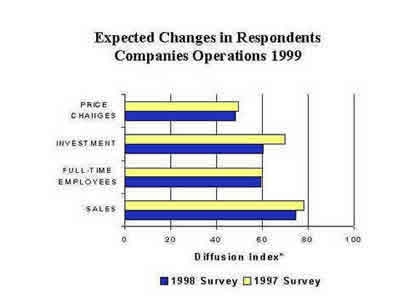 * This index measures the dispersion among respondents on how they see components of their economy changing over the next year. Each component is assigned a value of 0, 50, or 100 percent, depending on whether it is expected to decrease, not change, or increase. Their average value is the diffusion index number. The reference point for interpreting the diffusion index is 50 percent, the value which indicates that the same number of respondents expect and increase as a decrease. The direction and distance of the index number from the 50 percent indicate whether increasing (above 50) or decreasing (below 50) opinions predominate and by what magnitude.
Moreover, respondents' views on expected wage increases did not change from November 1997 to November 1998. Many respondents expect wages to only increase 2 percent to 3 percent in 1999.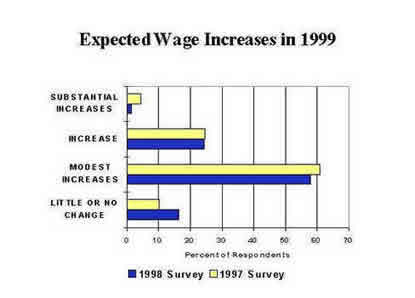 Although wage increases are expected to remain modest, securing workers remains the most serious challenge confronting district businesses as it was last year. Twenty-five percent of respondents indicated that securing workers was expected to present a serious challenge to their organization in 1999.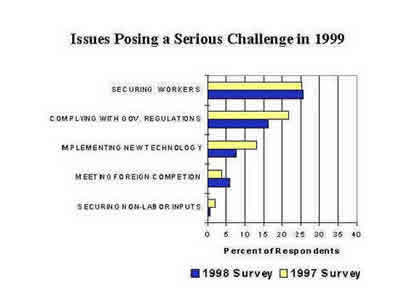 Respondents' more subdued outlook for 1999 may stem from their reduced expectation for the national economy. In 1999, 45 percent look for weaker than average growth in the national economy, around 1 percent to 2 percent, and 10 percent expect a recession. Last year only 31 percent looked for below-average growth and none expected a recession.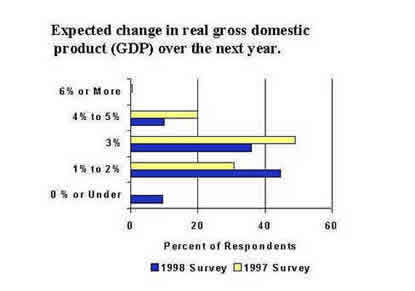 Moreover, the majority of respondents see the consumer price index increasing around 2 percent, and 8 percent see increases of 1 percent and below. Comparable expectations last year were 35 percent and 2 percent, respectively.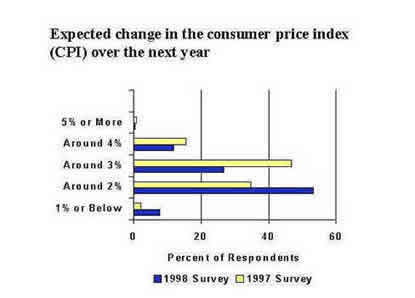 Complete Survey - .xls format