Businesses are optimistic for 2011
Business Outlook Poll
Published December 16, 2010 | January 2011 issue
After two years of pessimism regarding the economy of their communities, business leaders across the Ninth District are more optimistic about the coming year, according to the November fedgazette business outlook poll.
Respondents believe their local economies will expand in 2011. Positive sentiment grew regarding business investment, employment and consumer spending. Respondents expect higher sales, employment and capital investment at their businesses. Employers expect small increases in wages and are not very concerned about finding qualified workers, but are very concerned about government regulation. Credit conditions appear a bit more favorable compared with last year, but housing starts are expected to fall. Leaders remain cautious about the national economy, expecting modest growth with mixed expectations for inflation.
Optimism is back
Most notable in the poll is the fact that respondents are now more optimistic than pessimistic about the outlook for their community—and by a considerable margin—compared with the previous two years (see Chart 1). The optimism is strongest in the Dakotas (see Chart 2), while respondents in northwestern Wisconsin were more pessimistic, but still positive on the whole.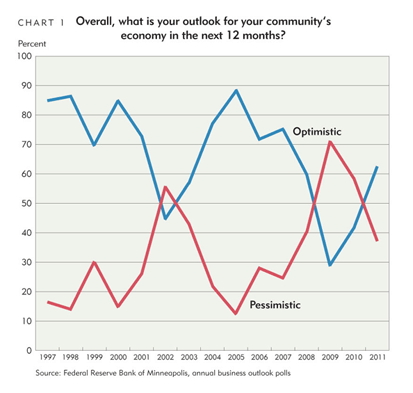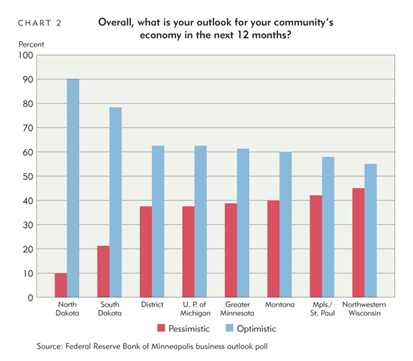 Among various business metrics, expectations in local communities were positive overall; more respondents expect growth than contraction in employment, business investment and consumer spending. But opinions differed across geography and business sectors. For example, Montana, the U.P. and western Wisconsin expect decline in these categories, and respondents in construction were more pessimistic overall than those in other sectors.
While respondents are optimistic about their own businesses and communities, they are less confident about national economic conditions. "I am apprehensive about the economic future of the U.S.," a Minnesota service provider said. Almost three-quarters of the respondents expect GDP growth of 1 percent to 2 percent. "I think the economy will grow, but at a slow pace," said a manufacturer from greater Minnesota. Not everyone is confident even of modest growth; almost one in 10 expects a recession this year.
Inflation expectations for this year are quite mixed: About two-thirds believe it will be below the historical average of 3 percent. But one in five believes it will be 4 percent or higher. Minnesota respondents expect lower inflation than those elsewhere. Some leaders are also concerned about delayed inflation. "No inflation spike in 2011, but thereafter I see inflation heating up," a Minnesota farmer said.
Companies see gains in 2011
Businesses expect local consumer spending to increase overall. "My locations in North and South Dakota are booming," said a retailer based in western Wisconsin. Respondents from the Dakotas expect large increases in consumer spending, while Montana, the U.P. and western Wisconsin are less optimistic on this measure.
Firms see higher consumer spending translating into higher sales for their firm this year (see Chart 3). "We see some nice sales growth coming our way," commented a northwestern Wisconsin manufacturer. That sentiment is widespread across industry sectors and geographic areas. "I believe that it is already picking up," said a service provider from the Minneapolis-St. Paul area. "We are launching many new products," a high tech firm commented.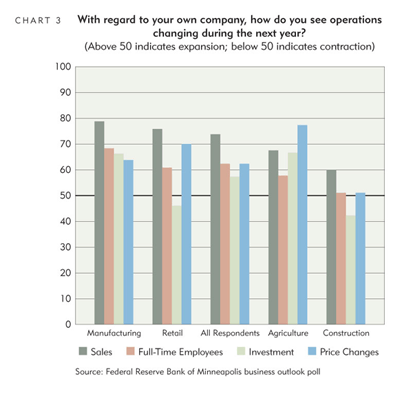 Higher sales expectations appear to be positively affecting other business decisions. For example, investment in plant and equipment is expected to increase in 2011, except for the battered construction industry and the retail sector. Across the district, 34 percent of respondents expect increased levels and 18 percent anticipate decreased levels.
Firms across the district, and in most industry sectors, also expect hiring to pick up. One-third of respondents said they expect full-time employment this year to grow over last year's levels, compared with 9 percent expecting employment to decrease at their companies. Those looking to hire don't expect a lot of difficulty; only 25 percent indicated that securing workers is a challenge.
Not only are firms planning to add employees, but they are also getting more from their existing workforce: 70 percent reported higher productivity in 2010, with 18 percent reporting gains of 5 percent or more. "Pressure [was] placed on the workforce to increase productivity per person," commented a service provider in the Minneapolis-St. Paul area.
Wage increases are also expected, but will be modest. About half of the respondents expect 1 percent or lower wage increases, and the other half expect 2 percent to 3 percent. Workers in North Dakota can expect the largest wage increases.
Many companies are looking to raise prices in 2011 as well. Over a third of the respondents expect to increase prices on their products and services, while only 10 percent see price declines in 2011. These increases may be a result of higher confidence, but also because suppliers are raising prices, according to numerous comments.
Access to credit appears to be improving for some firms, though many still face difficulties. Eleven percent of respondents indicated that access to credit has improved over the past three months, up from 5 percent a year ago. For those reporting improved access, most indicated that it was the result of improved financial performance by their firm. Twenty-three percent of the respondents reported that access to bank credit has deteriorated over the past three months, down from 35 percent a year ago.
The only clear pessimism is related to housing, whose downturn appears likely to continue, according to business leaders. "We fear continued weakening in the construction sector," commented a Montana real estate respondent. Forty percent of respondents predict that housing starts will decline further in 2011, and only 12 percent expect increased housing starts. "The housing industry is in a depression," commented a respondent from a U.P. construction firm. Housing starts are expected to fall across the district, except in North Dakota.
With a variety of challenges facing businesses in the current economic environment, respondents said the biggest one facing their firm continues to be complying with government regulation; 88 percent cited it as a challenge in 2011. Said one Minnesota services company about government regulation, "We spent way too much time [on compliance, and] it takes away from growing jobs."
Business Poll Results [xls]