Cattle prices on a two-year wild ride
Published March 1, 2004 | March 2004 issue
Over the last two years, cattle prices have been on a roller coaster, cruising down, climbing up and dipping down before shooting up to take that final plunge, largely due to changes in supply.
Beef prices fluctuate for many reasons. But some unique forces—including the Atkins diet and the discovery of mad cow disease in both Canada and the United States—have been at work recently that have been particularly stomach-churning for the industry, pushing prices strongly in one direction and then the other (see chart).
On the demand side, per capita beef consumption is up about 17 percent from 1998 to the third quarter of 2003 (though it is actually down from levels of 25 years ago), according to recent analysis by the Research Institute on Livestock Pricing. Protein-rich diets like Atkins and South Beach have been widely credited for fueling much of that growth.
But with actual demand for beef changing only gradually over time, much of the recent price volatility appears to come from supply shocks and fears over changing demand that has not materialized, at least not yet.
Taking a look at price fluctuations in South Dakota offers a useful snapshot of beef price volatility. For example, in January 2002, the average South Dakota steer sold for a profitable $82.90 per hundred pounds of weight. But by 2002, drought had spread eastward throughout much of the state, and many ranchers decided to liquidate their herds rather than pay to haul water and feed to animals. This short-term increase in cattle supply at slaughterhouses dampened cattle prices and by July 2002 the price was down 20 percent to $65.90.
However, after the herds were reduced and replacement cattle were not in the pipeline, the price moved upward again, growing 24 percent to $82 by January 2003. But the ride was not over. Early spring rains allowed animals more forage to gain weight and ranchers boosted overall feedlot numbers in South Dakota. Compounding this supply increase was the threat of and actual war in Iraq, which made the market nervous about a possible drop in demand for beef exports. The price dipped 8 percent to $75.20 in March 2003.
The price slide stopped because of the discovery of mad cow disease in a Canadian herd, which shut the border to cattle shipments and reduced the supply to U.S. packing plants. The price shot up 37 percent to reach a record $103 in October 2003.
SOUTH DAKOTA STEER PRICES
Current Dollars per Hundredweight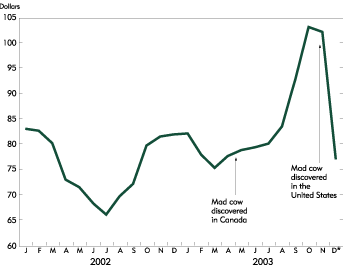 *Year-end closing price
Sources: U.S. Department of Agriculture,
South Dakota Agricultural Statistics Service,
Wall Street Journal
The climax of this ride came on Dec. 23, 2003, the date the U.S. Department of Agriculture announced that a dairy cow in Washington state had mad cow disease. Prices then careened down as more than two dozen countries suspended imports of U.S. beef, and domestic producers worried about lower demand due to food-safety concerns. At the end of 2003, the Wall Street Journal reported December live cattle futures closed at $76.90 per hundred pounds of weight.