Checking out?
Hotels in smaller communities have weathered the downturn better than big-city siblings
Published September 1, 2002 | September 2002 issue
The past year and a half have produced some tough times for the lodging industry. Jim Callaghan, general manager of the Radisson Plaza Hotel in downtown Minneapolis, can attest to just how much business has suffered because of the recession and the fallout from the attacks on the World Trade Center and the Pentagon on Sept. 11, 2001. "It's a huge problem," he said.
But Penny Morrissey, lodging manager of the Pollard Hotel in Red Lodge, Mont., tells a very different story. Overall, business was great in the fall and winter of 2001 and summer bookings in 2002 are better than they were last year. "I don't think that Sept. 11 or the recession has really affected us," Morrissey said in late June.
The Radisson Plaza and the Pollard Hotel illustrate a nationwide and district pattern. Large city luxury hotels that market to business fliers have been whacked by the downturn, while outstate lodges catering to tourists and not served by major airports generally have seen smaller losses—or even gains—as leisure travelers stay close to home. "The mix of business has changed dramatically since 9/11," said Steve Dubbs, vice president of CSM, which owns 31 hotels nationwide, most of them in the Ninth District. "We continue to see a lot of leisure travel ... but we aren't seeing a lot of the corporate business travelers. The guys who pay full fare aren't out there traveling right now."
Business down
The recession officially began in March 2001, but the Radisson saw a downturn before that. "We actually noticed our business slowing down at the end of 2000. But because 2000 was such a great year in Minneapolis, we didn't realize it until later," Callaghan said. By early September 2001, business at the Radisson Plaza was down 10 percent from the prior year due to cutbacks in business travel caused by the slowing economy, he said. "Ninety or 95 percent" of the hotel's customers are business travelers who fly to Minneapolis.
For about 10 days after the attacks on New York City and Washington, D.C., occupancy in the luxury 357-room hotel dropped 65 percent. Much of it was due to the shutdown of commercial air traffic. When planes began to fly again, business gradually came back, but it was far from previous levels. "Our fourth quarter on average was down 25 percent from the prior year," Callaghan said.
First-quarter occupancy this year remained lower than in 2001 at the Radisson and many other Twin Cities hotels, and while districtwide data aren't in for the second quarter, things aren't looking great. "I tell you, we thought the second quarter would start picking up and we projected that it might be back to last year's level," said Callaghan, "but it absolutely has not been. Demand is down about 12 percent, year to date, in the Minneapolis hotel market. ... It's a problem, a real problem."
Hotels just outside the Minneapolis-St. Paul core have suffered as well, in what seems to be a delayed ripple effect. Business at the Super 8 Motel in Zumbrota, 62 miles south of the Twin Cities, for example, "actually held on fairly decently" last summer, according to hotel manager Allan Falk. Even in the fall, after Sept. 11, "for us, things went on as usual" buoyed by an increase in road traffic from travelers who would normally have flown. Overall, the occupancy rate at the Zumbrota motel grew to 56 percent in 2001 from 54 percent a year earlier.
But in 2002, business has been down. "This was our slowest March in three years," said Falk, who blamed the March decline to lack of snow, which kept snowmobilers away. But recent months have been no better. "For June, it's down quite a bit over a year ago. The business just isn't there." Falk isn't sure whether to attribute recent trends to a wet summer, the recession or Sept. 11, "but [business] isn't coming back as quickly as we hoped."
Pleasure up
Business travel is often one of the first expenses to be trimmed in a corporate cost-cutting campaign, and Sept. 11 gave further reason to cancel or postpone business meetings and conferences. Tourism also declined immediately after the attacks.
But while neither business nor leisure travel has returned to pre-Sept. 11 levels, leisure travel has made a bigger recovery. In the second quarter of 2002, in fact, it appears that hotels catering primarily to leisure travelers may actually reach record levels of occupancy and revenue.
For Montana's Pollard Hotel, for example, the recession hasn't really been a factor. And Sept. 11 had little effect because it's normally a downtime in the mountainous area, according to manager Morrissey. During the winter, business was kept healthy by skiers who apparently didn't mind that they had to ski on man-made snow because nature didn't produce much. The historic hotel started a remodeling project on schedule in January, unfazed by all the bad news.
Actually, says Morrissey, bad news elsewhere may have been a boon for the Pollard. "We're having quite a good summer," she noted. "It's sad to say, but I think Sept. 11 has actually helped us in that people are staying closer to home. We're booking a good number of rooms more than we did last year at this time." Morrissey also speculates that Colorado wildfires may have driven some tourists north to Montana.
Similar trends are evident in other district tourism areas. In Rapid City, S.D., Gary Brown, general manager of the Best Western Town and Country Inn, had such a good winter that he didn't have to lay off employees as he normally does in the slow months. He even rushed a refurbishing project to be ready for summer visitors. Inquiries are up and bus tour companies are extending their stays, he said. Preliminary data for the second quarter seem promising. April and May revenues were both up, said Brown, and "June is going to be up, I'm guessing, at least 3 percent to 5 percent better than last year."
Brown said that tourism at local attractions, "your Mount Rushmore, your Jewel Caves, is running double-digit up," and he attributes it to a sense of patriotism engendered by Sept. 11: "I think patriotic has really helped us out here. 'Real America' type comments are what we're hearing." Low gas prices and a desire to avoid airport hassles have also led to more car and bus tourism in South Dakota, said Brown.
State and city trends
At first, the recession and the attacks affected the district less than other parts of the nation. A districtwide decline in September 2001 hotel occupancy ranged from 3.2 percent in South Dakota to 14 percent in Minnesota compared with a year earlier. In contrast, national hotel occupancy on average fell more than 16 percent that month, according to data compiled by Smith Travel Research. Occupancy increased somewhat during the fourth quarter.
However, Minnesota did not regain lodging customers as quickly as the rest of the nation from November 2001 through March 2002. Average first-quarter 2002 occupancy was down 5.6 percent nationwide from the first quarter of 2001, but Minnesota's occupancy was down 9.1 percent for the same period. "Things are coming back extremely slow," said Tom Day, vice president of government affairs for Hospitality Minnesota, a state hotel and restaurant trade organization.
Room rates during the first quarter averaged $84.71 for the United States—down 5.1 percent from a year earlier-—and $73.03 in Minnesota, a decline of 3.1 percent. Wisconsin's room rate inched up by 0.2 percent.
Total room revenue, however, was down 4.8 percent nationally for the first three months of this year vs. the first quarter of 2001. Wisconsin's fell slightly less. But revenue tumbled an ugly 9.8 percent in Minnesota. In Montana and the Dakotas, revenue was about equal to or higher than the first quarter of 2001, according to data from Smith Travel Research.
The Twin Cities absorbed the brunt of Minnesota's fall. Occupancy fell 13.2 percent, room rates fell 5.2 percent, total room revenue fell 14.3 percent-and the list goes on.
During the fourth quarter of 2001, Rochester, Minn., saw severe declines in hotel occupancy as air traffic fell sharply. As home of the world-renowned Mayo Clinic, Rochester routinely sees a heavy volume of international travelers, many of whom arrive by air, but air traffic fell in that city as well.
But hotel occupancy rose up to 3 percent from December 2000 to December 2001 in smaller district cities, including Duluth-Superior and the St. Cloud, Minn., area; Billings, Mont.; nine North Dakota communities; Rapid City, S.D.; and 13 northwestern Wisconsin communities. Occupancy fell in 14 Montana communities, La Crosse, Wis., and on Michigan's Upper Peninsula, while staying even in Sioux Falls, S.D., during that time.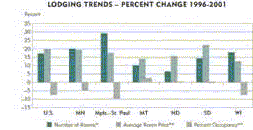 Source: Smith Travel Research
Too much of a good thing?
Location might be everything in real estate, but supply and timing have a role as well, because the slowing economy and Sept. 11 came on the heels of a steady increase in hotel and motel construction. From January 1996 through March 2002, district states added more than 26,000 new rooms. In the Rapid City area, for example, Brown says that "overbuilding" by competitors—"400 to 500 extra rooms built per year for the last four to five years"—has had a major effect on his Best Western hotel.
But market circumstances have changed swiftly, noted Dave Sweet, CEO of Ramkota/Regency Insurance Management based in Sioux Falls, which owns 62 hotels in 22 states. Hotel developers continued the heavy volume of construction during the past few years as if the longest economic expansion in the nation's history would continue and, of course, it did not. "Their cases were built on the volume that just isn't there," Sweet said.
The district states with the highest percent room growth during those six years—Minnesota and Wisconsin—saw the percent of total room revenue fall the most when the bad times hit. (Only northwestern Wisconsin is in the Ninth District; the district excludes Milwaukee and Madison.) In Minnesota, room demand was down 7 percent for January through March this year.
In the Twin Cities the situation was even worse. Room revenue declined 14 percent from a year earlier. Of course, room growth in the Minneapolis-St. Paul area had previously increased faster than in district states or the nation. In fact, the Twin Cities area represented nearly 95 percent of Minnesota's hotel room growth in 2001. From December 2000 to December 2001, 1,483 hotel and motel rooms opened in the Twin Cities—nearly three times more than the total of North Dakota, South Dakota and Montana combined during that period. So the combination of fast building and then sharp drop in demand led to the lowest occupancy rates in the Twin Cities since at least 1996, 52 percent in the first quarter of 2002. A Pricewater-houseCoopers study released early this year said break-even occupancy nationwide in 2000 averaged 48.8 percent.
Still, the consulting firm said that despite everything, in 2001 the industry as a whole made a profit of $16.7 billion, far better than the $5.7 billion loss during the recession of 1990-91.
Overbuilt or underdemolished?
Nationwide, hotel development is slowing, and many projects have been postponed or canceled. District hotel managers say they've heard rumors about local hotel projects being delayed due to unfavorable economic conditions but couldn't confirm them.
Lodging Econometrics, a firm that collects data about market trends, reported that at the end of 2001 no hotel construction was scheduled to begin during the following 12 months in the Twin Cities area. And just one hotel, with 254 rooms, was scheduled to open late this year, the company said.
Economists would say that's an indication of too much supply given slack demand. CSM's Dubbs, for one, implied the market might be "underdemolished," and others in the industry argue that many older properties should be torn down since they aren't up to the standards of newer lodging places and have a tough time competing. They also say older properties undercut room rates of newer hotels.
But older lodging facilities survive only if they can compete. Their lower rates benefit both their own customers and customers at the newer hotels, too, because they force the new places to keep their rates low.
Most hotel developers appear to be laying low for the moment, as demand is limited. "I think there are some niche opportunities," Dubbs said, but it's harder than it was 18 months ago to find deals that make sense.
Will business bounce back?
Hot-and-cold cycles are part of the lodging business, according to Dubbs. Business travelers will come back—"it's just a matter of when," he said. But one major corporate trade association doesn't expect a rebound any time soon.
After a year of already-reduced corporate travel in 2001, the National Business Travel Association in January 2002 announced results of a survey of travel managers, 74 percent of whom said they are further reducing travel expenditures. Business travelers are often charged higher room rates than leisure travelers. Leisure travel is less elastic, but it's also less profitable. When employees must travel in 2002, they are looking for bargains, according to the survey.
The Radisson Plaza in Minneapolis, like many other hotels that cater to business travelers, is trying hard to rebuild its client base. "We're very, very careful about rate setting," said Radisson manager Callaghan. The hotel has adjusted expenses (including staff reductions), offered specials and signed up with Travelocity and other Internet discount sites among its efforts to stay out of the red. But Callaghan is only cautiously optimistic about how fast things will bounce back. "These people have changed their travel patterns," he said. "That's the new reality. It's not going to change tomorrow."
Senior writer Douglas Clement contributed to this article.