Community bank Web sites offer personal touch
Fifth annual review of Ninth District bank Web sites
Published September 1, 2003 | September 2003 issue
The findings of the fifth annual review of Ninth District bank Web sites reveal for the first time that the number of banks with a Web site is greater than the number of banks without. In addition, the percentage of banks offering sophisticated online services to their customers increased.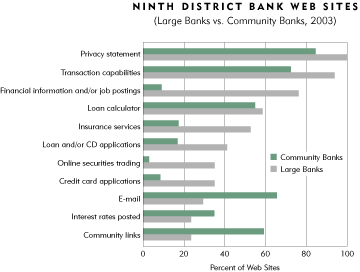 Customers' privacy also continues to be a major concern, as most banks make a point of offering easy access to their privacy policies. Banks are also looking for money-saving efficiencies, such as avoiding the listing of current interest rates, which need frequent updating, and replacing personal e-mail addresses with standard information request forms.
As of the first quarter 2003, 56 percent of Ninth District banks had a public Web site, double the 25 percent in last year's survey. Of the 392 Web sites reviewed in 2003, 74 percent have sophisticated online transaction capabilities compared with only 68 percent of the Web sites reviewed last year.
Not only do distinctions exist between the 2003 and 2002 reviews, differences were also noted between large banks and community banks. As one might expect, large banks provide more robust services on their sites, while community banks offer more personal service. On average, large banks are more likely than community banks to present transaction capabilities and offer online loan and/or certificate of deposit applications, insurance services and job postings. And while many community banks are following the lead of their larger counterparts, on the whole, community banks are more likely than large banks to offer their customers information on current interest rates, the ability to e-mail bank staff directly and links to community sites.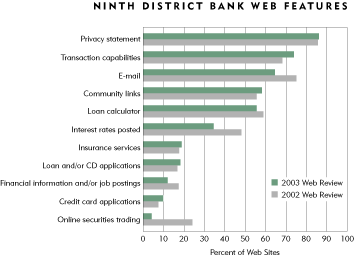 Meanwhile, the bank Web site design industry consolidated somewhat. Forty Web design firms provided development services for 90 of the reviewed sites. The most often used Web design firm developed 20 percent of the bank sites. However, most banks (77 percent of the total reviewed) used in-house resources to design and develop their Web sites.
See the prior years' surveys [2002, 2001, 2000, 1999] and a directory of Ninth District banks.
Minneapolis Fed interns Naomi Cytron and Erko Abdullahi contributed research to this article.
Review Methodology
Banks are required to report the Web address of their main banking page on the quarterly call reports (regulatory reports required by the Minneapolis Fed). In the first quarter 2003, 505 banks reported Web addresses, of which 392 sites were reviewed; 71 represented the same site for multiple branches; and 42 sites were either under construction or not available, as some banks reported an e-mail address as the Web address. Seventeen large banks (more than $500 million in assets) and 375 community banks ($500 million or less in assets) were reviewed.
Each bank Web site was accessed using Microsoft Internet Explorer software. The site was reviewed to determine what functions were available. These functions include: e-mail capability, CD rates, online banking activities (account balances, account transfers, bill payment, etc.) security trading, loan and or CD applications, corporate banking services, privacy statement, links to other sites, loan calculator, bank financial information and Web site developer.