Community bank Web sites: The current picture
The 1999 fedgazette Banking Survey was sent to 688 Ninth District community banks. Community banks were defined as banks with assets greater than $150 million.
Published July 1, 1999 | July 1999 issue
What do Andes State Bank of South Dakota ($12 million in assets), Charles Schwab ($22 billion in assets) and Wells Fargo ($202 billion in assets) have in common? They all do business on the Internet.
A recent survey of district community banks revealed that 22 percent have a Web site today and 66 percent plan to have Web sites within two years (Table).
Transformation of an industry
Electronic information technologies are transforming many industries, including the community banking industry. Community bank Web sites usually develop over time. The first step of this evolution is an electronic catalog that contains information about the banks' location, hours of operation, product information and links to the community. The next step is the creation of an information exchange site, which allows customers to send e-mails to the institution, to apply for loans and to purchase certificates of deposit (CDs). Creation of a transaction site is the final step in the evolution. A transaction site allows bank customers to monitor their accounts, transfer balances and pay bills on-line.
"Eventually every bank will have a Web site," said Tom Bengtson, president of NFR Communications, publisher of Northwestern Financial Review, a Minneapolis-based financial publication. NFR Communications also assists banks to establish and maintain Web sites.
Web sites are driven by customer demand, Bengtson said. "Snowbirds are a big group of users." Retirees keep track of finances while spending the winter in the Sun Belt. "We see a lot of hits coming from Florida and Arizona."
Because customer demand is high and the cost to develop Web sites relatively low, community banks can afford to create a Web presence. Many banks spend about $5,000 to get a mid-level Internet site that has loan applications online, Bengtson said. "It costs less than $10,000 to have a site that customers can use to access their balances."
Some community banks are spending even less for simple Web sites. "We spent $800 to set up our Web site," said a Minnesota community banker responding to the Fed survey. "Small banks are investing for the next millennium." With such small initial investments, community banks are rapidly increasing their presence on the Internet but have not yet become fully functioning virtual banks. Currently, 6 percent of community banks' Web sites in the region have account balance inquiry capabilities and 11 percent of Web sites have loan or CD applications on-line (see graph).
To attract customers, 36 percent of community banks are adding value to their sites with loan calculators that don't require detailed personal information.
In addition, community banks want to give customers personalized service. Currently, 81 percent of community bank Web sites allow their customers to contact them via e-mail. This personal service fits well with the traditional service that community banks provide.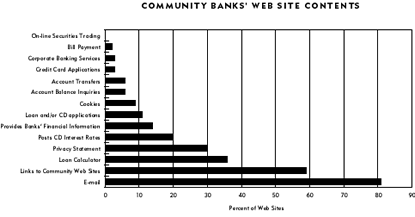 Community feeling
Most community banks are linking to other sites in their community. Some community banks' Web sites are located on the local chamber of commerce site. This allows banks to get exposure and save costs. "Community-based Web sites provide lots of community information and contacts," said Joel Gilbertson, executive vice president of the Independent Community Bankers of North Dakota. This provides an excellent opportunity for community banks' Web sites to get repeat business, said Gilbertson.
In addition, many community banks are increasing their reach by linking to Web directories, including the Independent Community Banks of North Dakota and the Minnesota Bankers Association.
Potential customers can find many community bank Web sites through various directories, but only minimal information is available on some sites; for example, only 20 percent of community banks post their CD rates. While this practice may save the bank from updating the Web site daily, it may face increased costs of manual rate quotes and possible loss of CD sales.
"CD rates are easy to update and security is tight with password protection," said Daniel Park, cashier, Andes State Bank in Lake Andes, S.D. The bank has issued CDs to customers from out of state, including Washington, D.C., Alabama, Florida and California, Park said, and even received inquiries from Europe.
What about privacy and security?
Some Web sites provide the customer with many services, but privacy remains an issue. "Privacy is a key concern of customers in using Internet for banking purposes." said Ginger Adams, executive director of Independent Community Bankers of South Dakota.
Of the community banks that have Web sites, 36 percent have a privacy statement. Although only 9 percent of the banks are using "cookies," files that are sent from the Web site to the computer hard drive of the person that is accessing the Web site. "Cookies" can be used to gain information on who is visiting their sites. The information received could be used to create personalized Web pages for individual customers.
"Cookies" also provide community banks a level of security. They are sent to the customer's personal computer and then sent back to the community bank's server, thus providing the bank some assurance of the customer's identity and legitimacy.
The level of security a community bank needs depends on the type of site. A site that simply contains information usually does not provide paths to internal networks and therefore the potential for loss of community bank assets is low. This type of site can face reputational risk, since a successful attacker may post inappropriate material on the site. An information exchange site represents a higher level of risk than information-only sites because of the additional risk of infection by e-mail viruses. Transaction sites require the highest level of protection because they typically provide connections between the community bank's Internet site and their internal network and therefore represent the greatest potential for loss of community bank assets and/or highly sensitive information.
Even though privacy and security are issues, Web sites can build customer loyalty. Web sites provide a great opportunity for community bankers to retain existing customers, said Linda O'Connell, director of marketing for the Independent Community Bankers of Minnesota.
Community Banks' Web Site Survey
| | | | | | | | |
| --- | --- | --- | --- | --- | --- | --- | --- |
| | Total | MI | MN | MT | ND | SD | WI |
| Number of Surveys Sent | 688 | 17 | 379 | 67 | 97 | 68 | 60 |
| Number of Surveys Returned | 296 | 7 | 166 | 30 | 33 | 31 | 29 |
| Percent of Surveys Returned | 43% | 41% | 44% | 45% | 34% | 46% | 48% |
| Have a Web Site Today | 64 | 4 | 31 | 7 | 6 | 7 | 9 |
| Percent of Surveys Returned | 22% | 57% | 19% | 23% | 18% | 23% | 31% |
| Will Have a Web Site Within Two years | 132 | 1 | 83 | 10 | 18 | 12 | 8 |
| Percent of Surveys Returned | 45% | 14% | 50% | 33% | 55% | 39% | 28% |
| Site Today or Within Two Years | 196 | 5 | 114 | 17 | 24 | 19 | 17 |
| Percent of Surveys Returned | 66% | 71% | 69% | 57% | 73% | 61% | 59% |
Survey Methodology:
The 1999 fedgazette Banking Survey was sent to 688 Ninth District community banks. Community banks were defined as banks with assets greater than $150 million.
Community bankers completed and returned 296 surveys, of which 64 responded that their bank currently has a Web site. Only Web sites of the banks that responded that they had a Web site on the Internet were reviewed. The Web addresses were obtained from Internet bank directories, like MyBank.com, independent community banks of North Dakota and from calling the banks and asking the receptionist.
Each Web site was accessed using Netscape Navigator 4.0 software. The site was reviewed to determine if various functions were available. These functions include: e-mail capability, CD rates, account balances, account transfers, bill payment, security trading, loan and or CD applications, corporate banking services, privacy statement, links to other sites, loan calculator and bank financial information. In addition, information was obtained on which outside companies developed the sites and whether "cookies" were sent from the site.
community-bank-web-sites-the-current-picture (xls)