Despite poor first half, manufacturers express hope for late rebound
Results from an August 2001 survey of manufacturers in Minnesota, Montana and South Dakota
Published November 1, 2001 | November 2001 issue
Manufacturers expressed deep displeasure with their financial performance during the first half of 2001 but voiced optimism for the second half, based on an August survey of manufacturers in Minnesota, Montana and South Dakota. *
New orders, production, employment, investment and profit levels were all down for the first half of the year. "The manufacturing activity level is the lowest that I have seen in Minnesota since the early 1970s," commented a Minnesota producer. Meanwhile, a Montana manufacturer simply said, "Help!"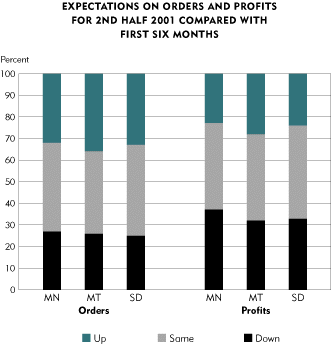 However, their outlook for the remainder of the year was not as dismal. About a third of respondents expected orders to be up in the second half of 2001 compared with the first half, while about a quarter of the manufacturers looked for orders to decline.
But despite higher order expectations, manufacturing profits for the second half were predicted to be below first half levels. "Business is very tough and competitors are taking orders with little regard for profit," reported a Minnesota manufacturer. About a third of the respondents expected second-half profits to be below first-half profits, while about a quarter of respondents projected higher profit levels.
*The first-time survey of manufacturers was conducted by the Minnesota Department of Trade and Economic Development, Montana Department of Commerce and the South Dakota Governor's Office of Economic Development in collaboration with the Federal Reserve Bank of Minneapolis. Survey participants in each state were asked the same questions to better determine the impact of the manufacturing slowdown across the region.
despite-poor-first-half-manufacturers-express-hope-for-late-rebound (xls)