District business leaders are upbeat about '98
Ninth District Business Poll
Published January 1, 1998 | January 1998 issue
The current economic expansion will celebrate its seventh birthday in March, and district business leaders foresee the expansion continuing into its eighth year. This is a key finding from a poll of 265 Ninth District business leaders conducted in mid-November.
With regard to both their communities and firms, district business leaders look for continued growth in employment, sales and investment. Nevertheless, many business leaders expect wage and salary increases to average only 3 percent in 1998. The coming year, however, will be challenging for business leaders as they grapple with new technologies, government regulations and labor shortages.
Business leaders from across the district look for a good year in 1998: 86 percent of all respondents are somewhat or very optimistic about their communities' prospects this year.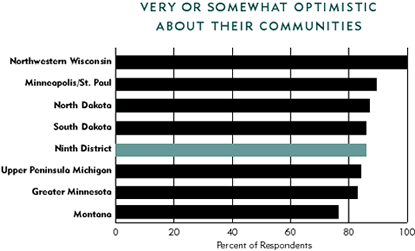 This optimism manifests itself in the percent of respondents who expect increases in investment, employment, consumer spending and housing starts vs. those few who expect decreases.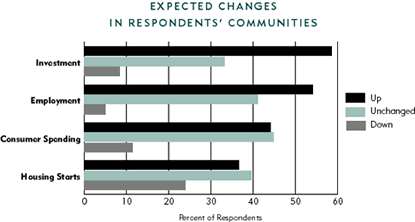 In their own organizations, respondents expect large increases in sales and investment and some increases in full-time employment. They were split, however, on prices, with 30 percent expecting to increase the prices they charge on their goods and services and 30 percent looking for a decline.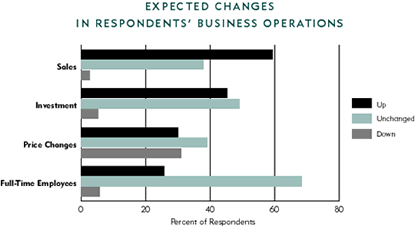 Although robust economic activity is expected, many respondents anticipate wages to increase only 2 percent to 3 percent.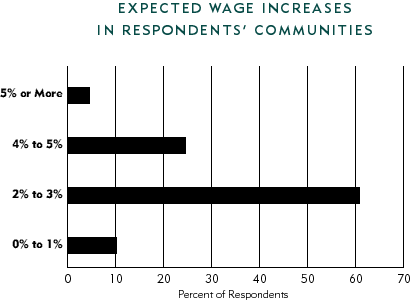 Accompanying the strong business activity are challenges: 50 percent or more of respondents see government regulations, securing workers and implementing new technology as posing a serious challenge in 1998.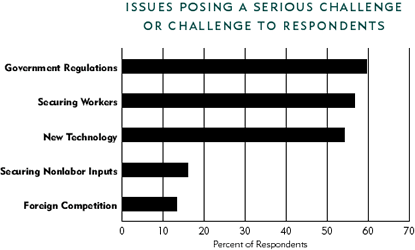 Respondents' positive outlook is premised on moderate growth in both output and prices. Close to half of respondents see both real gross domestic product and the consumer price index advancing at 3 percent in 1998.