District residential construction holding its own
Published January 1, 2002 | January 2002 issue
Depending on your perspective, housing construction in the Ninth District last year has been either poor or encouraging.
That's because it failed to live up to numbers put up in the torrid first half of 2000. But it appears poised to outdo the laggard second half of 2000 despite deteriorating economic conditions, as pockets of summer strength in the new-housing sector sustained industry growth in most markets across the region. Improved affordability was a major driver for the more than 9 percent acceleration in home building observed in the district through the nine months ending in September. Conventional mortgage rates slipped to two-year lows by the end of the first quarter, inviting a new crop of first-time buyers into the marketplace. Sagging stock prices also might have played a role because steady home price appreciation (exceeding 10 percent on an annual basis in some hot markets) enhanced housing's appeal as an investment, further sharpening construction demand.
Although the pace of housing construction showed signs of slowing by the end of the third quarter, it remained well above its year-earlier performance. One unknown is the impact of the Sept. 11 tragedy on housing activity in the district. Some indicators suggest tenuous conditions, while others point to strong underlying demand, which will be augmented by favorable credit conditions into 2002.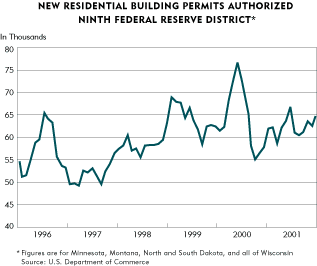 Catching up
The district's steady performance is due largely to new housing activity in larger towns and cities. Home building in the Ninth District's metro areas was even with year-earlier levels through September, despite a 2 percent decline in the dominant Twin Cities market. Permits pulled in the region's larger cities over the peak seasonal months of April through September actually exceeded year-earlier levels by more than 8 percent. Eight of the district's 14 metro areas are on track to post significant gains in housing construction in 2001, half of them at double-digit rates or better.
Population migration from rural areas to cities continues to increase demand for metro housing in the Dakotas. Through the nine months ending in September, 90 percent of North Dakota's housing permits were pulled in cities with populations in excess of 90,000, while Sioux Falls' activity alone accounted for 70 percent of South Dakota's permit volume.
Down by more than 8 percent through the first quarter, single-family building in the Ninth District persisted through the summer months to bring that sector back to year-earlier levels with the completion of the third quarter. At the end of September, single-family permit volumes were up in every state in the district except Minnesota and South Dakota, where activity was off 3 percent and 1 percent, respectively. However, Rochester and Sioux Falls remain the hottest single-family housing markets in the district in terms of permits pulled per 1,000 residents, rivaling some of nation's most attractive housing markets, like Atlanta, Ft. Meyers and Sarasota.
The rate of construction of multifamily dwellings in the district exceeded year-earlier levels by almost 5 percent through the third quarter, as a surge in Minnesota volume in September augmented solid gains throughout the year in Wisconsin and North Dakota. Construction of apartments in the volatile North Dakota market was up by 17 percent through September, and the pace of multifamily permit activity in both Montana and South Dakota continued to exceed its five-year growth trend over the summer months.
An expansion of more than 10 percent in Montana's population over the past decade forced rental vacancies down to less than 5.5 percent of total space by the end of 1999, driving builders to maintain supply in response to strong demand for apartments across the state. Multifamily permit activity in Montana marched 9 percent past its year-earlier pace through the eight months ending in August but slowed significantly in September amid a new cautious climate. Nevertheless, apartment construction in Montana is likely to post a gain of 3 percent to 5 percent in 2001. And after finishing 31 buildings in 2000, contractors in the brisk Sioux Falls market added 30 more structures with five or more units through three quarters of 2001. According to the South Dakota Multihousing Association, rental vacancies in Sioux Falls rose to nearly 5 percent of total stock by midyear from 3.4 percent recorded a year earlier, reflecting improved supplies.
Still resilient
While the summer building season was strong, year-end data are likely to reveal a weaker housing market in the fourth quarter. The Sept. 11 attack and a further deterioration in job markets have recently generated higher levels of anxiety among households, and builders reported slower traffic through models and more cautious land purchases early this fall.
However, a steady underlying demand for housing and continued favorable lending conditions are expected to revive residential construction across the Ninth District in 2002. Low mortgage rates are preserving home-buying plans despite waning confidence, and builders' surveys continue to reflect the industry's optimism toward single-family markets. One reason for the positive construction outlook: Housing supplies appear balanced. Homeowner vacancies remain low by historical standards in all Ninth District states despite three years of brisk building, a credit to builders' careful planning over the course of this housing expansion.
Finally, as the stock market continues to search for firm footing, the solid investment facets of housing will likely encourage improved levels of both demand and production in the new year. The district's residential construction industry is expected to continue to demonstrate its resilience and provide an important anchor to the region's recovering economy in the coming months.