District students score well on college entrance exams
Published September 1, 2003 | September 2003 issue
High school students often need good grades and high standardized-test scores to get into the college or university of their choice. Preparation for the latter may include memorizing vocabulary words and practicing difficult math problems.
The standardized tests are the Scholastic Aptitude Test (SAT) and the American College Test (ACT), both of which provide an array of data on student scores.
Both standardized tests are regional in their popularity. The ACT is preferred by Midwest colleges, and the SAT is preferred on the East and West coasts. Therefore a higher percent of college-bound students on the East Coast take the SAT and a larger percent of Midwest students, the ACT. Midwest students who take the SAT are often top students who apply to selective East Coast schools. As evidence, Minnesota, North Dakota, South Dakota and Wisconsin ranked in the top six states nationally for SAT scores in 2002.
District states also ranked high in the ACT. In 2002, Wisconsin was sixth and Minnesota seventh nationally.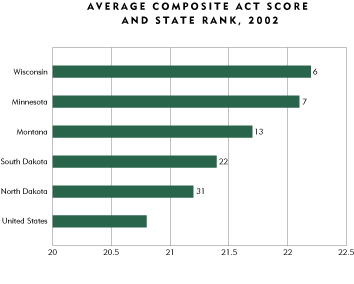 Source: ACT Inc.
Nationally, students who took the SAT were more likely to have a high score if they lived in the suburbs and came from a family with high income and well-educated parents.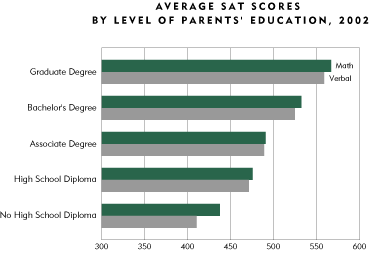 Source: The College Board