Airports make useful economic barometers because they demonstrate the confidence of companies and consumers to spend some money, whether for business or pleasure. Enplanement statistics for airports in the Ninth District show that many saw rising activity last year, but some also saw turbulence and are still struggling to get back to prerecession levels.
The district's largest airport, Minneapolis-St. Paul International, is a tidy example. Overall ridership in 2011 increased slightly, but enplanements are still 10 percent below prerecession peak levels in 2006 (see Chart 1).  Five other regional airports in Minnesota, Wisconsin and Michigan's Upper Peninsula are all still well below 2007 levels, and only one airport had an increase in boardings in 2011 (see Chart 2).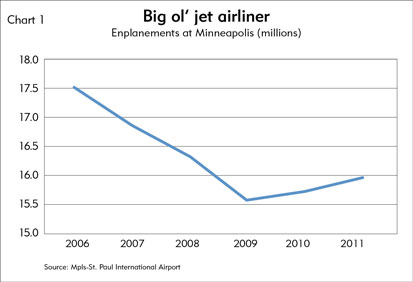 Chart 2: Percent change in enplanements, 2010 to 2011

The western part of the district, on the other hand, made almost across-the-board improvements in 2011. Of the 11 regional airports surveyed in the Dakotas and Montana, all but one are above their 2007 levels, and only 2 saw decreased ridership last year (see Chart 2).
Growth has been strongest at the small- to medium-sized airfields in eastern Montana and western North Dakota, which serve a region booming with oil production in the Bakken oil shale formation. Boardings at airports in Minot and Williston, N.D., skyrocketed last year and have doubled and tripled, respectively, since 2007 (see Chart 2).
According to Larry Taborsky, director of the North Dakota Aeronautics Commission, North Dakota airports can expect more of the same in 2012. February boardings for all of the state's airports had increased by 25 percent over the same month last year, with the Bakken's airfields, once more, leading the way.
The Grand Forks airport did that one better by having a record March—boardings were one-third higher than last year and 15 percent better than any March on record. Airports elsewhere in the district also saw a strong start to this year. Passengers at Great Falls (Mont.) International Airport grew by 14 percent in the first quarter of this year, after posting growth in 2011 of 8.5 percent.