Embarking on smoother skies
District airports bounce back from 2001 lows with the help of regional jet service
Published May 1, 2003 | May 2003 issue
At 9 a.m. on Sept. 11, 2001, a groundbreaking was held at Chippewa Valley Regional Airport in Eau Claire, Wis.
"Needless to say, we didn't get any media coverage," said Jerome Thiele, airport manager.
The ceremony was not the only news overshadowed by the terrorist attacks on the World Trade Center. Thiele had been set to announce a 15 percent jump in paying passengers at the airport after 11 straight months of growth. He was also anticipating an increase in the number of available flights.
Instead, Mesaba Airlines, the only scheduled airline flying out of Chippewa Valley, dropped two of its six existing flights in the weeks following Sept. 11, just one of the factors leading to a 4 percent decline in passengers for 2002. At the same time, however, the airport experienced one of the highest bump rates for Mesaba, according to Thiele. Consequently, beginning in February 2003, the airline reinstated the two flights.
With the opening of Heartland Aviation's hangar in July 2002, the construction of eight more general aviation hangars slated to begin this summer and a $6 million federally constructed air traffic control tower to be completed by 2005, future general aviation revenues should be "good," Thiele reported. In addition, airport consultants serving the Chippewa Valley Regional Airport suggest that the airport take advantage of projected population growth in the region to update airport facilities in order to attract additional commercial carriers.
"We're one of the last regional airports without a jetway," Thiele said. "If we can improve services and reduce airfares, as many as 75 percent of regional fliers who now depart from the Twin Cities will instead book flights at Chippewa Valley." Thiele added that the lack of outbound seats has been the biggest setback. "When [Northwest
Airlines] has a sale, our fares are fairly competitive to flying from [Minneapolis-St. Paul International Airport]. Mesaba's dependability performance has been very good since September 2001," he said.
Some may question the wisdom of expanding airport services at a time when two national airlines, United and American, have filed for bankruptcy and the entire industry appears back on its heels.
But Thiele's head is not in the clouds. The majority of regional airports in the Ninth District saw passenger numbers increase in 2002, and many set passenger records last year. Service expansion projects, lower airfares, changes in flight operations and a relatively smooth transition to new security measures are also helping most of these smaller airports compete at a time when passenger traffic at Minneapolis-St. Paul International (the district's only large-hub airport) dropped 4 percent (see chart).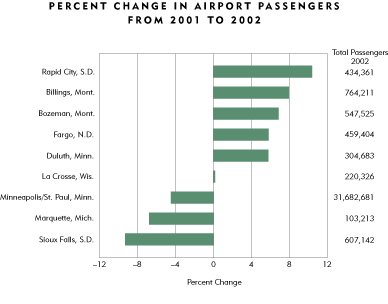 Source: Various local, regional and state airport and transportation authorities.
A soft crash landing
Like the big airports, the district's regional airports suffered from the events of Sept. 11, and some airports were hurt worse than others. At Joe Foss Field Airport in Sioux Falls, S.D., that day triggered a string of 12 consecutive months with double-digit decreases in total enplanements, and annual enplanements have dropped about 50,000 in each of the last two years.
Prior to Sept. 11, the Bismarck, N.D., airport was looking at a 4 percent annual increase, according to Greg Haug, airport manager. Despite a solid October from an influx of hunters, the airport ended 2001 down 2 percent from a year earlier.
But things turned around in 2002 for Bismarck and many other regional airports. In fact, the Bismarck airport had "such good year-end news" that Haug had to check again just to be sure. "Usually July is our biggest month, followed by October because of pheasant hunting, but this year, December was our second busiest month, up 21 percent from December 2001," Haug said.
The upward trend in 2002 really gained speed in September, which—not surprisingly—posted a 41 percent gain over September 2001. More gains in the final three months helped Bismarck end 2002 with a 6 percent overall increase in passengers. The 278,650 total enplanements and deplanements were the best in at least the past eight years.
Fargo's Hector International Airport also had a turbulent 2001. Total enplanements dropped about 7 percent—about 90 percent occurred in the last four months of the year. But the airport saw passenger numbers rebound 6 percent in 2002, thanks in part to the busiest December ever. The 459,404 total passengers last year proved to be the second best on record, just 6,000 behind 2000.
According to Gary Ness, North Dakota's aeronautics commissioner, passenger enplanements at the two other major regional airports in the state (Grand Forks and Minot) also enjoyed single-digit percentage increases in 2002. In general, airports in the state are "doing rather well," according to Ness, with the state as a whole tracking up 1 percent to 2 percent over 2001 even though the four smaller commercial airports were down between 6 percent and 15 percent.
Big blue sky for Montana
Bruce Putnam, director of aviation at Logan International Airport in Billings, Mont., is cautiously optimistic about the airport's performance, even though it set a new record with 764,211 total passengers in 2002. Putnam credits the 8 percent annual increase to the fact that Billings hosted the American Bowling Congress in 2002, a convention that brought 80,000 to 90,000 visitors to the city.
Another record was set at Gallatin Field in Bozeman, Mont. Although overall takeoffs and landings were down slightly, enplaned passengers for 2002 were up a healthy 7.2 percent over 2001, with a record 274,499 passengers. While September 2002 boardings led the way with a 43 percent increase, December also showed a significant 26 percent increase.
Although total passengers at Montana's Great Falls International Airport were flat, it too had a good holiday season, with December boardings up 11 percent, the best December in at least the past eight years.
While bowling dollars helped keep Logan Airport from dipping into the city's general fund, an increase in nonairport revenue at Helena, Mont., managed to offset a drop in passenger revenues at the city's airport. According to Ron Mercer, airport manager, passenger boardings were down 2 percent from 2001 to 2002. Because Helena Airport leases a significant amount of property to businesses and government institutions, profit from these transactions kept the airport in the black last year.
Increased traffic at the airport is good news for more than just airport operators. Tory Richardson, executive director of Rapid City (S.D.) Regional Airport, said passenger numbers for 2002 were up almost 10 percent, which set a new record, and that also rippled through concessionaires. Revenues from car rentals were up 11 percent; parking, 12 percent; the airport restaurant, 8 percent; and the gift shop, over 6 percent through November 2002.
Things are looking U.P.
Sawyer International Airport in the Upper Peninsula of Michigan has had commercial airline services for four years. A former Air Force base, it had been used as a shuttle training facility and boasts a 12,000-foot runway, long enough to handle any aircraft currently flying.
With a new passenger terminal built in 1999, the airport experienced huge growth from 2000 to 2001, according to Development Manager Vikki Kulju, partly due to the addition of regional jet service to Chicago and partly because Houghton County Airport was closed for portions of the summer of 2001, causing many passengers to use Sawyer instead. With 2001 passenger traffic "about as good as it could get," Kulju was not too concerned about the 4 percent decline in boardings from 2001-2002, particularly since the airport did not lose any flights.
The opposite occurred at the regional airport in Duluth, Minn. Even though passenger numbers were up 6 percent from 2001, hitting over 300,000 for the first time ever, American Eagle flew the coop, leaving Duluth with just nine round-trip flights per day instead of a dozen.
The numbers at Rochester's airport were not as good, but Steve Leqve, general manager, has a little more reason to be optimistic about the future. The airport managed to keep enplanements at previous levels—"not too bad considering we lost 150 seats a day when Trans World Express pulled out in September 2001. Obviously, the other airlines—Northwest, Mesaba and American—are making up for the lost seats," Leqve said.
The good news is that general aviation is "doing very well," according to Leqve. A new arrivals-and-departures building for general and corporate aviation opened in May 2002. In addition, Federal Express and Airborne Express have moved into new permanent facilities in the last three years.
Other district airports are also hoping to capitalize on expected increases in general aviation. Officials at Hector International Airport in Fargo, ND, plan to construct new hangars because of expected strong growth in general aviation in the coming years due to concerns by businesses about security delays on commercial airlines. Last year, Sawyer International added a new general aviation terminal; at Gallatin Field, a new 400,000-square-foot apron for corporate and cargo aircraft was added, as well as a 3,200-foot turf runway and 11 new hangars.
Ironically, a struggle between Northwest Airlines and the Metropolitan Airports Commission over the amount of money the airline pays to reliever airports around the Twin Cities could also improve general aviation revenues at the district's regional airports. Last December, Northwest Airlines sued the commission, hoping to force its members to end what the airline claimed is an $11 million annual subsidy of six reliever airports. The Twin Cities reliever airports recover only 20 percent to 25 percent of expenses from their users, compared with a national average of 89 percent.
"Some companies complain about the rents and fees here and tell us they're cheaper at reliever airports near the Twin Cities," Rapid City's Richardson said. "I have to explain that if Red Tail [Northwest Airlines] subsidized us with the same amount of money, we could lower our rents, too. If fees at Twin Cities reliever airports go up, that can only help us."
Fair fare
The best recent news for regional airports, however, is lower airfares. Mike Marnach, Joe Foss Field's airport director, got a late Christmas present on Jan. 7, 2003, when United Airlines announced it was slashing ticket prices by as much as 70 percent. "Walk-up fares that might normally cost around $900 will be down to around $300," Marnach predicted. "That will mean a great deal to business travelers and should help our numbers tremendously." He added that for February alone the airport's passenger numbers—enplanements and deplanements—were up 3 percent. As of mid-March, passenger travel numbers were up 7 percent from a year ago.
A recent $25,000 study of "leakage" at the airport found that as many as 53 percent of potential passengers were driving to Omaha or Minneapolis for cheaper flights.
To keep prices under control in the long term, Marnach hopes to convince more airlines to fly out of Sioux Falls. Although the airport has held steady with four carriers, American dropped a flight to St. Louis in December and United Express cut a Denver flight in January. To make up for the losses, airport officials have been wooing Indianapolis-based American Trans Air and Phoenix-based Mesa Air Group, but Marnach understands that the current state of the airline industry makes attracting new carriers difficult.
Almost every other airport in the Ninth District is also looking to attract new carriers. At Rapid City, Richardson attributes part of the airport's growth in 2002 to a decrease in fares and an increase in tourism, but he would like to continue to improve air service by working with existing service providers as well as looking at new airlines. Rapid City has three carriers, but would still like to fill the void left by Air Wisconsin, which pulled out of the market Oct. 31, 2001.
Jet setters
Another factor that could help regional airports is an increase in jet service.
"Regional jets are revolutionizing our-size airport," said Dave Jensen, airport deputy director at Madison, Wis. "Rather than flying through hubs such as Chicago, Minneapolis or Detroit regional jets can provide direct service. I only see that prospect increasing."
Alan Bender, a professor at Embry-Riddle Aeronautical University in Prescott, Ariz., also predicts drastic changes in the current hub-and-spoke system. The network, Bender said, was created to guarantee business travelers relatively short layovers. The costs for this service were borne by U.S. businesses. But as the economy softened, businesses were no longer willing to pay fares high enough to maintain such a system, a fact which should force airlines to change the way they operate, according to Bender.
Numbers at Minneapolis-St. Paul International Airport bear this out. While major airline operations fell by 1.1 percent in 2002, regional airlines such as Mesaba jumped 16.6 percent.
The ability to provide point-to-point, direct service is one of the big appeals of regional jets, which have longer flight ranges than turboprops. On top of that, they are quieter, faster, more comfortable, and—on flights longer than about 380 miles—more economical. According to airport sources, passengers also tend to perceive jets as safer than turboprops.
On the down side, an increase in regional jet traffic might complicate air traffic management. To offset that, some analysts have suggested moving from a ground-based navigation system—which channels airplanes into narrow, potentially overcrowded flight paths—toward satellite-based systems that would allow pilots to select their own routes. Such a change could expand air space and permit greater efficiencies.
Regional airline Air Wisconsin, which operates United Express, is betting big on jets. According to Dean Jorgensen, Bismarck's United Express manager, "Air Wisconsin's goal is to be an all-jet line in a year or two." To accomplish that, the company is moving ahead with a $1.7 billion order it placed for up to 150 new Bombardier Aerospace regional jets.
One of the reasons for the increased passenger traffic at Bismarck in 2002 was a decision by Air Wisconsin to add a United Express flight to Denver last May. The Bismarck market had been without regional jet service to Denver since 1996, when Frontier Airlines pulled out of the airport. The jets carry 50 passengers (18 more than the propeller planes serving the Denver route) and cut 20 minutes off flight times. To take better advantage of the jet service, Bismarck has just finished expanding its parking area and upgrading its utilities infrastructure. Bids for a new terminal should go out this spring. Airlines at Logan International Airport in Billings have also expanded regional jet service this year. America West added a flight to Phoenix and Horizon Air introduced a flight to Portland.
Helena Airport's Mercer predicts a turnaround in passenger revenues because of regional jets. Delta changed one of its flights to a regional jet in January 2003 and Northwest is adding some flights, according to Mercer, who is working with Mesaba to provide additional regional jet service that could begin later this spring. Like Bismarck, Helena has improved parking and passenger drop-off areas in anticipation of a $7 million renovation and expansion of its terminal. Mercer expects work on the new facilities to begin this spring. "As airline service changes, we see more regional jets coming into the Helena airport," Mercer said. "We need to make changes to better accommodate those jets."
At Rapid City, SkyWest launched an all-jet service to Denver beginning in February 2003. Although the number of flights will drop from nine to five, there will be only a small decrease in the number of available seats because the jets hold more. Richardson expects the number of flights to increase once SkyWest accepts delivery of more regional jets.
Rosie Cataldo contributed to this article.
Also see: Clipped wings for Essential Air Service?