Entrance exam
The number of international college students has dipped since 9/11, and universities face more than visa challenges in turning that around.
Published May 1, 2006 | May 2006 issue
Vandana Phadke sat at the padded table in a physical therapy lab at the University of Minnesota. "The basic reason I came here was to do research in the field of biomechanics. Ph.D. in physical therapy is not available in India," she said.
Phadke is part of a large community of Indian students at the University of Minnesota, though it came as a surprise to her. "I had friends, not in Minnesota, but here [in the United States]. The Indian community is big here. I wasn't expecting so many Indians," Phadke said.
Other international students come from, well, all over the world. Ghislaine Ouedraogo, from Burkina Faso, came to the small town of St. Peter, Minn., for her undergraduate work at Gustavus Adolphus College. She stayed in Minnesota to study for her master's degree at the University of Minnesota. "I'm trying to get the background I need to understand the policy process so I can go to developing countries, preferably Africa, to achieve higher levels of economic and human development," she said.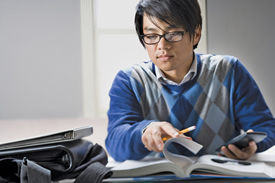 These two women demonstrate the variety of interests that bring students from around the world to study at public universities in the Ninth District. Almost every nation is represented, though most international students (both in the district and nationwide) come from China, India, Japan, South Korea and Canada. However, a significant portion of international students in the Dakotas are from Norway.
As Phadke and Ouedraogo demonstrate, they also come to the district for different reasons. The most popular field of study is business and management, but math, computer science and engineering are also common.
University of Montana–Missoula President George Dennison said that for students at a recent recruitment fair in Shanghai, "business was far and away the most popular," although the arts were also interesting to some of them. The fields of interest vary among students from different countries. For Indian students, Dennison observed, pharmacy and journalism are also popular fields.
The attraction of international students lies in the simple fact that these students are often the best and brightest of a country, and once these students come to the United States, there is a good chance they'll stay. A look at the trend since 1990 shows things looking pretty good: The pool of international students in the district has grown significantly larger. And although foreign undergraduate enrollment has been declining, foreign graduate enrollment is up.
Despite the long-term rise in international students, some matters still worry university officials. First, the number of international students has been either stagnant or declining of late at the national level and in the Ninth District, much of which gets blamed on entry restrictions stemming from the attacks of Sept. 11, 2001. Equally important, university sources across the district worry about their ability to draw the world's best students, in part because the quality of universities worldwide is improving, making them legitimate competitors. District universities also face a dearth of recruiting resources in the fight for these students.
The matter has drawn the attention of university officials, policymakers, business leaders and others. Nearly every science association has issued a statement on the subject. The National Academy of Sciences, the National Academy of Engineering and the Institute of Medicine conducted a joint study last year, concluding, "The scientific and technical building blocks of our economic leadership are eroding at a time when many other nations are gathering strength."
Trends in the Ninth District
First, the good news: Public universities in the Ninth District are home to an increasing number of international students, growing by 25 percent from about 9,500 students in 1990 to about 12,000 in 2003. But it hasn't been a steady march into the classroom. There was strong growth in four-year international students in the district in the early 1990s, followed by a small decline through the remainder of the 1990s. In the few years before 9/11, there was a brief but notable upward enrollment spike, only to be followed by a drop beginning in 2002 and widely blamed on security concerns brought on by the attacks.
But the trend line looks very different for undergraduate and graduate enrollments. For example, the number of international undergraduate students at public universities in the district dropped steadily after peaking in 1993. Undergraduate enrollment rebounded briefly by 2001, but then declined again (see chart). District universities were not unique, however. According to the National Center for Education Statistics, undergraduate international enrollments were mostly stagnant in the United States from 1993 to 2001, and then declined by 4 percent over the next two years.
*Data for 1999 are extrapolated.
Source: National Center for Education Statistics
On the other hand, foreign graduate student enrollment has generally seen slow-but-steady growth, particularly since 1996. Although there was a small downtick in 2003, the number of international graduate students in the district remains significantly higher than at any point during the 1990s. Nationwide, international graduate students have increased their share of classroom seats since 1993 to 23 percent, notwithstanding a recent dip. In contrast, foreign undergraduate students make up a smaller—and falling—percentage of the student body at between 2 percent and 3 percent.
Source: National Center for Education Statistics
Trends vary widely among district states, both over time and by student level. Minnesota, for example, saw phenomenal growth at both undergraduate and graduate levels from 1993 to 2003; North Dakota has watched its graduate population explode in percentage terms, if still small in relative terms. Montana and South Dakota have both seen their numbers of international students fall in the short and long term, for both undergraduate and graduate levels. Michigan's three Upper Peninsula universities were down considerably in overall foreign enrollment, but international graduate students were generally higher. (See additional charts and data.) [xls format]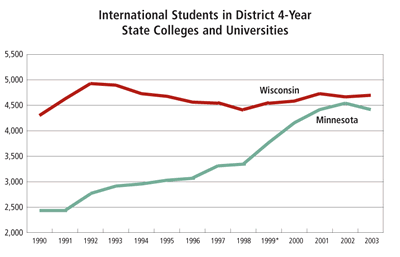 Source: National Center for Education Statistics
The major shifts among international students are generally driven by changes in large universities, which tend to have much higher ratios of international students. For example, the remarkable increase in international students in Minnesota can be attributed to a near doubling of international student enrollment over the past decade at the University of Minnesota Twin Cities campus, according to the National Center for Education Statistics (NCES). Likewise, the slowly increasing numbers of international students in Wisconsin can be attributed to the same trend at the University of Wisconsin–Madison. Both universities are ranked in the top 25 nationwide in attracting international students.
(Evidence at the national level also shows that, maybe surprisingly, community colleges have been among the hardest hit by sagging international enrollments. According to an IIE report produced specifically for the U.S. University Presidents Summit on International Education, held in January, foreign enrollment in two-year schools plummeted more than 20 percent from 2003 to 2004. Disaggregated data for two-year colleges in the district were not collected for this article.)
All of the above
A mix of factors is behind both short- and long-term trends. Rolls of newsprint have been dedicated to the effect of tighter visa restrictions following the attacks on the World Trade Center and the Pentagon.
The 9/11 attacks came after enrollment statistics were calculated for 2001 and before applications were due for the following fall. This means that international students who planned to attend for the 2001–02 school year had already arrived at school with their visas and other paperwork. Students who had planned to apply for the 2002–03 school year had time to change their decisions and still had to go through the visa application process. Enrollment data show this very lag among foreign students: growing in 2001, but then dropping in 2002.
"We have more trouble in enrollments [in South Dakota], and we've lost enrollments because of tighter regulations," said Tad Perry, executive director of the South Dakota Board of Regents.
Some barriers, such as the long review times for visas, have since been reduced. According to a January briefing by a senior State Department official, some 500 new positions have been added to process visa applications, reducing wait times from weeks or even months to two weeks or less.
"Initially, visa issues became tighter and became more problematic, and we still have some issues," said Gene Allen, University of Minnesota associate vice president of international programs. But today, Allen and other university officials attribute declining international enrollment primarily to the growth and attractiveness of foreign universities. This can be particularly acute for undergraduate enrollment, since those programs take less time to build than graduate programs.
While U.S. universities have long taken for granted the hallowed global reputation of higher education in this country, other countries have been beefing up their university systems, retaining their national students and attracting foreign students. According to IIE, the global higher education system was on the brink of dramatic change during the latter half of the 1990s. Since then, the global growth of higher education has shown palpable effects in the United States.
Comprehensive reviews of higher education systems worldwide are not done regularly or easily. In 1999, IIE published a field paper noting that the Chinese education system was morphing and expanding in response to a more open market economy; mass higher education was developing in South America, though slowly and erratically in some countries with changing political systems; Europe, with low-cost or free higher education available in many countries, was experiencing ever-larger class sizes; and Australia and New Zealand were becoming more popular destinations for scholars.
"It's not just the increasing stature of [foreign] universities. It's the aggressive recruitment," said Allen. He said the university has never had to actively recruit students as a part of university strategy, but has to now. University representatives attended college fairs in China, Turkey, South Korea and South America to help keep up with the university's past enrollment numbers.
Unaccustomed to recruiting, universities throughout the district and nation struggle to find resources to compete for international students. In North Dakota, "each university or college has been on its own doing recruiting, and we haven't been very successful. It is not very efficient where there are a number of small campuses," said North Dakota Chancellor Robert Potts.
Response from universities
The overall picture masks the variety of activities in each state system and within each university. Some university systems have become aggressive about recruiting international students while others are using more passive tactics. The South Dakota university system is reducing tuition for international students in hopes of becoming a more competitive choice.
Perry, of South Dakota, said universities pushed for a "friendly" tuition rate for international students to make the state's schools, particularly their business programs, more attractive. The board passed a policy in 2005 that will make international tuition 150 percent of in-state tuition.
While other states have not taken this approach, individual universities have done similar things to attract students. Public universities in the district support many or all of their graduate students through research and teaching assistantships. Many smaller state schools offer scholarships and tuition waivers that greatly reduce the burden of tuition for undergraduate international students. St. Cloud State, Metropolitan State and Winona State (all in Minnesota) have scholarships and tuition waivers that reduce tuition for international students to in-state rates. Schools in the University of Wisconsin System support some international students through partial and full scholarships and tuition waivers. The University of Montana offers a small scholarship to international students in their first year.
The University of Minnesota doesn't offer scholarships to international students like many of the liberal arts colleges do. Allen, from the University of Minnesota, said the lack of scholarships specifically for international students is hindering the school's ability to attract students. "Undergraduates have many choices of places to go in the United States, and some are fine liberal arts colleges."
Outlook
The most recent figures from the IIE's Open Doors 2005 report show that the decline in international student enrollment appeared to slow in 2004–05 (individual school data were not available). In fact, state data from the newest report (which includes four-year and two-year students) show that Ninth District states had a collective increase in foreign enrollment. The State Department also reported earlier this year that student visas issued in fiscal year 2005 rose almost 9 percent over the preceding year.
The importance of international students is multifaceted, particularly at a time when the U.S. workforce faces a wave of retiring baby boomers and innovation is becoming a lynchpin for the rest of the economy. At January's International Education Summit, Purdue University President Martin Jischke noted, "Nothing less than the future of America is at stake. ... These gifted individuals provide a healthy challenge for America's best students, and many of them stay and become part of the intellectual fabric of our nation by working in industry, health care, research and even higher education. Those who return home take with them a better understanding and appreciation for our country. Under either scenario, international students are a positive force for America. They make our country stronger, and they make the world more hospitable to American ideals."
There are also some practical reasons for attracting foreign students, some of them very local. International students bring the immediate impact of spending on food, clothes and lodging, not to mention tuition, while in school. The IIE estimated that two-thirds of foreign students receive no financial assistance, and total expenditures by foreign students in the Ninth District (not including Michigan) were almost $400 million during the 2004–05 school year.
North Dakota sees international students as a way to boost revenues and maintain optimal enrollment levels. Potts has been leading an effort to centralize North Dakota's recruitment of international students to help the small universities in the system. He said increasing enrollment of international students will balance the declining numbers of students graduating from high schools in North Dakota. "There is an economic advantage of fully utilizing the college and university system" by filling seats with more foreign students, he said.
Along with local economic effects, international students offer many intangibles, and Potts reiterated Jischke's notion of building bridges to other countries. One of the most notable alumni is the United Nations secretary general, Kofi Annan, who attended Macalester College in Minnesota for his undergraduate work. "These students will go back to their home countries and be leaders" and be excellent business contacts in the future for the state, said Potts.
Editor Ronald A. Wirtz contributed to this article.