Fargo's one-directional growth
Published October 1, 1996 | October 1996 issue
Fargo's population grew from about 53,000 to 74,000 from 1970 to 1990, an increase of 15 percent during the 1970s and 20.7 percent the following decade. Fargo's current population is about 81,000, and the metro area, which extends from West Fargo in North Dakota through Moorhead and Dilworth in Minnesota, is at about 164,000. An annual growth rate of 1 percent to 2 percent is expected to continue, according to the Fargo-Moorhead Council of Governments, and the metro population should exceed 200,000 by 2015—just over half of that total in Fargo.
"The impression that people get is that Fargo is booming," says Burkholder. "But it's been growing at 1.5 to 2 percent forever." And there's certainly no reason to expect that growth to end, according to Lowell Goodman, University of North Dakota professor and author of The Economic Health of North Dakota. The strong growth in Fargo's financial, insurance and real estate industries—which attract a very mobile work force—will likely continue, he says.
Goodman's second point, regarding the further immigration from rural to urban North Dakota, has drawn criticism from within the state, because Goodman advocates that state policy should be geared toward development of the state's larger communities, and not—in his opinion—toward some quixotic attempt to "save" small towns. Six of 53 North Dakota counties account for 78 percent of all retail sales, Goodman says, and this is happening because of "economic choice, and we're not going to turn economic choice around."
In addition to shopping, people are obviously attracted to growth centers as a place of employment, and just as people are willing to drive up to an hour or more to go shopping, many are also willing to make that daily work commute, Goodman says. In addition, young people are choosing to move to the growth centers, he says, because they simply want what larger cities have to offer: cultural amenities and, after they begin to raise a family, good schools and educational/cultural opportunities for their children. "The principal cities are simply going to grow," he says.
And so will the smaller communities around them. By far, the fastest growing city in North Dakota in recent years has been West Fargo, a bedroom community of just over 1,000 in 1950 and now at over 14,000. After growing almost 100 percent during the '70s, the city has "slowed" to a 12 percent growth rate this decade, well above Fargo, which at 7.6 percent is the state's second-fastest growing city.
Not only is West Fargo growing at an even faster pace than Fargo, but because of natural and man-made boundaries, its growth is also largely limited to southern expansion. Recently, this rush to the south has created a dispute between the two cities. Under North Dakota law, cities between 5,000 and 25,000 have planning and zoning jurisdiction one mile beyond city limits, and larger cities have two miles of jurisdiction. This jurisdiction does not guarantee annexation rights.
The two North Dakota neighbors have come to loggerheads over new development on the south end. Both cities want to grow, but as Burkholder notes, it is much more costly to grow along a straight line. Linear development is an inefficient use of infrastructure and can possibly cause traffic problems down the line as more and more cars move along lengthy roads. Likewise, as Fargo has been moving south in recent years, it has also been looking southwest to help "spread out" its development and make infrastructure costs more efficient. But Fargo's move to the southwest is akin to the old Western movie cliché of "heading them off at the pass." In effect, Fargo could wrap around West Fargo and lock its smaller neighbor in. If West Fargo were to be blocked from southerly development, its population would eventually peak at about 20,000, according to some reports.
"West Fargo can only grow south," says the city's planning director, Larry Weil. "And we have been trying to grow south."
Since the 1970s, when a series of turf battles between Fargo and West Fargo ended in court, the two communities have relied on verbal agreements to determine which city could develop in certain sections of land. These agreements held until last year, when Fargo annexed property that was understood to be part of West Fargo's planned residential expansion, according to Weil, and another round of turf wars began.
The dispute involved a section of land that Fargo hoped to turn into a zoological park; however, the construction of such a park was dependent on voter approval of sales tax funds. The vote failed, the park was scratched and the use of the land is now up for discussion. "Our concern was that the annexation was premature," Weil says. Since this dispute, the two cities have been negotiating a new compromise, which was still unsettled this fall.
Regardless of the compromise, West Fargo and Fargo will continue to grow in one direction, and Weil thinks that such growth will be manageable for West Fargo. He says that growth has been timely and "compact," and that there has not been prohibitive pressure on infrastructure. He says sprawl is not a significant problem, but definitely a concern.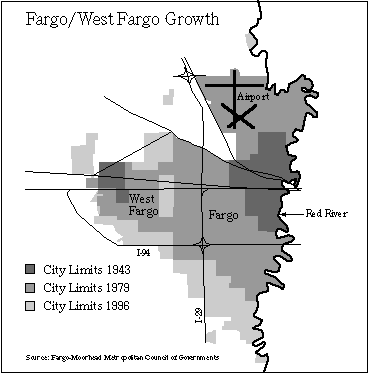 Source: Fargo-Moorhead Metropolitan Council of Governments
In Fargo, the general rule of thumb for development questions is "economics will rule," according to Burkholder. Like other city planning departments, North Dakota's largest city doesn't like to use the word "control." If there's a market for the particular development of a piece of land, the city will try to accommodate it, Burkholder says, and he believes in the power of special assessments to manage development; that is, developers must pay to play.
Brian Shorten, executive director of the Fargo-Moorhead Metropolitan Council of Governments, understands Fargo's development philosophy, and it's his job to make sure that the metro area's road capacity meets the growth rate. So far, he says, the metro area is still trying to catch up with past growth.
"What we have now isn't sufficient for growth because we're already behind," Shorten says. He lists projects to extend roads, build overpasses and widen corridors through the older parts of town—as well as through the existing commercial development in the southwest area—as essential for Fargo. "We're starting to catch up with the catch-up stuff, and we're ready to go on," he says.