State lawmakers have the difficult task—aided by forecasts—of setting budgets based on expected tax revenues and expenditures for the coming year. Changing economic conditions mean they come close but often miss the mark, sometimes substantially.
In fiscal year 2013 most Ninth District states missed on the favorable side, with higher revenues and lower expenditures relative to the approved budget (see Chart 1).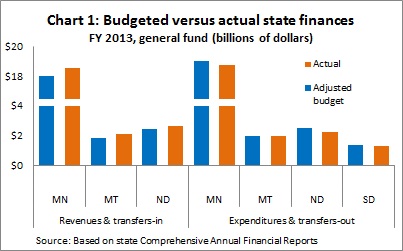 Much of the higher revenue came from rising individual and corporate income tax collections. For instance, Minnesota and Montana saw general fund revenues exceed the budget by $500 million and $244 million, respectively. In both states, better than 90 percent of the variance came from higher corporate and individual income tax receipts. In the case of North Dakota, income tax collections were up 13 percent ($169 million) over the 2011-13 biennium.
On the expenditure side, public spending was also lower than budgeted in district states. A large part of the savings came from lower expenditures on health and human services. In Minnesota, for example, spending by the state's Department of Human Services was $201 million lower than budgeted; more than two-thirds of that savings came from the Medical Assistance program. South Dakota's actual expenditures fell $33 million short of budgeted figures, almost a third of which came from lower-than-planned spending by the Department of Social Services.
Savings in North Dakota, by contrast, came from the Department of Transportation, where expenditures were about $160 million (60 percent) lower than budgeted. The only district state that did not see expenditures come in lower than budgeted was Montana. General fund expenditures there exceeded the original budget by $160 million, most of which came from higher spending on education.
Many of the district's larger cities have also experienced better-than-expected finances in fiscal 2013 (see Chart 2). Billings, Mont., and Sioux Falls, S.D., have both posted higher revenues and lower expenditures than budgeted. Though FY2013 results are not yet out for Minneapolis, the largest city in the district expects actual revenues to exceed budgeted amounts by $17 million based on year-to-date Q3 data.
Going forward, growing local economies are leading to higher revenue projections. Approved budgets for FY2014 show higher general fund revenues for St. Paul, Sioux Falls and especially Minneapolis, which expects budget revenue to increase by $95 million, or 26 percent.
In all of this analysis, it is important to keep in mind that budget versus actual comparisons are based on the cash method of accounting, which may not indicate the true strength of state finances if, for instance, large amounts of debt have been issued or major capital projects started during the fiscal year.
Even taking this method into account, state finances have clearly improved in 2013. One measure is net position, which is the difference between a state's assets and liabilities, including capital assets and long-term obligations. Changes in net position indicate whether the financial position of the state is improving or deteriorating, and in FY2013, all district states posted positive increases in their net positions, particularly North Dakota and Minnesota (see Chart 3).