Inflation is up. No, it's down. Actually it's both, and how much that matters depends to some degree on where you land on the income scale.
As everyone knows, gas and food prices have been rising. In mid-July, a gallon of Minnesota gas was $1 (almost 40 percent) higher than last year, while food prices in June's Consumer Price Index (CPI) were up 3.7 percent from a year earlier.
Higher gasoline and food prices mean consumers have less to spend on other goods and services. Fortunately, the prices of other goods and services have increased more modestly. In June, the core rate of inflation, which strips out relatively volatile food and energy prices, was up 1.6 percent from last year. But once food and energy prices are added back in, headline (or total) inflation was up 3.4 percent.
Certainly higher food and energy prices impact consumers, but their impact varies depending on income, according to the Consumer Expenditure Survey (CE). The CE provides information on the buying habits of consumers, including their out-of-pocket expenditures, income and consumer unit (families and single consumers) characteristics. It's used for a variety of purposes, such as examining the impact of policy changes, studying spending habits and determining the relative importance to place on various consumer goods and services in the CPI.
CE data show that energy and food expenditures account for about 20 percent to 30 percent, depending on household income level (see Chart 1). Within food and energy, gasoline expenditures account for about 3 percent to 5 percent of total expenditures.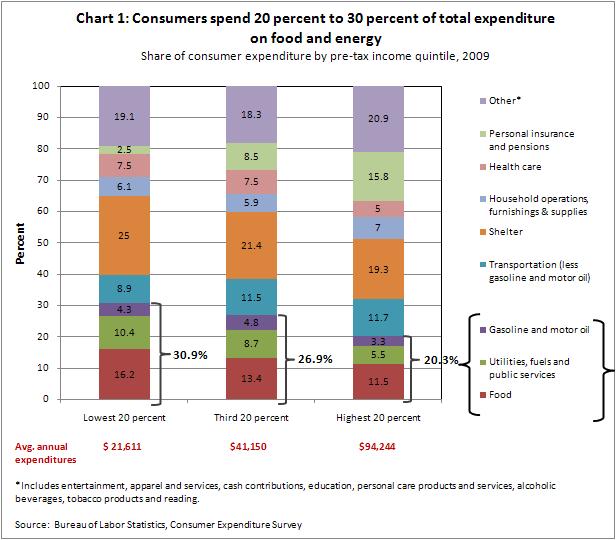 In 2009, the largest expenditure for all households was shelter; low-income households spent the largest share of income on shelter—a full quarter of their expenditures. Meanwhile, high-income households tend to spend a larger share of their income on personal pensions and insurance compared with low-income households.
Over the past 20 years, the percent of consumer expenditures in any given category hasn't changed dramatically. The greatest change was in shelter; the median consumer now allots about 5 percentage points more of expenditures for shelter. That increase is offset by a decline in the share of spending on food and transportation (excluding gasoline and motor oil).
From 1989 to 2009, total expenditure increased 6 percent, adjusted for inflation. Expenditure growth on a percentage basis among individual categories varied widely: Health care increased over 40 percent, followed by shelter at 38 percent (see Chart 2). Meanwhile, expenditure on food decreased 11 percent and transportation (less gasoline and motor oil) dropped 16 percent.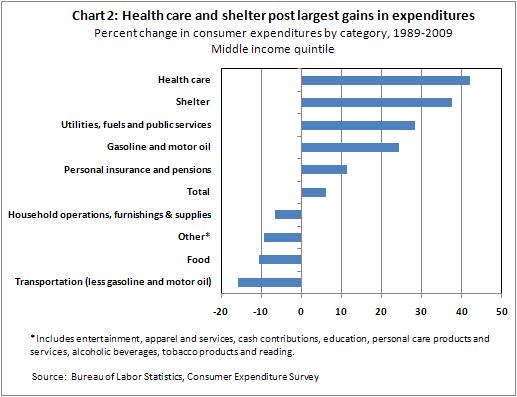 As food and energy prices rise, the relative change to consumer expenditures over time helps keep these and other price changes in perspective. For more information about the CPI, look for Phil Davies' article in the September issue of The Region.