It has taken some time for the ball to start rolling the other way, but banks across the country and Ninth District are slowly pulling back on branches. Call it "too small to bail."
The total number of Ninth District bank branches rose steadily from 2001 to 2006—increasing by nearly 25 percent—before plateauing during the recession (see Chart 1). Branches saw some gains and losses over the next several years, but still rose on net from 2006 to the fourth quarter of 2009, to 3,027 branches. But since then the Ninth District has officially lost about 70 branches (more on this in a bit; the actual number is likely higher).
The Upper Peninsula of Michigan has seen the biggest loss of branches, but the trend started well before the recession. Branches there peaked in 2004 at 172 and were down to 139 by the end of 2009. By the fourth quarter of last year, the U.P. had lost another six branches. Minnesota has shed 35 bank branches, but from a much larger base of more than 1,400 branches. Other district states (including northwestern Wisconsin, the only portion technically in the Ninth District) lost only a small handful of branches—even booming North Dakota saw branches drop by a half dozen over this period.
The outlier, with caveats, is Montana, which officially saw the number of branches rise by nine, or almost 3 percent since the end of 2009 (see Chart 2). However, at least part of this bump appears to come from full-fledged banks getting converted by a parent company to branch status. Last year, for example, Glacier Bancorp, one of the largest bank holding companies in that state, consolidated 11 bank subsidiaries—five of them in Montana—into a single commercial bank, effectively converting previously independent banks into branches; nothing else changed except the regulatory designation of the building.
At the same time, Montana is still something of an outlier in terms of total "banking service locations"—in essence, the number of banks plus branches. Montana saw a net-zero change from 2009 to 2012, while every other district state saw a decline of banking locations of between six (in the U.P.) and 72 (Minnesota).
For more information on the health of Ninth District banks, see the Minneapolis Fed's Banking Conditions website, which is updated quarterly.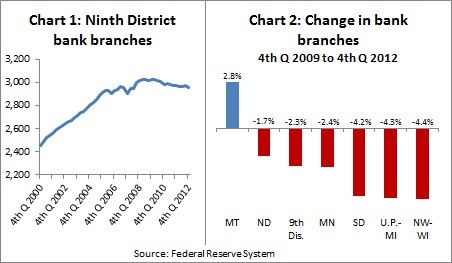 Economist Jason Schmidt contributed to this post.