There are renewed signs that the Ninth District economy continues to grow based on a recent poll of more than 100 business contacts from around the district (see methodology).
Businesses are expecting to expand; 41 percent plan to increase employment at their firms, and 58 percent of these firms cited expected high sales growth as the most important factor. Only 9 percent plan to decrease employment. In the same survey a year ago, 40 percent planned to increase employment and 7 percent planned to cut jobs (see chart).
Other important factors cited for new hiring were overworked staff, the need for additional skills, and improved financial condition of firms. The vast majority of respondents plan to use current employee referrals, word of mouth and advertising to get new employees. Twenty-two percent plan to use a recruiting firm, and only 8 percent plan to raise starting pay.
For those respondents not planning to hire additional people this year, most reported that finding skilled candidates is hampering hiring, or they wanted to keep operating costs low or expected sales growth to be low.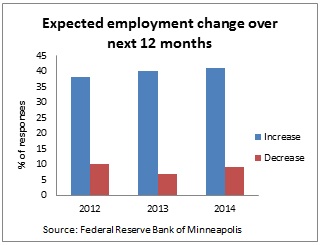 Methodology: On Jan. 13, the Minneapolis Fed invited, via email, about 500 Beige Book contacts from around the Ninth District to answer the special question in a web-based survey. By Jan. 14, 104 contacts had filled out the survey. The respondents come from a variety of industries (see table).