Last year was the first year since the recession that the fever of home foreclosures finally broke, declining slightly across the nation and in most district states, according to data from CoreLogic, a financial, property and consumer data firm.
Home foreclosures started inching up in most places by 2006 and ramped up significantly every year through 2010. By then, foreclosures had at least tripled in every district state; in Minnesota and Wisconsin, foreclosures grew 11-fold or more. (See Chart 1; CoreLogic data do not cover South Dakota.)
Then last year foreclosures finally dipped in a more positive direction, except in Montana, where foreclosures rose another 13 percent. North Dakota has by far the lowest foreclosure rate in the district, even on a household basis, and it also saw the largest drop in foreclosures last year, at 38 percent.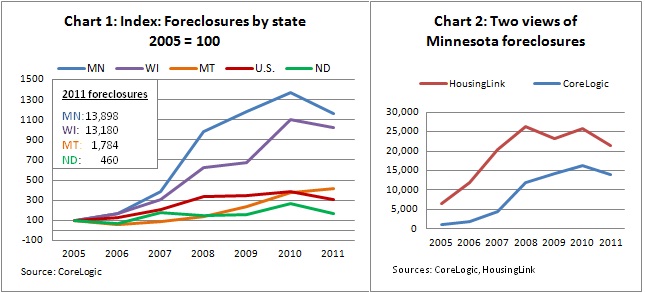 One notable data caveat: A February report sponsored by a consortium of Minnesota housing organizations, and published by HousingLink, found that the total number of foreclosures in the state in recent years was roughly 50 percent higher than CoreLogic's figures, though the two sources follow a very similar trend line overall since 2005 (see Chart 2). The consortium's report used county-level sheriff's auction data, while CoreLogic has a proprietary data system, and sources there could not identify the reason for different annual totals.
Sue Speakman-Gomez, head of HousingLink, said she could not speak to CoreLogic's methodology. "But I can say for certain there is no double-counting in our numbers. The counties know exactly what properties have gone through sheriff's sale, and we have been working with them for several years. … We are confident that our numbers represent a 100 percent accurate count" of homes lost to foreclosure via sheriff's sales.
Whatever the annual figures, many experts are predicting that foreclosures will remain elevated—and possibly even rise—this year. Banks repossessed fewer properties in 2011 compared with 2010, due in large part to the investigations surrounding so-called robo signings and bank foreclosure procedures, which delayed foreclosure processing for many homeowners behind on their mortgage payments, according to RealtyTrac, an online foreclosure clearinghouse. The firm has reported that the number of default notices nationwide rose during the second half of last year and remain elevated (figures in district states were not available, however).