Nursing homes have long struggled to hire and retain workers for a number of reasons.
For example, tending to the chronically ill or the very old can be physically and emotionally demanding. And pay is often modest, due in part to comparatively low Medicaid reimbursement for the care of low-income residents. In some cases state law contributes to low wages; in Minnesota and North Dakota, for example, residents who pay for their own care are charged the same rates as those paid by Medicaid.
Recovery from the Great Recession has made maintaining a stable workforce even harder for nursing homes. A recent survey sponsored by Care Providers of Minnesota and LeadingAge Minnesota, associations representing providers of housing and other services to the elderly and disabled, found that health care job vacancy rates in Minnesota nursing homes increased from 2013 to 2014 (see chart). Total health care job vacancies in the state's nursing homes rose 51 percent over that period.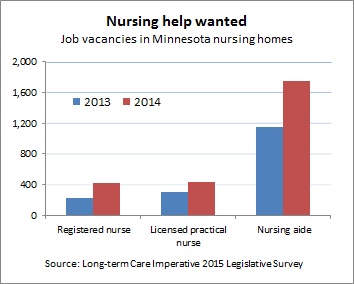 Employee turnover also increased in the survey; annual turnover of registered nurses at nursing homes increased nine percentage points, to 47 percent.
Nursing homes have difficulty competing with other health care employers that pay higher wages, said Patti Cullen, CEO of Care Providers of Minnesota. "Right now registered nurses are being stolen away from nursing homes because they can earn $35,000 a year more" in hospitals, she said. Also, hospitals and clinics often offer better working conditions and career prospects.
Sources in Wisconsin and the Dakotas also said nursing homes were scrambling to hire and hold onto workers. Many operators have turned to "travel nurses"—workers provided by medical staffing agencies for temporary assignments—to fill vacancies.
Raising wages is one solution to the workforce crunch. Recent legislation in Minnesota and South Dakota increased Medicaid funding for nursing homes and assisted living facilities (which have also seen job vacancies jump) to help cover labor and other costs. But Cullen said that "we also need to move more people into the pipeline" to fill jobs not just in long-term care but elsewhere in health care, one of the district's fastest growing industry sectors.
For much more on long-term care in the Ninth District, see the upcoming July issue of the fedgazette.