No one needs reminders that it's a tough job market out there. But more college grads are getting them every month when they have to make a payment—or, more accurately, fail to make a payment—on their student loans.
New data from the U.S. Department of Education show that student loan defaults are rising across the country and the Ninth District (see table). District states have rates that are generally well below the national average; however, every state is following the national trend of steadily higher default rates. Montana and South Dakota saw particularly large increases in the two-year default rate of those entering payment in fiscal year 2010.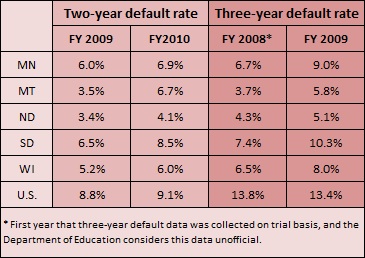 The student loan default rate measures those entering repayment at any point during one federal fiscal year (Oct. 1 to Sept. 30) and defaulting by the end of the following fiscal year. Student loans are not in default until they are 270 days late. So, by the traditional two-year tracking window, ex-students have just 12 to 24 months to fall more than nine months behind in loan repayments.
A few years ago, Congress decided that window was too short, so it asked the Department of Education to extend the tracking window to three years (see table). This was the first year that the agency officially released three-year default data (for the cohort group entering payment in fiscal year 2009). The data show a trend similar to the two-year default data, only worse, as should be expected given the longer tracking window.
Again, students in district states performed better on loan repayments than the national average, but all saw rates increase rather significantly, with South Dakota's rate topping 10 percent (see table).For more background, detail and layman's methodology on student loan defaults in Ninth District states, see the April 2012 articles, College Finance 101: Not all their (de)fault? and The fine print on student default rates.