Stocks of mid-cap companies in the Ninth District had a lackluster year in 2014, closing the year with a less than 1 percent overall gain, following a 29 percent increase in 2013. Meanwhile, the benchmark S&P MidCap 400 Index increased 8 percent in 2014. Despite the 2014 performance, the longer-run trend in the district index remains broadly consistent with that in the larger S&P MidCap 400 Index (see Chart 1).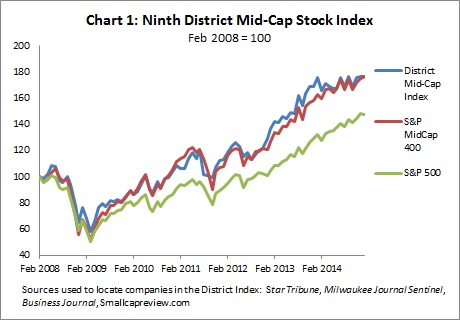 Performance was mixed across companies in the index with gains in half almost offset by losses in the other half. The top performer was C. H. Robinson Worldwide, a freight transportation and logistics company based in Eden Prairie, Minn., which saw its market cap increase by $2.1 billion (24 percent) in 2014. Stratasys, a manufacturer of 3D printers also based in Eden Prairie had the largest loss at $2.3 billion (36 percent) of its market value.
In terms of sector composition, Ninth District companies in the services, basic materials and consumer goods sectors posted overall gains in market value (see Chart 2). The services sector had a particularly strong year in 2014, adding $4.9 billion in market cap. Notable performers in this category include the Buffalo Wild Wings restaurant chain (24 percent increase in market value), SuperValu, a food retail company (32 percent), and Patterson Cos., a medical equipment wholesaler (14 percent). Together, these performers added $1.9 billion in market capitalization to the sector total.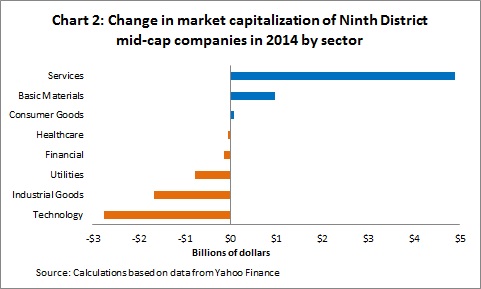 In all other sectors, district mid-cap stocks posted overall decreases in market values. After Stratasys, worst performers included MDU Resources Group, a diversified utilities company based in Bismarck, N.D., whose market capitalization decreased by $1.2 billion (21 percent); Donaldson Company, a Minneapolis-based manufacturer of filtration systems, which dropped by $1.1 billion (17 percent); and Raven Industries, a diversified machinery producer based in Sioux Falls, S.D., with a $0.5 billion (36 percent) decline in market value.
The Ninth District Mid-Cap Stock Index applies a methodology similar to the one used by the S&P Midcap 400 Index to track changes in market valuations of mid-sized publicly traded companies headquartered in the district. For more details, see the index methodology.