Oil has dominated the headlines, but the Ninth District economy continued to expand in January and February, with many indicators exhibiting strength and labor markets appearing to have tightened. Several sectors, particularly energy and other commodities, are dealing with low prices. But counteractive, positive conditions for consumers and others helped limit the negative effects. Mild winter weather has had similarly mixed effects.
A wide swath of sectors saw growth. For example, a manufacturing index increased, indicating expansion in the Dakotas and Minnesota. A manufacturer of capital equipment reported that demand in January was stronger than expected. In the services sector, a merger and acquisition services firm noted increased consulting activity and a web design and programming firm noted increased interest from newer firms. In addition, railroads plan to invest more in capital equipment in 2015, and several retailers noted sales increases.
Labor markets continued to tighten, as unemployment rates dropped in many areas of the district. Business owners in South Dakota and western Montana noted difficulty finding workers to fill open positions. A Minnesota staffing firm reported that finding workers was difficult and that competition for those workers increased recently.
As labor markets have tightened, wage pressures appear to have increased in some areas. While data suggest that overall wage increases have been moderate, there were more frequent reports of wage increases above 3 percent during the past couple of months. A recent ad hoc survey by the Minneapolis Fed also found that more employers planned to increase starting pay. Nevertheless, overall wage increases generally remained moderate. Lower energy and other commodities prices affected different regions of the Ninth District.
Lower oil prices affected producers as they cut back on new development in North Dakota and Montana by nearly 30 percent from the beginning of the year, leading to reduced hours and layoffs of oilfield workers (see chart). The number of job postings in the region has also decreased, but several companies in various sectors are still looking for employees. Wage pressures and apartment rental prices have eased somewhat in the energy-producing region.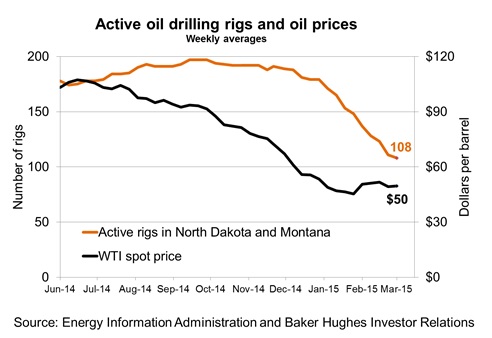 Among other commodities, the evidence is mixed. For example, lower metal prices caused a Montana copper-silver mine to shut down. Even though iron ore prices have been dropping, an iron ore analyst expects production to increase slightly in 2015. Low crop prices have hampered farmers, but benefited animal producers due to lower feed costs.
While some sectors have suffered from lower commodity prices, district consumers have benefited. For example, Minnesota gasoline prices in mid-February were over a dollar per gallon lower than a year ago. This may have helped boost consumer spending, as district retailers noted growth in retail sales. For example, a North Dakota mall noted that sales were up in January compared with a year ago, and a bar and restaurant chain in Minnesota reported strong sales during January compared with last year. Recent light truck and car sales were relatively solid in Montana, according to a representative of an auto dealers association.
The increasing value of the dollar has made U.S. products more expensive for foreigners. For example, the stronger U.S. dollar and Canadian exchange rate dampened demand from Canadian tourists and shoppers as border crossings and related sales decreased in district states.
The winter has been relatively warm and dry, which aided commercial construction firms that were able to build more and required less heating. Ranchers benefited from less winter stress on their animals. However, not all benefited from mild weather. Several auto body shops complained they had less demand due to better driving conditions that reduced accidents. Some apparel stores had difficulty selling winter clothing due to relatively mild weather conditions during December and January. In addition, a lack of snow slowed winter tourism activity in several areas.