After seeing a pause in new business registrations last year, both Wisconsin and especially Minnesota have seen strong growth during the first quarter of this year compared with the same period a year ago.
In the Gopher State, total registrations in the first three months of this year grew by 23 percent, about twice that seen in the Badger State (see chart). Growth in both states was largely driven by new registrations of domestic and foreign limited liability companies (LLCs). Should it hold, this would be a return to the growth of LLCs seen through much of the last decade in both states. And while registrations for new corporations were flat in Wisconsin—largely continuing a long-term trend—the same trend reversed itself in Minnesota, where new corporation registrations grew by 18 percent in the first quarter and were 8 percent above 2010 levels as well.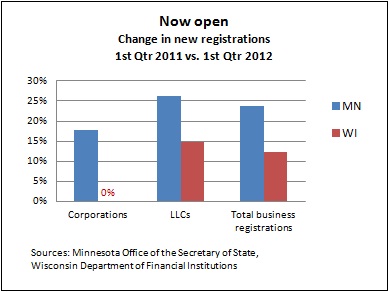 In all, Minnesota recorded some 18,000 new registrations in the first quarter. Compared with its easterly neighbor, Minnesota tracks many additional forms of business registrations, including assumed names, which are not incorporations of new businesses but registration of a name, possibly for use by an unincorporated sole proprietor. There were almost 4,500 such registrations in the first quarter of this year, about 6 percent more than in 2011.
For more background on trends in young establishments, entrepreneurship and self-employment, see the cover articles in the July 2011 and January 2012 fedgazette.