As many know, real estate runs in cycles. The market provides signals to build, and two years or more might pass before permits are approved, construction is done and people move in. If many people act at the same time, it can create a supply glut when expansion is followed quickly by contraction.
Integra Realty Resources (IRR), a commercial real estate services firm with an office in Minneapolis, has modeled and described four phases of this cycle. IRR identifies the first phase as recovery, a period in which vacancy rates decrease and there is little new construction, followed by an expansion phase with decreasing vacancy rates and moderately high new construction. The third phase is hypersupply, with high new construction and increasing vacancy rates. The last phase is recession, with increasing vacancy rates and low construction. Each phase also has three stages, or positions, within a phase.
IRR sees the current Minneapolis office market in the recovery phase (see Chart 1) with a 14 percent to 15 percent vacancy rate (depending on property class) and low construction and rent growth. There may be some movement in that market as plans for an office park near the new Minnesota Vikings stadium are under way and a medical company plans a multimillion-dollar, two-story 180,000-square-foot office, manufacturing and warehouse facility.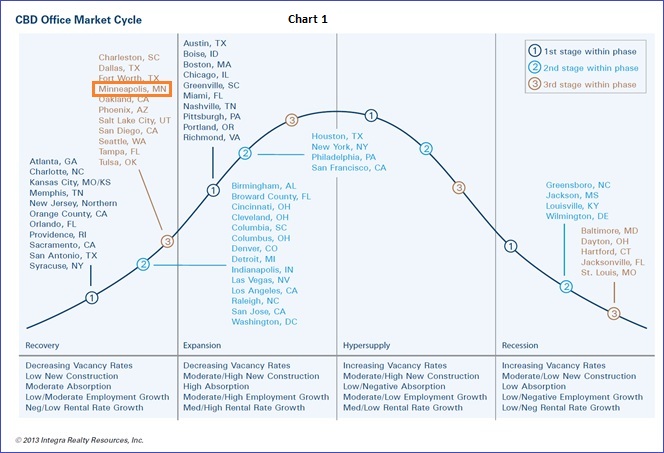 The Minneapolis apartment market is in the expansion phase, according to IRR (see Chart 2), with a 3 percent to 4 percent vacancy rate and high rent growth. But it's in the third stage of expansion, nearing hypersupply—maybe not a surprise given the multitude of apartment buildings planned or under construction around the Minneapolis-St. Paul area. According to the city of Minneapolis, last year four of the top five construction projects by building permit valuation were apartments, with a combined value of $244 million.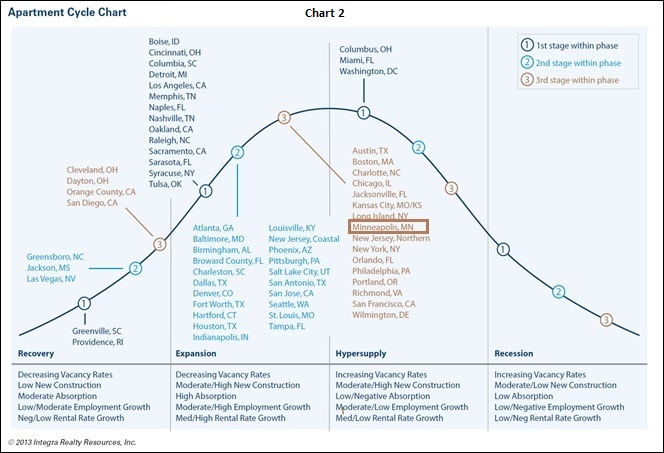 Charts reprinted with permission from Intregra Realty Resources.