Smarty pants: College attainment, bachelor's degrees conferred mostly growing in Ninth District
Published October 10, 2012
It's widely accepted that a college education is a prerequisite to a better (financial) life. But that sentiment is embraced differently across the country.
In Ninth District states, the percent of population with a bachelor's degree continues to increase overall. But individual states are performing differently against the national average. For example, Minnesota ranks 11th in the nation for the percent of population age 25 and older with a bachelor's degree at 34 percent in 2011 (see Chart 1). But its college attainment levels have stagnated a bit in recent years, and its advantage over the national average has shrunk slightly (see Chart 2).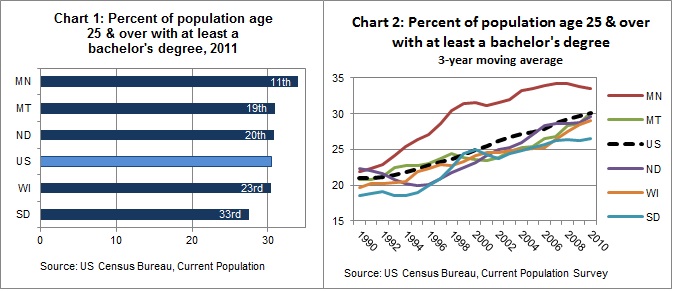 In contrast, Montana, North Dakota and Wisconsin have historically been below the national average, but that gap has been closing for all three states of late. Each also ranks in the top half of states in college attainment (partially a function of high-population, well-educated coastal states pulling up the national average). South Dakota is the outlier; college attainment has been below the national average. It ranks in the bottom half of states and its achievement gap has widened slightly.
In concert with this trend, the number of bachelor's degrees conferred also has been rising. But the rate of increase at district colleges and universities in recent years has lagged the U.S. benchmark by a considerable amount (see Chart 3), according to the National Center for Education Statistics. During the 1990s, growth in the production of bachelor's degrees in Montana and South Dakota surpassed the United States, while other district states posted slower growth. During the past decade, growth slowed in Montana and South Dakota, but picked up in Minnesota. Some of the recent gains in Minnesota's college degree production are likely due to growth in Minnesota's private online universities, such as Cappella University and Walden University.
In 2010, Wisconsin colleges and universities conferred 34,110 college degrees, ranking 17th in the nation (see Chart 4). Meanwhile, Minnesota colleges and universities produced 31,952 bachelor's degrees, ranking 18th. North Dakota, Montana and South Dakota, ranked 44th, 47th and 48th, respectively.
Among district states, North Dakota has the highest number of degrees conferred by colleges and universities relative to the 20-year-old state population (see Chart 4). This suggests that North Dakota has a relatively large capacity to produce college graduates relative to the primary college-age population in the state. All district states have a higher ratio of bachelor's degrees conferred relative to the 20-year-old population than the nation, demonstrating a relatively strong presence of higher education in the region.