The U.S. Department of Agriculture announced this month that it would close 259 offices across the country with the expectation of saving $145 million annually in operational efficiencies.
In the Ninth District, a total of 17 offices are slated for closure (see map). Minnesota has the highest tally with seven offices on the list, followed by South Dakota with five. Montana and North Dakota each have two closures. Michigan has three, but only one is in the Upper Peninsula portion located in the district (in Marquette). Wisconsin has two offices on the list, but neither is in the northwestern portion of the state that is part of the Ninth District.
The USDA has four types of field offices being affected. Farm Service Agency offices are the most numerous and make up half of all closures nationwide, and 10 of the 17 district closures. Many of the recommended closures are in offices that have two or fewer employees, or are within 20 miles of another office. The remainder is mixed between six additional departments within the USDA. In district states, closures are in Food and Nutrition Services (4), Food Safety and Inspection Service (1) and Natural Resource Conservation Service (2).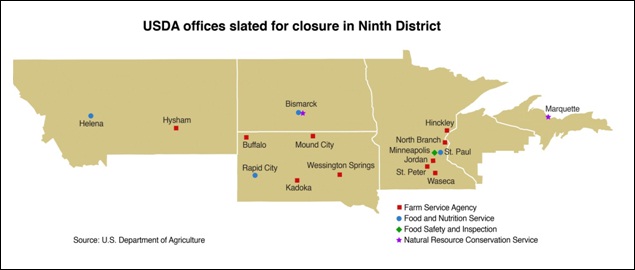 The move is a smaller-scale version of recent proposals from the U.S. Postal Service, which is considering closing thousands of post offices, including almost 400 in the Ninth District. But unlike the post office proposal, where almost 11 percent of closures were in Ninth District states, fewer than 7 percent of USDA office closures will be in the district.