Forest products taken to the woodshed
The housing slump has had a big impact on the industry that provides building materials
Published September 1, 2009 | September 2009 issue
Earlier this year, Ainsworth Lumber Co. Ltd., a leading Canadian forest products company, announced the permanent closing of mills in Cook and Bemidji in northern Minnesota. The mills produced oriented strand board (OSB), a structural wood panel used as sheathing in walls, floors and roofs for residential and commercial construction. The company had already closed its mill in Grand Rapids the previous August.
Company president and CEO Rick Huff, in a press release, said that market conditions since the third quarter of last year and the housing outlook going forward, especially in the United States, "do not warrant making the additional investments that would be required to make the two mills economically viable."
The news for other wood products businesses was equally bad elsewhere in the Ninth District. In a Montana survey of the sector this year by the Bureau of Business and Economic Research (BBER) at the University of Montana, two-thirds of executives indicated that production, sales and profits in 2008 had decreased from a year earlier. Another 20 percent said business was about the same, leaving only a sliver of respondents whose businesses grew last year.
The forest products industry is not a big one compared with other major industries at the national level, representing just 1 percent of gross domestic product. But the industry is relatively more important in the Ninth District, cumulatively representing 2 percent of gross state product across district states (not including Michigan). The industry provided $9 billion in total output in the district in 2007 and 120,500 jobs as of April 2009, the latest government figures for both measures.
But throughout the district and country, companies in the forest products industry are struggling to keep chainsaws buzzing and sawmills open, mostly because of the downturn in housing. The forest products industry is categorically composed of two sectors—wood products and paper—and is regionally concentrated in the district in northern Wisconsin, the Upper Peninsula of Michigan, northeastern Minnesota and western Montana.
Both sectors are strained, but for different reasons. The wood products industry—the focus of this article—includes logging, sawmills, millwork, wood containers and wood buildings and is highly dependent on the housing market, which is suffering a severe contraction.
The smaller paper industry, which accounts for about 30 percent of all wood harvested in the United States, has been consolidating for years as it tries to come to grips with production overcapacity. The district also has a big presence in this sector; Wisconsin has been the top pulp and paper producer in the United States for more than 50 years, but the industry continues to struggle. Ohio-based NewPage Corp., which has four paper plants in central Wisconsin, reported a 39 percent drop in sales in the first quarter of this year and said it would reduce production by 150,000 tons by taking downtime at its mills during the second quarter.
Crumbling castles
It's no secret that a key factor for the wood products industry is the housing market. Home construction traditionally accounts for more than 50 percent of all lumber and manufactured wood products in the United States each year. Housing units authorized, a key market indicator, peaked in 2005 and began decreasing for both the United States and the Ninth District. From April 2005 to April 2009, housing units authorized in both the United States and the district decreased by about three-quarters (see Charts 1-2). Charts 1-2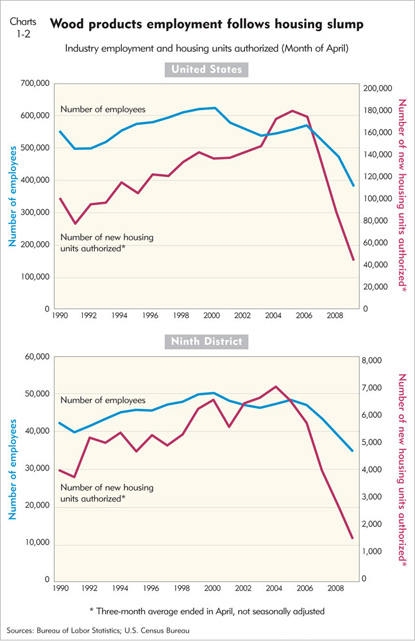 View large charts: Chart 1 Chart 2
That trend, in turn, unleashed a cascade through the wood products industry: Demand for wood products in the construction of new homes dropped, which led to decreases in prices for wood products. North American demand for both lumber and OSB was down over 60 percent from respective peaks in 2005. The nationwide composite lumber price, which is designed as a broad measure of price movement in the lumber market, decreased almost 50 percent—from $386 to $198—from May 2005 to May 2009. Price declines appeared to be fairly uniform; for example, both the nationwide composite and the north central prices for OSB dropped by 50 percent over this period (see Chart 3). Prices received by many producers in the north-central region (which includes Michigan, Minnesota and Wisconsin) also are often lower to boot. For example, the OSB price in the north-central region maintained a 15 percent to 20 percent discount of the national price during both the boom and the subsequent decline.
The dual drop in demand and prices has translated into a large drop in sales for many wood products companies. For example, U.S. and Canadian structured wood panel production totaled 5.4 billion square feet in the first quarter, 14 percent below the fourth quarter of 2008 and 33 percent below the first quarter of 2008, according to the latest Engineered Wood Association quarterly production report.
Though recent statewide data for wood products sales are not available, sales among a few major firms in the district show a sharp drop. Norcraft Cos., based in Eagan, Minn., manufactures cabinetry and other wood products and is the largest wood products manufacturing company headquartered in the district. The company saw a 30 percent drop in revenue (to about $61 million) during the first quarter of this year from one year ago and a 44 percent drop from the first quarter 2006, when the district housing boom was in full swing. The company also reported a $4.3 million loss in the first quarter.
Many other multinational forest products corporations with operations in the district are also struggling. Louisiana Pacific, a leading manufacturer of basic building products, has siding plants in Hayward and Tomahawk, both in northern Wisconsin. Those plants reported a 41 percent drop in sales in the first quarter of 2009 compared with the previous year.
With lower sales, wood products companies have cut production, leading to layoffs across the industry. From April 2005 to April 2009, the number of employees in the wood products industry in both the United States and the Ninth District has dropped about 30 percent (see Chart 1 and Chart 2).
Plum Creek Timber Co., the largest private timber owner in the United States, has its largest acreage in Montana, and additional timberland and operations in Wisconsin. The company, based in Seattle, Wash., provides a diverse line of lumber, plywood, medium-density fiberboard and raw materials. Due largely to the housing slump, the company reported losses from the wood manufacturing business of $30 million in 2008 and $18 million in the first quarter of this year.
The company has responded with a series of layoffs at Montana plants this year. In March, for example, the company permanently shuttered a plant in Fortine, affecting 74 workers; in June, a total of 150 people were laid off when mills closed at Pablo and Kalispell, and another 23 were laid off in Columbia Falls when operations there were scaled back.
Wood products companies have tried to diversify into new markets to dilute their risk in any one sector. Some large companies produce paper and allied products in addition to housing-related wood products. Some, like Plum Creek, have started to leverage their forest and other land holdings for revenue through real estate development, tourism or other activities. Still other companies are doing research into biomass applications for wood products and byproducts. Logging companies are also looking at different types of end users for their forest products.
But none of these markets is large or lucrative enough currently to overcome the impact of the housing slump. For example, most of Montana's industry executives are pessimistic about 2009, based on the BBER survey. More than 90 percent anticipate that production, prices and sales will be about the same or worse in 2009 compared with 2008.
In Minnesota, total industrial wood consumption (defined as in-state harvest plus imports minus wood exports) is expected to hit bottom at approximately 2.8 million cords this year, according to a report by Don Deckard, state forest economist at the Minnesota Department of Natural Resources. This compares with 3 million cords in 2008 and a peak of 4.3 million cords in 2005.
This industry will be largely tethered to the pace of recovery in the housing market. In general, though the rate of decline has slowed, housing market indexes do not yet show clear evidence that housing markets have bottomed out. The decline in monthly and quarterly housing units authorized from a year earlier in the Ninth District and United States has held relatively steady since January; worse, the trend line on housing authorizations (see Chart 1 and Chart 2), combined with expected economic conditions in the near term, does not suggest a quick reversal.
The latest projections for housing unit authorizations by the Minneapolis Fed predict continued decreases from most district states through the fourth quarter of this year. (For more forecast details, see Ninth District Economic Forecasts.)
The good news is that the forecast calls for a strong recovery of at least 15 percent among all district states in 2010. The bad news: Authorizations in district states next year will still be 30 percent to 65 percent below peak levels of the housing boom. So despite the expected upturn next year, many firms in the wood products industry will have to work hard to avoid the woodshed.